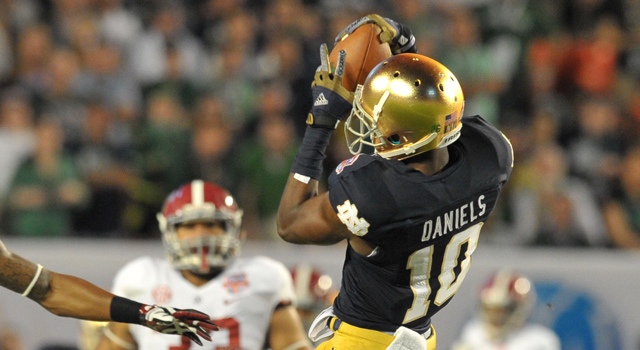 Results from Notre Dame's Pro Day
Notre Dame Pro Day is over and there were mostly good results! Eleven players and former players participated in the event, with the majority of NFL teams having a scout there to watch. The players height and weight was taken, then timed in the 40 yard dash, shuttle runs and cone drills, and measured for vertical jump and broad jump, then tested on how many reps of 225 lbs they could bench.
BEN KOYACK – 6'5″ 257 lbs, 40 time – 4.72, vertical – 30″, broad jump – 9'8″, 20yd shuttle – 4.56, 60yd shuttle – 12.26, 3 cone drill – 7.33, bench reps – 16
CAM MCDANIEL – 5'9″ 185 lbs, 40 time – 4.59, vertical – 35″, broad jump – 9'10", 20yd shuttle – 4.21, 60yd shuttle – 11.52, 3 cone drill – 6.78, bench reps – 17
KYLE BRINDZA – 6'1″ 234 lbs, vertical – 31″, bench reps 21, 10/12 on field goals into the wind
CODY RIGGS – 5'9″ 187, 40 time – 4.45, vertical – 33″, broad jump – 9'7″, bench reps – 13
DAVARIS DANIELS – 6'2″ 195 lbs, 40 time – 4.57, vertical – 39.5″, broad jump – 11'1″, 20yd shuttle – 4.32, 60yd shuttle – 11.28, 3 cone drill – 6.81
KENDALL MOORE – 6'1″ 237 lbs, 40 time – 4.63, vertical – 32.5″, broad jump – 9'7″, 20yd shuttle – 4.63, 60yd shuttle – 12.65, 3 cone drill – 6.94, bench reps 24
JUSTIN UTUPO – 6'1″ 257 lbs, 40 time – 5.07, vertical – 30″, broad jump – 9'1″, 20yd shuttle – 4.69, 60yd shuttle – 12.83, 3 cone drill – 7.64, bench reps – 22
ETHAN JOHNSON – 6'4″ 265 lbs, 40 time – 5.13, vertical – 30″, broad jump – 8'10", 20yd shuttle – 4.57, 3 cone drill – 7.51, bench reps – 19
Cody Riggs tweaked his hamstring on his second 40 attempt and was limping, but said it wasn't major and should be good to go in two weeks.
Kyle Brindza looked impressive and his 21 bench reps was 4 off the NFL Combine record of 25. The San Diego Chargers assistant coach Craig Aukerman was at Pro Day to reportedly keep an eye on Brindza, as the Chargers are a potential landing spot for Brindza.
Cam McDaniel's 3-cone drill time would have been the the fastest running back time at this years NFL Combine, and only 5 running backs in the last 4 combines have had faster times. His 40 time would have ranked 12th for running backs at the Combine. He should definitely have been invited to this years NFL Combine.
Three other players, Andrew Hendrix, Alex Welch, and Jake Golic, were there to pass and catch the ball but did not take part in the testing portion of the day. Jake Golic had thought his football career was over, but thanks to a stem-cell procedure on his spine, he is attempting to make an NFL roster this fall!
The NFL Draft will be April 30 – May 2. The first of these players off the board will likely be Ben Koyack followed by Davaris Daniels and possibly Kyle Brindza in the last round. The others will have a chance in free agency and be able to compete for a final 53-man roster spot or a spot on a teams practice squad.