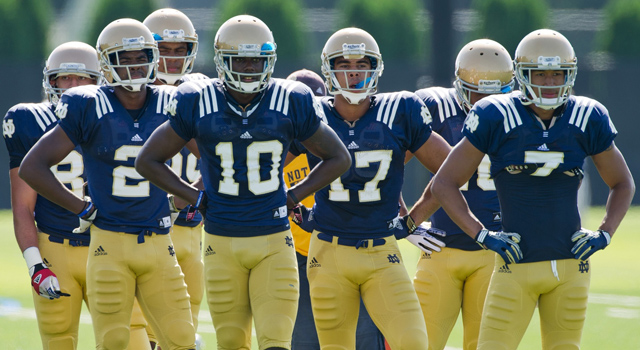 Fall camp is only days away at Notre Dame and we are all getting excited about the upcoming season! Many of last years starters are returning to the team and that fact alone is reason for excitement! That doesn't mean the team is ready to play Texas right now, so lets take a look at each position on the offensive side of the ball and what to watch for in camp.
Quarterback is always a big topic of discussion and for the first time in a long time, Brian Kelly is starting fall camp with a clearcut starter in Malik Zaire. The thing to watch in camp is, who will be his backup? Sophomore DeShone Kizer or true freshman Brandon Wimbush. Kizer did not look as good in the spring game as what many had hoped, but if you look at all the off field issues of his girlfriend dealing with a brain tumor and the coaches telling him he did not need to play in the spring game, because of what his girlfriend was going through and him spending time with her, you cant help but be impressed with how good he did play in the spring game. There are high hopes for freshman Brandon Wimbush coming in and competing for the backup job, but it will take time to learn the playbook and build chemistry with the receivers and as a result, it will take a lot of time and effort to beat out Kizer.
The obvious starter at running back is junior Tarean Folston. Junior Greg Bryant was expected to be the backup, but was suspended for the first four games of the year, resulting in senior CJ Prosise making a position switch to running back and likely the number two running back. Brian Kelly has always used multiple running backs, but could this be a year that he uses one primary back. Two freshman, Dexter Williams and Josh Adams will be trying to prove that they should be getting reps on game day, and fall camp is the best place to prove that.
Offensive line is said to be one of the strengths of the team this year, but we also heard that last year and it turned out it to be one of the weaker areas on the offense. This year is much more promising with four returning starters in senior Ronnie Stanley, fifth year senior Nick Martin, junior Steve Elmer and junior Mike McGlinchey. Sophmore Quentin Nelson will be the lone new starter and the best thing going into fall camp is that the five starters are all healthy and can use all of fall camp to play together as one unit. There is plenty of talent behind each of these guys to back them up. This year it truly seems to be the strength of the offense.
Tight end continues to be a strength of Notre Dame teams, with the norm being the starting tight end getting drafted in the NFL after his Notre Dame career. The number one guy after spring camp was junior Durham Smythe and he looks to continue to be the number one guy, but he is expected to be pushed by, highly touted freshman, Alize Jones. Sophomore Tyler Luatua will likely continue to be the blocking tight end, but he focused more on catching the ball in the offseason and is said to have lost ground on his chances to get on the field. Sophomore Nic Weishar will continue to try and work his way onto the field and Notre Dame looks to be in good position despite none of these guys having lots of game time experience.
Notre Dame has plenty of options at wide receiver, but the question is, which of these guys will step up and seize the opportunity to play.  Junior Will Fuller will continue to be the number one option and junior Corey Robinson appears to be fully healthy and ready for a breakout year. Chris Brown is living up to his reputation of looking really good at practice, but will this be the year he actually plays like that on game day. Sophmore Justin Brent looked good in the spring, but can he stay out of Brian Kellys dog house long enough to earn playing time and will sophomore Corey Holmes be able to work himself into the rotation. The slot position looks a little more questionable with CJ Prosise making the switch to running back, giving fifth year senior Amir Carlisle and junior Torii Hunter a chance to compete for the spot. The only freshman with a favorable chance to play appears to be CJ Sanders at the slot position.
There are a lot of things to be ironed out in fall camp, but the good news is, that most of it appears to be at the back up spots of each position. Its an exciting time of year because football season is almost here and we have plenty of topics to discuss as fall camp is set to start on August 7!