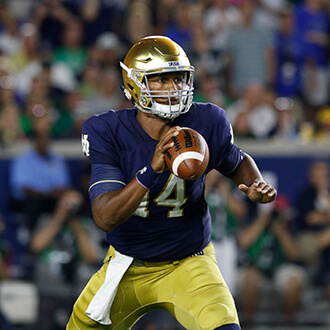 There's no question that Notre Dame quarterback DeShone Kizer is very talented but is he ready for the NFL?
There is no position in college football that is as glamorous as being the quarterback of Notre Dame. It is the position that comes with much scrutiny but also tons of praise when you win. It's the only position where you could have a couple of good games in the beginning of the year and automatically be considered a Heisman contender. If you put together a 10 win season and have a good statistical year, you're a Heisman finalist (ie. Brady Quinn and Joe Theisman). Heck, Paul Hornug went 2-7 as a starter in 1956 and still won the Heisman. Likewise, after Deshone Kizer played lights out against Texas in the opener, a 50-47 double overtime loss, many people had Kizer entering the NFL draft after this year. Brady Quinn warned Kizer about potentially getting drafted by the Cleveland Browns and Greg McElroy alluded to Kizer potentially being the first player selected in next year's draft during Notre Dame's loss against NC State. While it makes for a good fodder for the media, which will hype anything in order to get ratings, I'd like to take the time to quote the legendary Lee Corso and say: "Not so fast, my friend!"
While Kizer is a talented kid and will get a great opportunity to make an NFL roster, his focus must remain on developing as a quarterback and not on his draft status for next year. He's simply not NFL ready at this point for multiple reasons.
First off, as Bill Parcells would say, "you are what your record says you are." And for Kizer, it ain't great. Kizer's record as a starter following the loss to Stanford is 10-7 (2-5 this season). That's a total win percentage of .588. That same winning percentage got Bob Davie (.583), Tyrone Willingham (.583), and Charlie Weis (.565) fired. There is a certain standard that Notre Dame holds itself from a winning standpoint, and a sub .600 winning percentage at a blue-blood program that coming into the season was at the number 1 spot with a .732 winning percentage will not suffice. While the loss against Texas may not have been entirely his fault, more consistent play against Michigan State, Duke, and Stanford would have resulted in more Irish wins.
Second, looking past wins and losses, let's take a look at what NFL scouts will likely be looking for in Kizer at the next level: mechanics. Though not quite as bad as Tim Tebow, Deshone Kizer is still very much a work in progress. Last year he had a glaring weakness when it came to setting his feet and throwing the screen to his left side. While he has improved in that regard, properly setting his feet on every throw has been an issue with Kizer and has at times seen it affect his accuracy on midrange throws. It can also force him to think through his throws in order to put a little extra accuracy on the ball. This is evident with the screen game where he doesn't sling the ball out as fast he can, which gives defensive backs too much time to anticipate the throw and blow the play up for minimal yards or a loss. The effectiveness of the bubble screen comes from getting the ball to the receiver on target as quickly as possible and letting the receiver make a play on the defensive backs. The screen game has been ineffective for much of this year and is needed to supplement the running game, as well as drawing defenses in which opens up the deep ball. Kizer's throwing motion could also use a little tightening up in order to get the ball out of his hand faster.
Third, and what could probably be the biggest flaw of Kizer to date is his ability to run the offense. For much of the offseason, it was said that Kizer was the best quarterback to run the offense as a whole and would be able to check down when it was necessary. The NFL is littered with starting quarterbacks who may not have been the most spectacular athletes, but were able to run an offense efficiently, run through their progressions, and make quick decisions. What Matt Ryan, Andrew Luck, Brian Hoyer, Kirk Cousins and several others have in common isn't that they were extremely talented or put up flashy stats, it was that they ran their reads and found the open man. For much of the season, Kizer has been feast or famine. He has a preference for the big play and sits in the pocket for far too long. He is either able to complete the deep pass or is able to run when given enough space and steal a large chunk of yardage. Either way, he looks great in the process. What is missing from his repertoire is the ability to quickly check down to the third receiver, tight end, or running back when his top two options are covered. It's one thing to have a designed pass to the running back who is running a wheel route and is left uncovered. It's entirely different to dump it off underneath and take the few yards that you can for a positive play (and give your talented back the opportunity to breakout). For this same reason, the tight ends have had minimal involvement in the passing game. This despite Durham Smythe, Nic Weisher, and Tyler Luatua all receiving 4-star grades from ESPN (and Weisher also rated a 4-star prospect by Rivals). What made Tom Brady great early in his career wasn't his natural ability or his stats. It was the ability to run the gameplan, go through his progressions, and get all of his receivers involved.
Last, I would like to point to Kizer's decision making ability in the pocket. There have been times this year that Kizer forced the ball to receivers who were covered down the field and in those situations he was bailed out by his accuracy and the athleticism of his targets. It's one thing for Equanimeous St. Brown to make a catch over two defenders, break a tackle, and take it to the house against Syracuse, it's completely different to throw to a covered St. Brown against Stanford which is a step faster and have it taken to the house the other way. There have been other instances where he held the ball for far too long and took a sack, whether it was because he decided to scramble too late or didn't throw the ball away. In the NFL, he's going to see defenses that are faster and more athletic and will be able to punish him for making bad decisions. They will be able to pick off errant passes or throws made into tight coverage and pass rushers will be a lot quicker and much more difficult to escape from.
In conclusion, Deshone Kizer is better off staying in college for his fourth year and grow further as a quarterback before he makes the leap. At this point, he isn't a sure thing at the next level where a team knows for certain that he will be their franchise quarterback for the next decade. This presents a huge risk for him slipping in the draft. If he falls outside of the first round not only will he lose millions of dollars in salary and bonuses, but it also means that the team that drafted him is less committed to him panning out since they didn't spend as much to draft him. An example of this was when Jimmy Clausen slipped into the second round to the Carolina Panthers in 2010, and the team went out the following year and drafted Cam Newton with the number 1 pick in the draft to replace him. Not only would Jimmy Clausen have benefitted from another year of development in college, but should he have been drafted in the first round he wouldn't have been as disposable to the franchise. Ironically, the same Jimmy Clausen tweeted Kizer to make the same mistake and jump to the draft early. My advice: don't listen to Clausen, stay at Notre Dame one more year, lead what should be a much more experienced and loaded roster to the best possible season that you can, develop your game and skills further, and solidify your place as a top 5 draft pick next year. Here's to future of a very promising Notre Dame quarterback.
Image credit to Irish Sports Daily