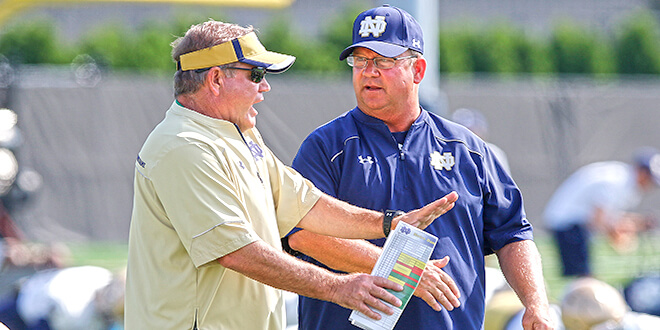 A season of valleys for Notre Dame has left Brian Kelly saying many of the same things at post-game press conferences. Until an identity is established, expect more valleys.
Another week and another painful loss for Notre Dame football. This has been a season of lows for the Brian Kelly era. While much of the losing, mistakes, and miscues can be chalked up to Kelly leading a very young team, which is said to be the youngest team since 1972, there seems to be something wrong with the program that is much more fundamental than youth. It's Notre Dame's inability to define itself.
Navy is Notre Dame's longest and most historic rival. Having played annually since 1927, last weekend marked the 90th meeting between these two historic programs making it the longest uninterrupted intersectional rivalry in college football. It is well known that Navy helped Notre Dame stay open during the World War II, and in return Notre Dame has played Navy every year since. The teams even share the same colors, Blue and Gold.
Despite all of this history and the respect the two programs hold for each other, it can't be helped for Notre Dame fans to be disappointed that Navy can be so competitive with Notre Dame, let alone win 4 of the past 10 matchups. Navy doesn't have the same level of athletes that Notre Dame has, the same facilities, resources, exposure, or coaching. Yet despite Navy having such limited means, they've beaten Notre Dame, Houston, Memphis, and UConn, making them a borderline top 25 team.
Yet, Navy wasn't supposed to be this good this year. They lost 10 of their 11 starters on offense, including their star quarterback Keenan Reynolds who holds the NCAA record for most rushing touchdowns. That loss was compounded after the first game when they lost their starting quarterback Tago Smith to injury. They lost another 6 starters on defense, not to mention another couple of starters lost to injury. With all the losses in personnel, Navy continues to be competitive and win the games that they're not expected to.
Navy Has an Identity
The reason for Navy's overachievement is their identity which has been deeply rooted within their program. They're a hard-nosed, tough, disciplined triple-option team which will wear you down physically over the course of four quarters and make you play to the last minute. They are exceptionally well drilled in their scheme and despite the starters that they lost and the players that went down injured, the next player came in without a dropoff in team performance. Navy's greatest strength is that they know who they are and don't question themselves, the scheme, the coaching, or the process.
This is a common theme among most of the successful programs across the country. Stanford is an intelligent and tough pro-style team that will focus on running the ball, passing efficiently, and playing solid defense. Michigan State has a similar identity. Boise State under Chris Peterson developed a culture within their program which he has brought with him to Washington. Oregon under Chip Kelly was a lightning fast tempo team that kept defenses off balance and could put up 50 points before half if you weren't careful. Baylor under Art Briles was also an uptempo spread team that could also utilize the power run. Alabama is a power run team with strong defense and Urban Meyer's Florida and Ohio State teams are spread teams that can run the ball effectively and play great defense. All of these great programs and regimes have clearly defined identity that has allowed them to compete at a high and consistent level over multiple years.
Finding the Irish Identity
Brian Kelly and Notre Dame needs to do some soul-searching to figure out what they're identity will be. When Kelly was first hired, it was believed that Notre Dame would be turning into a spread offense that would be playing uptempo and gaining lots of yards and putting up lots of points. Initially, Kelly did not have the personnel for his this type of offense. In Dayne Christ, Kelly inherited a pro-style quarterback who wasn't very mobile to do much option-type stuff. Depth was also limited behind Christ, with Tommy Rees and Andrew Hendrix, that when Christ went down with injury, Kelly was further handcuffed. Instead, Kelly did a commendable job by tailoring his offense and using more two tight end sets to emphasize the power running game which became the focal point of Notre Dame's offense until their national championship appearance in 2012. They also espoused a bend-don't-break 3-4 defense under defensive coordinator Bob Diaco that was conservative, but kept them in many games and was one of the best in the country.
Things began to change in 2014. Everett Golson was back to lead the Notre Dame offense, returning from his 2013 year-long suspension and replacing the graduated Tommy Rees. Bob Diaco had left the program to take over the head coaching job at the University of Connecticut and Brian VanGorder was brought in to lead the defense. Despite Golson's upgrade in athleticism and arm strength over Tommy Rees, the offense was still not opened up by Brian Kelly. Instead, Kelly continued to try to emphasize the power run game which was not working, and put Golson in troublesome positions to try and win the game. To make matters worse, the defense struggled to pick up VanGorder's complex, aggressive, man coverage 4-3 defense, and when 4th year linebacker Joe Schmidt went down with injury it queued a parade of defensive lapses and miscues that caused Notre Dame to fade down the stretch.
Notre Dame's lack of identity has been epitomized this year by the season they are having. They are trying to establish the power running game which they have failed to do. They are attempting to run some option-type plays which have gotten mixed results, where Deshone Kizer either makes a big play or hesitates to make the run because he is not entirely comfortable. They have also had mixed results in the passing game where Kizer has torched defenses at times or has failed to make the proper reads and identify the open receiver. On defense under VanGorder, they attempted to be an "aggressive" defense, but refused to bring the blitz on the majority of their plays. This led to the defense being incredibly inconsistent over the first four games which led to VanGorder's dismissal. Following VanGorder's departure, Notre Dame began playing more 3-man fronts, zone coverage, and a streamlined and conservative defense which better suited the personnel and led to a vast improvement in their play.
When Brian Kelly first took over the team, he knew the identity that he wanted to establish. He wanted to have a team that was well conditioned, fundamentally sound, and played hard over the course of four quarters. This Notre Dame team is a great departure over the first teams that he fielded. Following year 7 of the Kelly era, he has to make a decision this offseason of who he wants his team to be. It will begin by making the right hire for defensive coordinator. Kelly will need to hire the right person whose philosophy meshes with his own and whose scheme and tactics suit his personnel and the players they are able to recruit.
Next, he will have to gather his offensive brain trust and decide what type of offense he wants to run. Often times we have heard that Notre Dame recruits and is built to be a tempo offense, yet we see tempo being used sparingly. Instead, we still see the remnants of the power run offense that Kelly used in his first few years at Notre Dame, allowing defenses to set in and running the play clock to the final seconds. If Kelly wants to be a power running team, then he has to include more two tight end packages and cross train one of the tight ends to play fullback as well. Notre Dame over the past few years has been abysmal in 4th and one and goal line situations with the inability to run the football up the gut. The only success they have had in these situations is by running Deshone Kizer on the quarterback keeper. Either Kelly needs to adjust his personnel packages, or he has to play with more tempo in order to keep defenses off balance. Either way, Kelly has to decide on who his team is going to be and to stick with it.
There is no doubt that Brian Kelly is a good head coach. Bad coaches don't coach for this long, have over 200 wins, go undefeated with two separate teams in the regular season, and bring his team to the national title game. But for Notre Dame to reach the next step and consistently compete at the highest level, he will have to do some soul searching of who this team is supposed to be and stay consistent with it. Otherwise, his time at Notre Dame will likely be coming to an end.
Thanks to Irish Sports Daily for use of image.