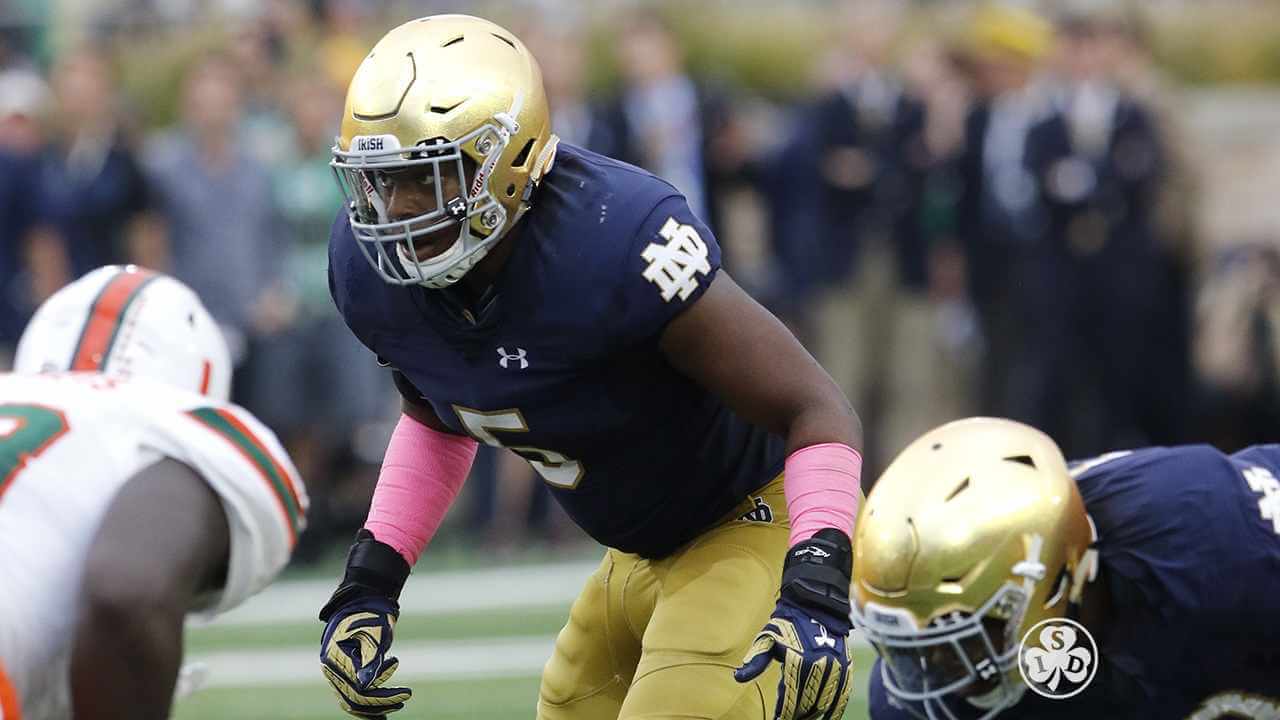 The defense was one of the most criticized areas in 2016 and after 4 games ranked outside of the top 100 in most important categories, leading to the dismissal of defensive coordinator Brian VanGorder. Defensive analyst Greg Hudson stepped in as the interim defensive coordinator with the help of Mike Elston and turned what was an embarrassment of a defense to somewhat acceptable.
In comes Mike Elko from Wake Forest who took a team littered with 2 and 3-star talents and made them one of the more competitive defenses nationally. Elko, known as a great teacher, will be more focused on teaching fundamentals as opposed to scheme which will make him a great departure from VanGorder who was known for his complex defenses. Still early, but Elko will also be expected to shake up the defensive coaching personnel by bringing in one or two of his own assistants.
Elko will not be without talent to work with. The defense will be returning 7 of its 11 starters headlined by captain Nyles Morgan who had a breakout year. The defense will also have plenty of depth emerging with players such as Daelin Hayes and Khalid Kareem among others expected to develop further and get more playing time. With an offense which is expected to be loaded heading into 2017, a respectable defense will be needed to help Notre Dame rebound and make any push for a run at the playoff.
Here are the main areas that the defense needs to improve:
Fundamentals and Assignments over Scheme: Brian VanGorder was notorious for using complex schemes which was believed to constrict the players' ability to perform. It was said that the players had to do more thinking than reacting which led them to being out of position and have multiple missed assignments. This was especially true in 2014 and 2015 when players were burned for big plays which took them out of some very close games against very good teams. This year, we also saw a defense that played with poor fundamentals and technique with the team plagued by a flurry of missed tackles in the first four games.
Elko is known for keeping things simple and using fewer sets which allow players to know their assignments cold. This will be important as the team can't afford to give up big plays against the tough schedule they usually play. While not considered to be a big tinkerer, Elko is also able to change his fronts to suit the personnel that he is working with, which is a major change from VanGorder who often tried to force players to fit his scheme which was like fitting a square peg in a round hole. This type of flexibility will allow Elko to maximize the talent that he already has on his roster.
Creating a Pass Rush: Next to missed tackles, the lack of a pass rush was the biggest weakness for the Notre Dame defense. It wasn't until the fourth quarter of the fourth game of the season that Notre Dame recorded their first sack of the season. After VanGorder's dismissal, the pass rush greatly improved and got more pressure on the quarterback, but was still below the standard which was expected. The most ironic and puzzling thing about the VanGorder era was that he was expected to play a more aggressive defense, but didn't blitz often or rush more than 5 players.
In solving the pass rush issues, Elko will need to be able to generate more pressure with his blitzes. It isn't clear yet whether he will be employing a 4-3 defense or a 3-4, which Notre Dame switched to later in the season and had better results, but he has shown to be able to employ both fronts with Wake Forest and Bowling Green with great effect, which includes using hybrid fronts. Either way, Elko needs to utilize the best front in order to generate more pressure on the opposing quarterback and create more negative plays.
Rotating More Players: This is less of tactical or schematic adjustment and more of a general strategic adjustment. Too often during the VanGorder era, and even dating back to the Weis era, we have seen too little rotation of the defensive players. This is especially true of the defensive linemen who log too many snaps and whose performance is adversely impacted late in games. Utilizing more players in the rotation would allow Elko to do two main things in building the program.
First, by rotating more players in, it allows to spread out the burden of playing time across more individuals leaving them fresher, later in games. Too often in 2016 we saw the defense perform well in the first half, but fade as the game wore on. Rotating players more often will limit fatigue and allow Kelly to stick with his starters late in the game when it comes time to close out the final quarter and make an important stop. Otherwise Kelly will be playing with a tired group which always gives the advantage to the offense.
The other advantage to be gained by rotating the second string players and getting them more playing time is that it gives the younger players who are down the depth chart the opportunity to get on the field and gain valuable experience. A program like Notre Dame with the way that they recruit should not have to go through multiple years of rebuilding in between great seasons. Fewer teams have lost more NFL talent in the past two years than Alabama, Clemson, and Ohio State yet they consistently perform at a very high level with the next player in. Too often with Notre Dame, the backup defensive linemen and secondary do not get enough playing time which creates an awkward transition.
Image used with permission from Irish Sports Daily.