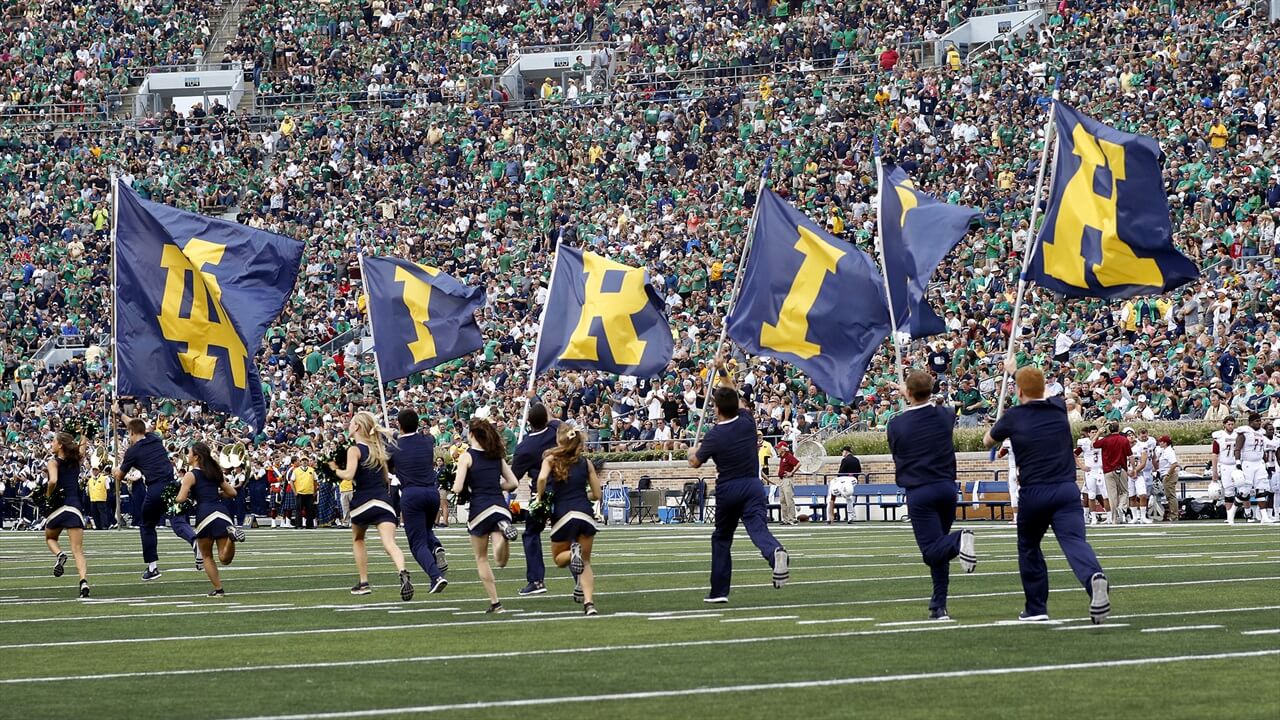 In the final part of a 3-part Offseason Improvements series we will take a look at where Notre Dame can continue to improve outside of the offense and defense. Football has been often referred to as a game of inches, and Notre Dame needs to capitalize on every inch possible if it is going to get into playoff contention. Here are several main areas that Notre Dame needs to improve and have taken steps to do so already:
Special Teams: Notre Dame made the move of letting go tight ends coach and special teams coordinator Scott Booker this offseason. The special teams unit in 2016 was mistake prone committing critical errors which also cost Notre Dame several games. Some of the most notable plays was Miles Boykin playing a ball live on a punt return against Michigan State which gave MSU the ball, allowed them to get back in the game, and rode that momentum for the win. There was also the missed assignment on kicking coverage against Duke which had a similar effect in momentum and led to a Duke win. Nobody will soon forget the blocked punt for a touchdown against NC State, the lost onside kick against Miami, or the 12-men on the field penalty against Navy which allowed the Midshipmen close out the game. Special teams far too often was the difference maker between winning and losing
In comes former special teams coordinator and University of Nevada head coach Brian Polian. In his first stint as special teams coordinator with Notre Dame, Polian's teams were never the most explosive, but always played sound coverage, especially in 2008 when his unit led the nation in return yards allowed with 16.47 per attempt (the second best all time since 2003). If Polian can cut down the errors, special teams looks to be dangerous with dynamic playmaker C.J. Sanders who is a threat to score on any play and Chris Finke who also showed promise in limited action.
Strength and Conditioning: One of the issues that has been plaguing this team for the past few years has been the strength and conditioning program and how the players have been responding to it. The 2015 season was marred by a plethora of injuries which in turn led to the program to lighten up the load of work that was put on the players.
In 2016, the team looked noticeably weaker and were not able to get the same push on the line of scrimmage on both sides of the ball as they had in the past. The offensive line looked ineffective in run blocking and couldn't generate a consistent running game. Defensive linemen were often handled, couldn't stop the run, and in the end of the year only generated 3 sacks. The back 7 also had difficulties tackling and opposing runningbacks exposed them with multiple broken tackles. Notre Dame can improve in multiple areas by improving the strength and conditioning program.
In come Matt Balis from the University of Connecticut where he worked with former Notre Dame defensive coordinator Bob Diaco. Balis is one of the most under the radar hires for Notre Dame this offseason, but could end up making the biggest difference. Joining Balis is Dave Ballou who is coming from IMG Academy. Ballou earned his degree in Kinesiology from Indiana University as well as a masters in Human Movement from A.T. Still University. Balis and Ballou will be expected to implement a power training program at Notre Dame as well as revising the nutrition plan for the players. If Brian Kelly is going to get the most out of his players, it will start with these two.
Player Development: To piggyback on the prior point, Kelly needs to focus on player development heading into the future. Adjustments to the strength and conditioning program will go a long way to getting players ready to play and contribute physically and building them up over the course of four and five years. Kelly needs to also focus on coaching proper football fundamentals and technique instead of complex schemes. Gone is Brian VanGorder and his complex pro-style defense and in comes Mike Elko who will run a more basic scheme. Gone are also co-offensive coordinators Mike Sanford and Mike Denbrock who ran an offense predicated on checks and motions and in comes Chip Long who will run a simpler high-tempo spread offense.
This should allow Balis to focus on developing the players physically while the position coaches focus on developing the players from a technique standpoint and be able to plug and play more players into the system. By simplifying the schemes and focusing on fundamentals, more players will be able to rotate in, thus giving them more experience and developing them better over the course of four years which mitigates the impact of players graduating or departing early for the NFL. It also has the added benefit of keeping players fresh later in the games as well as later in the season when fatigue sets in and injuries pile up.
Recruiting: Recruiting can often be a very tricky topic to discuss. There is often a chicken and the egg relationship with recruiting and success on the field. Success on the field often leads to improved results when recruiting, but quality recruiting is also needed in order to have success on the field. Following a 10 win season in 2015, Notre Dame entered the 2016 season with a top 5 recruiting class as well as a handful of prospects committed for 2018.
Kelly realizes the importance that recruiting has for a program and has loaded his coaching staff not only with quality position coaches, but exceptional recruiters who will make an impact on the road. Kelly will have to pick it up on the recruiting trail and continue to lure in top quality talent not only if Notre Dame is to qualify for the playoff, but in order to have the program performing at a consistently high level as Alabama, Clemson, Ohio State, or Florida State.
With six 2018 prospects already committed, Notre Dame will need to keep up the pressure on these kids in order to lock in another top 5 class prior to the season opener against Temple which will allow the staff to focus solely on football during the season. With the coaching addition added in the past month, it will be interesting to see how recruiting will shape up this offseason.