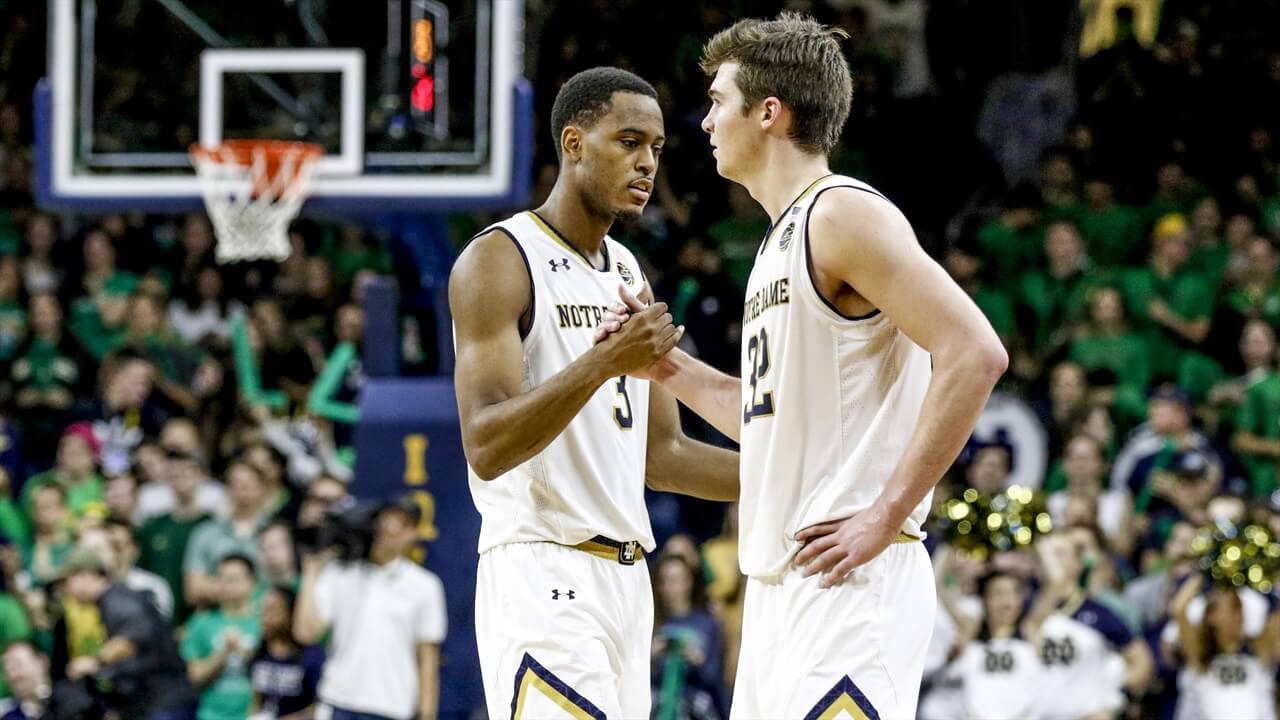 How Notre Dame Still Wins After Being Eliminated from the NCAA Tournament
Although Notre Dame was eliminated from the 2017 NCAA Tournament, there is still reason to watch and cheer.
Following two phenomenal runs to the Elite Eight, Notre Dame crashed out of the NCAA tournament this year in the second round at the hands of West Virginia. It wasn't so much who they lost to that made Saturday's defeat disappointing and deflating, as Bob Huggins is a great coach and West Virginia is definitely a formidable team, but it was the manner in which they lost. Notre Dame didn't seem to have an answer for West Virginia's press defense, and a team that average the nation's fewest 9 turnovers gave the ball away 10 times in the first half alone. Defensively, Notre Dame didn't perform much better allowing West Virginia to shoot 50% from the field, and better than 57% from 3-point range. In the end, it looked like coach Mike Brey didn't have his men prepared for this matchup.
It still doesn't take away from the season that Notre Dame had. Before the season began, Notre Dame was perceived as not having enough firepower to contend with the top teams. A fringe team that would struggle make the tournament. Coach Brey did a masterful job not only to find a winning chemistry for this team, but to also push highly ranked opponents Villanova and Purdue to the very end (and would be disappointed not to have closed those games), opening ACC conference play with five straight wins, finishing with the second best record in conference play, as well as coming within minutes of winning a second ACC conference tournament championship in three years. This team overachieved by many people's standards and coach Brey showed us again why he is one of the top coaches in the country, which made last Saturday's loss all the more painful.
With Notre Dame eliminated and many people's brackets busted with the surprise losses of Villanova and Duke in the second round, it would seem like there would be no reason to watch the tournament until the Final Four or even the championship game. That could not be further from the truth. In actuality, Notre Dame has a vested interest in seeing its rivals progress as far along in the tournament as possible.
It's no secret that college sports have become a huge revenue generator for the elite programs that participate at the highest levels, and the NCAA tournament is no exception. For every appearance made by a team in the NCAA tournament, a certain amount of money is allocated to be paid out to the team's conference to be distributed to its participating members on an annual basis. Last year, the amount was $265,791 (or nearly $1.6 million over six years) and will likely increase every year.
When you consider that the ACC had a nation-leading seven teams participate in the NCAA tournament last year and made a total of 25 appearances in games up until the Final Four (the fund excludes the appearances made in the national title game), the ACC will receive a total greater than $40 million for its success on the hardwood ($6.67 million per year for the next six years). When split among the 15 conference members, that is a lump sum of $445,000 per team. The scary part is that is only the amount that each team will receive for last year's tournament. When added to the other 5 years of award money received, each team will likely look at receiving nearly $2-2.5 million a year. Not bad for perennial doormat Boston College that hasn't made the big dance since 2009.
For a program like Notre Dame, that money covers coach Mike Brey's salary who is believed to be earning $1.75 million per year (which was already fully endowed by a generous contribution) or could go to financing a brand new $30 million basketball-only practice facility that Brey and women's head coach Muffet McGraw have long been campaigning for. Who would have thought that UNC making the final last year would help pay the mortgage? Any extra money that comes in from the NCAA is less money that the athletics department has to take away from another program.
So, if you're a fan of Notre Dame sports and don't know who to root for in the remaining games of the tournament, look no further than UNC. As the lone surviving member of the ACC still in the tournament, every appearance along the way is a $17,500 annual contribution to the university (or $106,000 total). At least Notre Dame will continue to win in some capacity.
Image used with permission from IrishSportsDaily.com