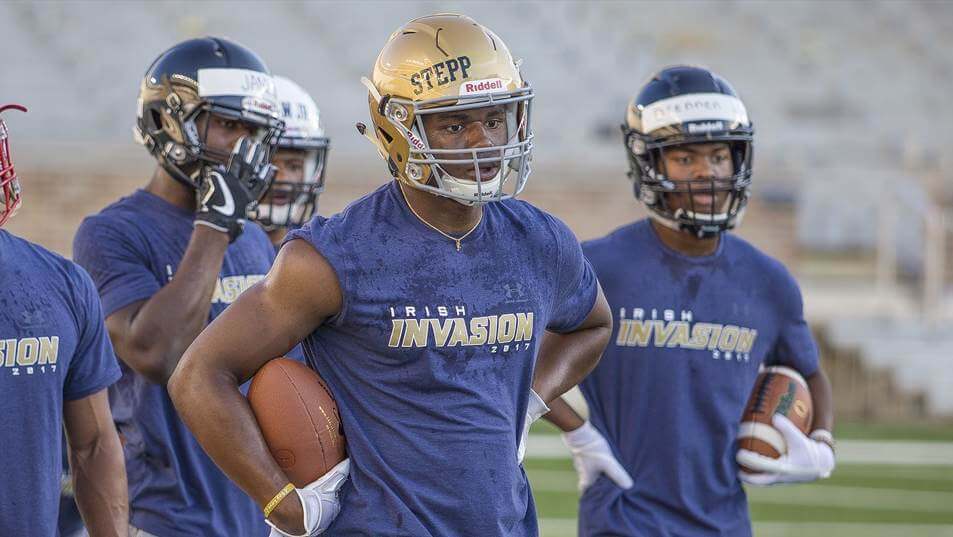 Another Irish Invasion is in the books and while Notre Dame did not host as many high-profile athletes as in years past, there were still some very talented players in South Bend this weekend to take in the campus and what Notre Dame has to offer. Irish Invasion probably went a long way to solidify Notre Dame's standing with some of the prospects strongly considering the school, but it didn't hurt that some of the current players were on hand to coach and several commits were in attendance to help the recruiting effort. Here are some players to look out for as there could be a flurry of commitments on the way.
Potential Commits from Irish Invasion
Paul Moala – The 3-star prospect was a relative unknown to many fans heading into the weekend, but he's definitely someone to keep on your radar now. Moala is a local kid from Mishawaka, Indiana who grew up a Notre Dame fan and for whom receiving an offer from Notre Dame is a dream come true. Having received his offer on Friday, Moala heads our list as the prospect who may commit first. He is listed at 6′ 1" and 190 pounds, Moala is a bruising safety and a hard hitter. He is also a playmaker on special teams as he returns kicks and punts and has been able to make big plays and bring his fair share back for touchdowns. Moala is a player with great vision and has the ability to make big plays which has allowed him to dominate his current level of competition. The drawback to Moala is that he doesn't have the speed or athleticism to translate into any of the other roles in the secondary other than strong safety, although it was rumored that he ran the 40 yard dash in 4.4 seconds, so there may be more to him than what we see on tape. The puzzling aspect of his recruitment is where he would fit in, as he would definitely play second fiddle to Derick Allen at strong safety and with Matt Bauer and Ovie Oghoufo already committed and the staff pressing hard for Shayne Simon and Cameron McGrone, it is hard to see him converting to linebacker. It looks like Moala could be one for depth and would be interesting to see how he fits onto the field.
Shayne Simon – The Irish staff made huge inroads with Simon who is a 4-star prospect, the #7 outside linebacker, and #145 player overall. It helped that his current teammates from St. Peter's Prep, Jayson and Justin Ademilola, were also in attendance as well as former quarterback Brandon Wimbush. Simon enjoyed seeing how close the current team is as well as the 2018 commits. Simon also had a lot of quality one-on-one time with defensive coordinator Mike Elko who was teaching him during drills and working with the high school prospect on refining his technique. Overall, it was a great weekend for Simon and 247's Crystal Ball has shot up to 62% to the Irish with four more predictions favoring the Irish this week.
Cameron McGrone – Another 4-star linebacker, McGrone is currently listed as the #16 outside linebacker and the #248 player overall. The Indianapolis prospect was slow to receive an offer from the Irish coaching staff having blown his knee mid-season and requiring surgery, but received the coveted offer from Notre Dame last month and has been trending since. On tape McGrone looks like an exceptional talent with the speed and quickness to be very disruptive. He is great in coverage as well as a blitzer, had McGrone not have gotten injured, he would have been a much higher rated prospect. This weekend went a long way to provide the Notre Dame coaching staff that McGrone has recovered from surgery as his athleticism and agility were on full display and McGrone also won the fastest linebacker challenge. McGrone raved about his visit at the end, especially his experience with linebackers coach Clark Lea with whom he received a lot of personalized coaching. All nine of 247's Crystal Ball's predictions are favoring the Irish, and it would not be a surprise if he also commits this week.
Donald "DJ" Johnson – Following the decommitment of 4-star cornerback Kalon Gervin, the staff have been targeting DJ to fill the void at a position of great need. The Notre Dame staff failed to sign a cornerback in last year's recruiting cycle and still don't have one committed despite the class already being half full. DJ may very well be the first cornerback to commit to the class and stick. The 4-star instate prospect from Indianapolis is currently ranked as the 31st cornerback in the class and 321st player overall with all eight of 247's Crystal Ball picks favoring the Irish. DJ enjoyed his visit on campus, getting to meet all of the coaching and strength staff as well as take in the Notre Dame campus with his mother along for the trip. While on campus, DJ did run a sub 4.6 40-yard dash showing off a little speed. With the lack of depth at cornerback in recent classes, which he noted, DJ could look to secure a spot in Notre Dame's class very soon.
Extra Point
Looking ahead to the 2019 class there were a couple of players to note. Top linebacker/defensive end recruit George Karlaftis practiced well and showed that he had plenty of raw potential. Notre Dame looks like favorites to land the instate prospect as he was blown away yet again. Karlaftis may be the first 2019 recruit to commit to Notre Dame. Another instate prospect who practiced well was Fort Wayne's 6' 3'' wide receiver Craig Young. Young still doesn't have an offer from Notre Dame, but after recording a 4.5 40-time, he showed the Irish staff that he has a rare combination of size and speed that will make him a threat on the next level. A former basketball star, Young is still very raw and just learning the game of football. If he has a stellar junior season, look for him to shoot up the boards and get his offer from Notre Dame. Out of the quarterbacks, 2019 prospect Paul Tyson looked like the best signal caller in the bunch. Being from Alabama, and the great-grandson of the legendary Bear Bryant, it would be tough for Notre Dame to pull him out of the Crimson Tide's grasp, unless they are genuinely not interested. Right behind Tyson was Orange, California product Ryan Hilinski. Hilinski grew up a Notre Dame fan, but at this point he is way down Notre Dame's board as the Irish staff will attempt to focus on their higher priority prospects.
Image used with permission from IrishSportsDaily.com.