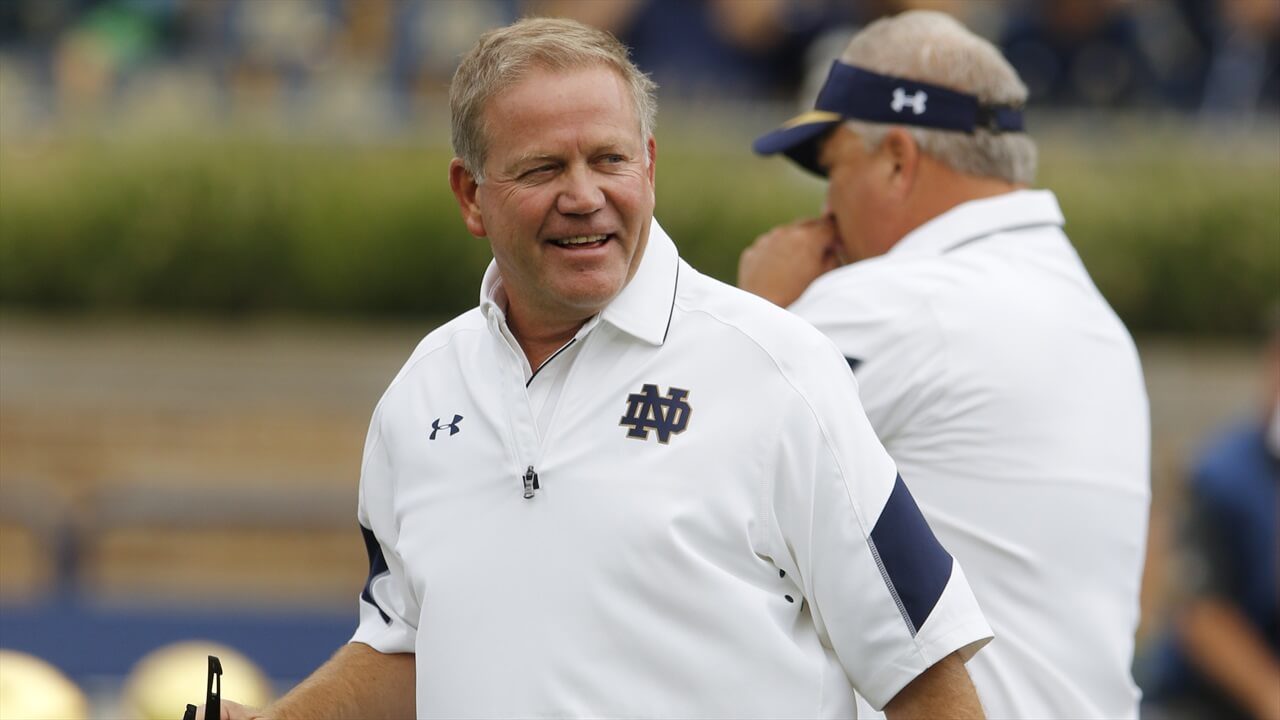 Related: Notre Dame Needs to Improve Defense and Offense
Focus on Fundamentals
The Notre Dame coaches need to put the "fun" back in fundamentals. No, but really, the 2016 team was characterized by the mistakes and errors that the team made as far as fundamentals, technique, and assignment. On defense, throughout the entire BVG tenor, the defense made mistakes with their assignments which allowed opposing offenses to make big plays on them. Last year, the tackling became suspect which allowed opposing offenses to stay on the field.
This type of mindset carried over to other facets of the team. The offensive line failed to play up to their talent level, which included four likely future NFL prospects. The offensive line made costly false starts and were unable to run block to their potential, which ultimately comes down to poor technique or conditioning (more on that later). The special teams were just as bad as muffed punts, blown coverages, and the inability to cover an onside kick cost them in close games against Duke, Michigan State, and Navy to name a few (not to mention nearly costing them against Miami which they barely squeaked out).
The coaches have to make sure that this team remains focused throughout the season and that their technique and fundamentals improve as they become more experienced. Just by cleaning up their mistakes, it should get Notre Dame closer to doubling their win total.
Strength and Conditioning
Brian Kelly addressed this department with the additions of Matt Balis, David Ballou, and a few other assistants. There were times last season where the team looked beat up, and were significantly less physical then the opposition. For two quarters against Michigan State before and after halftime, Notre Dame was unable to run the ball or stop the run, being dominated on both sides of the line of scrimmage. This allowed Michigan State to break away for a win that was more convincing that the final score would suggest.
Maintaining physicality throughout the season will be important, especially since they play many teams that shouldn't be able to match up with them athletically. Improved strength and conditioning should allow the team to jump out to early leads as well as maintaining them. The other benefit of improved conditioning should be the increased fitness and the lack of injuries that result from it. Notre Dame has plenty of depth in many areas, but there are a few such as defensive line and the defensive backfield that could be in crisis if there are more than a couple of injuries.
Player Rotation
This is an understated aspect of coaching, but player rotation is important for a couple of reasons. First, rotating players allows the starters to remain fresh and play stronger longer in the game. By peppering in the second unit for a several snaps here and there, the starting unit can get a breather and play with greater intensity late in the game in the fourth quarter where big plays and defensive stops count the most. As seen last year, there is no opponent that Notre Dame should be taking the foot of the gas pedal, and by rotating player it allows the team to push harder.
The other benefit of rotating in the second unit is that it allows for the backups and younger players to get valuable reps and experience. At some point this season, a starting player will be out due to injury or suspension. It's an undeniable part of college football. When that happens, the coaching staff has to be assured that there is someone with enough talent and experience to be able to jump right in without a significant drop in production. The other benefit is that of a program continuation standpoint where the younger players are trained to be able to jump in and take over the starting role when a player graduates or goes to the NFL. Too often during the Brian Kelly era, we have seen the team ravaged by graduations and players leaving early only to have a series of questions of who will be starting in their places. If Kelly is to build the sustainable 10-win per year program that he has yet to do, being able to develop depth by rotating players is an absolute must. Otherwise, the program will continue to have volatile seasons which has characterized Kelly's tenor at Notre Dame.
The image in this article is used with permission from IrishSportsDaily.com.