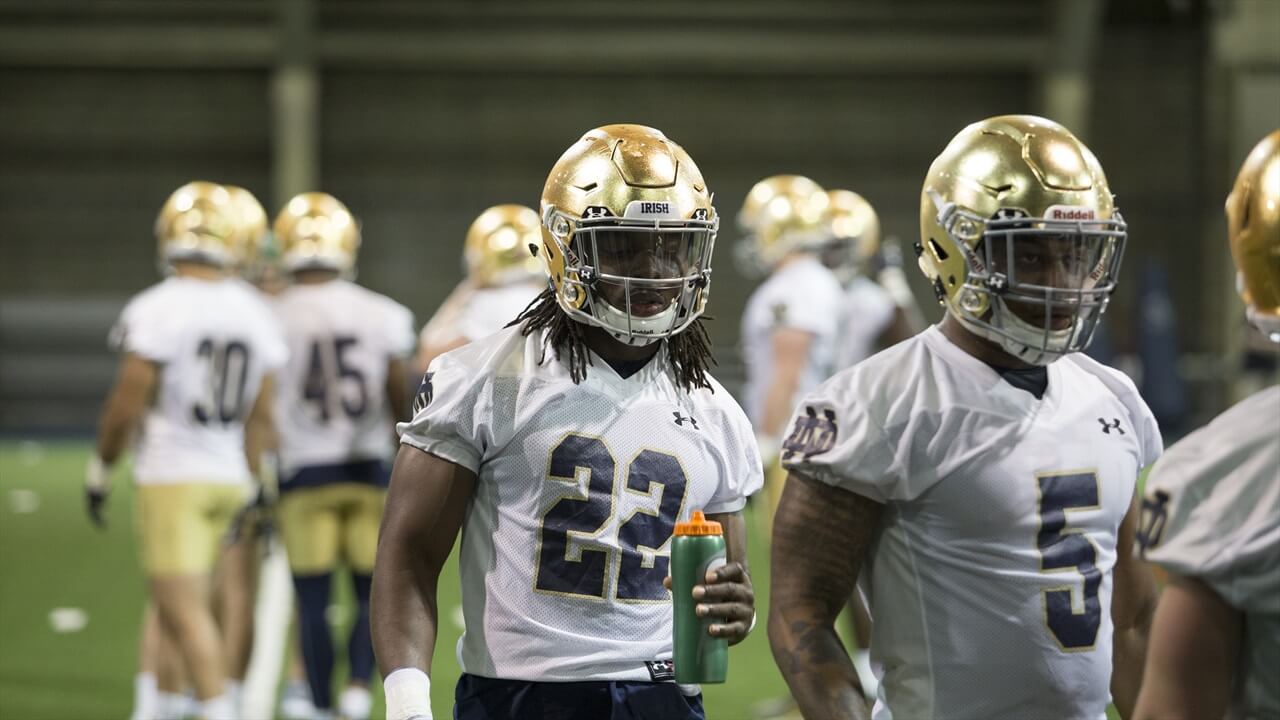 Related: Three Things Notre Dame's Offense Needs to Improve
Generate a Greater Pass Rush
Notre Dame was last in sacks among Power 5 programs in 2016 and only generated 3 sacks along the defensive line. This will be a critical area for improvement considering the nature of modern day football. Many of the teams they will be facing will look to drop back and take advantage of the youth and inexperience in the secondary, especially at safety. Even though the Irish cornerbacks impressed last season, coach Elko will need to keep in mind that they are still young and inexperienced at that position, and to put it into context, those returning with the most starts are true sophomores. With that, expect growing pains in the secondary, and Elko will need to do whatever it takes to generate a pass rush to minimize the pressure on them. Also, an improved pass rush will also be key in games where they are nursing a lead and the opposition will look to pass more to get back in the game.
Improve Fundamentals and Tackling
The key to keeping the opposing run game in check may not lie as much with the defensive line as it will with the linebackers. Don't get it wrong, spectacular defensive line play can go a long way to shutting down the run game, but so often during Brian VanGorder's reign and last season we saw linebackers take bad angles to the ball carrier, miss their assignments, and tackle poorly. This is what often led to opposing offenses breaking off long runs as opposed to a mismatch in athleticism. This is what allowed USC running back Ronald Jones to score a 51 yard touchdown after breaking two Notre Dame tackles. Returning to sound fundamentals and technique will limit the number of three and four yard gains from becoming 20 yard gains or more.
Communicate Better
Communicating with those around you is probably more important on defense than offense (save maybe the offensive line). So often under BVG's tenor, the defense would play brilliantly for 80–90% of the ball game, but lapses in communication would lead to missed assignments and opposing players breaking free to make a big play. The front seven will likely be much improved in this aspect as they will be led by three captains at linebacker (Nyles Morgan, Greer Martini, and Rover Drue Tranquill) as well as third year starter Jerry Tillery.
The bigger question will be who will lead the secondary in getting them organized on the field as Nick Watkins and Nick Coleman are the upperclassmen of the bunch, but they themselves have limited starting experience. Notre Dame has the talent in the secondary, but lacks the experience and leadership. Should one or two emerge as leaders and are better able to organize the players at the back and get them more assignment sound, the Notre Dame defense should improve tremendously and help get the team back to 10+ wins.
The image in this article is used with permission from IrishSportsDaily.com.