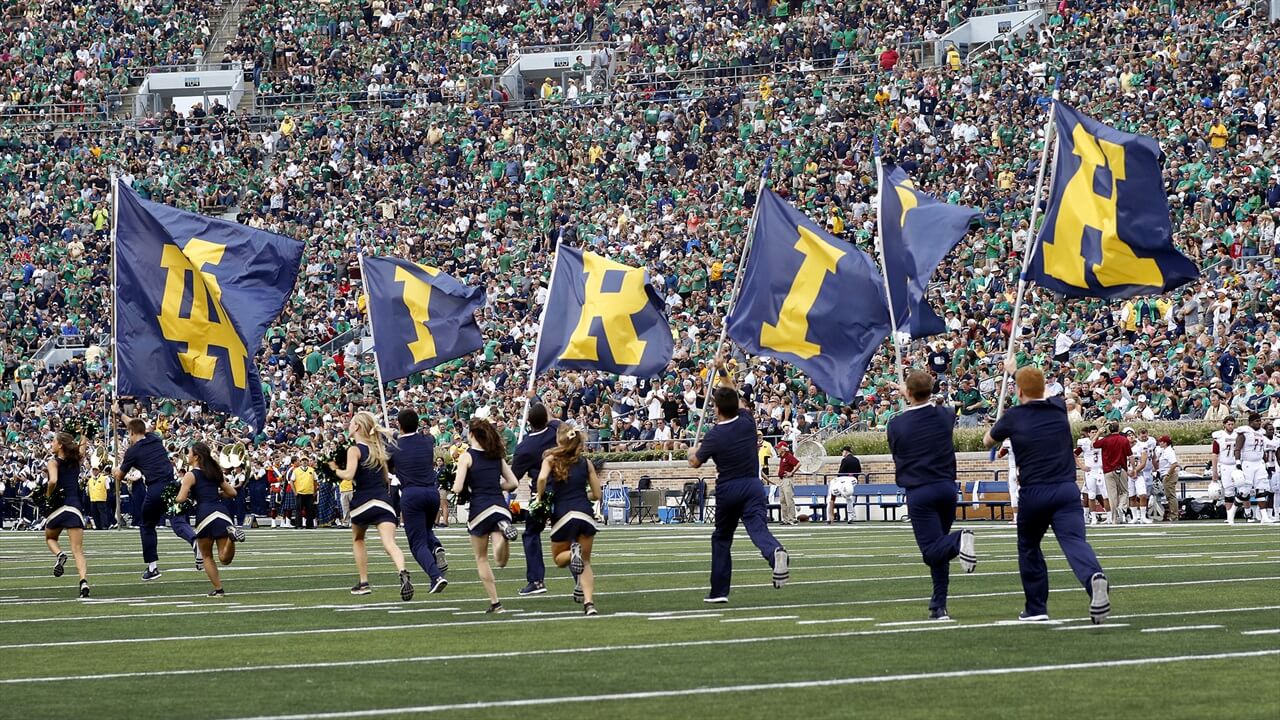 Related: Three Things Notre Dame's Defense Needs to Improve
Run the Ball With More Consistency
Notre Dame's offense was the most prolific in the Brian Kelly era last year, but fans and observers felt as though there was something missing. There was an element missing which would have made the offense more consistent and elevated it from good to great, and that was a consistent running attack.
Despite having four starters on the offensive line last year with NFL caliber potential, the run game was inconsistent and was unable to run the ball at will and control the tempo of the game. This was even true against "inferior" opponents who should not have stacked up as well athletically. If Notre Dame is to have a bounce back season, it will need to be able to run the ball more consistently in order to bring balance to the offense, keep defenses guessing on the play call, and to close out the game when having the lead.
Kill Off The Opponent
To piggyback on the last thought, Notre Dame's offense needs to do a better job of closing out games and killing off the opponent. Last year we saw an offense that jumped out to early leads in most of their games, only to unravel and let opponents back into the game. Part of the answer will be an improved running game which will allow the team to run the ball more consistently, wear down defenses, and run out the clock. The other aspect of this will be to remain aggressive throughout the game and continue to put points on the board.
With the defense likely to take time to gel together under first year defensive coordinator Mike Elko and his new scheme, the offense will need to score early, often, and late to improve their win total. They won't be able to have the same post-halftime slumps that they had last year which contributed to many of their close losses. Instead, they will need to remain as aggressive throughout the game in order to put up the points that they need so that they can bail out the defense when needed. In this age of college football, it should not be too much to see an offense with as much NFL talent as Notre Dame all over the field score closer to 40 points per game. Following a season where 7 of 8 losses were determined by one possession, it is evident that every point counts.
Keep Wimbush Upright
The offensive line that will feature five future pro prospects will no doubt be the engine that will make this offense and team go. Not only will they be tasked with a more consistent running game, but they'll also be expected to keep first year starter Brandon Wimbush upright. Limiting the pressure that the rookie starter will have will be critical as he will no doubt be expected to run a clean, mistake free offense. With so much being in flux with a new quarterback, as well as a new defense, Wimbush will be needed to limit the amount of turnovers produced.
Making sure that Wimbush gets enough time in the pocket will not only be important in limiting mistakes and turnovers, but equally as important in making big, game-breaking plays. With all of the talent all over the Notre Dame offense, the athleticism at running back, receiver, and tight end, the more time that Wimbush has, the better chance he'll have to find one of his weapons for a big play. As we saw this year in the Spring Game, as well as his freshman year against UMass, Wimbush has the ability to tuck the ball and run, and be a very dangerous runner at that. His ability to have time to read all his progressions in the run-pass option system and take off when needed, making something out of nothing will be a difference maker in games. The ability to turn a loss or a possible mistake into yardage or a big play will propel the offense to the next level and get it closer to becoming a playoff caliber team.