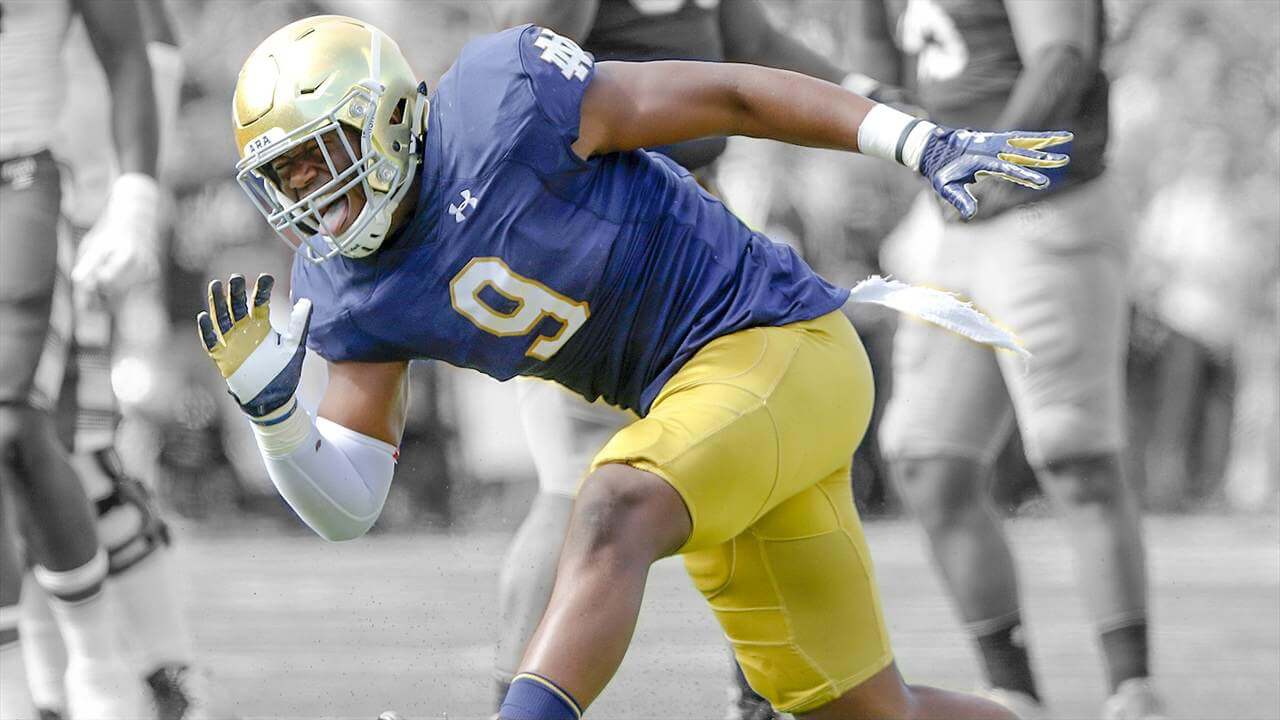 The Defense is Solid, But Not Great
The defense did a lot of good things against Temple which Mike Elko can be happy about. It held Temple to an average performance, allowing only 330 total yards and keeping the running game in check all day with 85 yards on the ground. It also held Temple to 5 of 17 on third down conversions for 29%, as well as locking down on both fourth down conversions. While there weren't as many big plays as you would hope, with the lone takeaway being a forced fumble in the second half, the defense did a solid job keeping an upset-minded Temple offense in check all day and just doing the simple things to make this game a cakewalk.
This Defense Will Record a Lot More Sacks
Last year we had to wait until game four against Duke until we saw the first sack by a Notre Dame player. Against Temple, we only had to wait until the sixth defensive snap before we saw Julian Okwara surgically slice through the Temple offensive line for one of the cleanest sacks that you'll see on the college level. The Notre Dame pass rush was abysmal last season with 14 total sacks on the year and only three coming from defensive linemen, ranking them last among Power 5 programs. With the increased pressure that was brought by the Notre Dame front seven on Saturday and the effectiveness getting to the opposing quarterback, Notre Dame should be able to double their paltry sack total from a year ago.
Special Teams Are Being Taken Seriously
One of the things that was noticeable early on was the renewed emphasis that was placed on special teams. In a few coverage situations, the first names to get to the ball were those of Julian Love and Greer Martini, a pair of defensive starters. It seemed as though everywhere you looked on special teams, there was an offensive or defensive starter making a play or a very talented backup such as Tevon Coney or another future starter who was nearby. Brian Kelly made special teams a priority by going out and adding a former head coach and special teams coordinator in Brian Polian, but on Saturday we learned that it wasn't just lip service and that the coaching staff backed up their intentions on the field. This year we should hopefully avoid the miscues which led to several losses last year and momentum changing plays.
Subtle Gains From Strength and Conditioning
It's very difficult to assess the gains that were made by a new strength and conditioning program that was ushered in by new hires, Matt Balis and Dave Ballou, this early in the season with one game in the books but it looked as though this team is stronger and holding up better against their opposite numbers. I noted early on that the wide receivers looked significantly stronger in run blocking with the ability to hold their blocks for an additional second or two which allowed the running backs a little extra time on the sweeps to get to the edge and turn the corner. Likewise, the offensive line looked powerful as well creating massive holes for the backs to rip off large gains against the Temple front seven. We still need to see more, especially how the defensive front seven holds up against a more talented Georgia team next week, but early returns look promising from Balis and company.
The image in this article is used with permission from IrishSportsDaily.com.