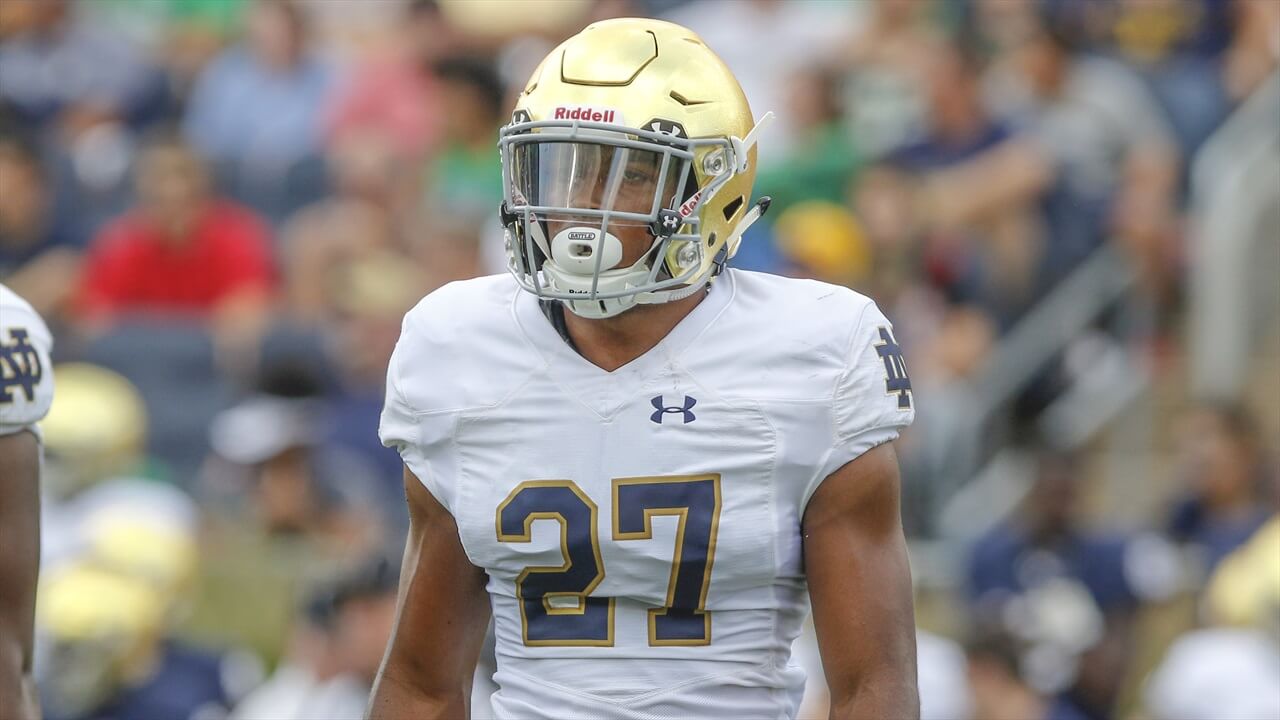 Notre Dame put in a dominant performance on the road in what would be the first statement win of the 2017 season. The Irish had a daunting task going on the road and taking on a Michigan State team that looks to be refocused after finishing 3-9 in 2016, and themselves going through some deep soul-searching as a program. With the Spartans out to a 2-0 start, boasting what looked to be one of the top defenses in the country, this looked like a potential trap game for the Irish.
The offense came out early and put in their most balanced performance of the year so far. The staff made it a point of emphasis to script several quick, short passing plays in order to help get their rookie quarterback in a rhythm and help him find his groove. Wimbush connected on three of four passes before letting one rip for 40 yards to Equanimeous St. Brown. Wimbush found space to split the defense for 16 yards and the score to get Notre Dame off to a quick start.
While it wasn't a perfect performance on offense, this could be perceived as the most satisfying offensive performance on the year despite not having the gaudy yardage and big plays that they produced the week before against Boston College. Up front, the offensive line looked to be coming further along, producing a consistent push against Michigan State's front seven and allowing its top three rushers to average over 5 yards per carry. They also created a consistent pocket for Wimbush to allow him to settle into the game and find his open receivers.
The passing game also came along on Saturday. Wimbush looked much more settled, making his reads and going through his progressions. He finished 14 of 20 for a 70% completion percentage. His total QBR was 92.6, good for fourth best quarterback on the weekend, behind Auburn's Jarrett Stidham (96.2), Ohio State's J.T. Barrett (95.7), and Stanfords K.J. Costello 94.5. Wimbush looked much more poised, as did his receivers.
Notre Dame looks to have found their top receiver rotation, with Chase Claypool stepping up in place of the injured Freddy Canteen. Claypool collected 4 receptions for 56 yards in addition to St. Brown's 4 catches for 61 yards. While they may not have had the most explosive of offensive performances, Notre Dame was the fourth most efficient offense of the day at 97.1, just behind Oklahoma (99.2), Alabama (99.2), and Virginia (98.9). The offense made strides on the day which were much needed as it looks to put together a good bounceback season.
The defense also put in another solid day in the office, showing significant improvement from last season. Much like the offense, the defense didn't have a perfect game, but did what it needed to do to win the game. This defense is much more capable of making the big plays that are needed to win big games, especially on the road. For the second week in a row, the defense forced three turnovers and a turnover on downs which led to being converted for a total of 24 points.
The turnover clinic was started by Julian Love who jumped the route to intercept Brian Lewerke and take it to the house for a pick-six. Love had a very good game on the day, despite allowing for a touchdown reception to Darrell Stewart Jr. who at 6' 2" was able to get over him and outmuscle Love for the touchdown. On that play and a few more, Love showed his inexperience as he did not turn his head to find the ball, which would have allowed him to make several more plays, including adding to his interception total on the night.
The front seven also did well, keeping the ball in front of them and not allowing L.J. Scott or Brian Lewerke to burn them for big yardage. The lone lapse in coverage came from a 3rd and 1 where an offensive lineman was able to get to the second level to block Nyles Morgan and create a hole for Lewerke on a quarterback sneak to get past an out of place Tevon Coney and take it for 52 yards. Despite that, Lewerke finished with 9 carries for 52 yards. The Spartan offense was only able to move the ball easier late in the third quarter after the game was already out of hand and Notre Dame began to play their second team.
This game wasn't as close as the final score would indicate. Notre Dame was clearly the better team and showed us that if they dial it in and put together a clean, mistake-free game, it could keep up with the elite teams and dominate lesser competition. There is still a lot that we don't know about this Irish team yet, as this Michigan State team is the second youngest team in the FBS and haven't been tested yet coming off of a 3-win season.
What we do know is that this is a good Notre Dame team that should be able to take care of business over the next two games heading into the bye week. After that, they host a top 5 USC team who could be undefeated at that point and looking to make their first playoff appearance under the new format. That would mark the second chance that ND will have to get a statement big-win against a highly ranked opponent. Until then, enjoy this win as Notre Dame went a long way to improve their record against Power 5 opponents on the road.
The image in this article is used with permission from IrishSportsDaily.com.