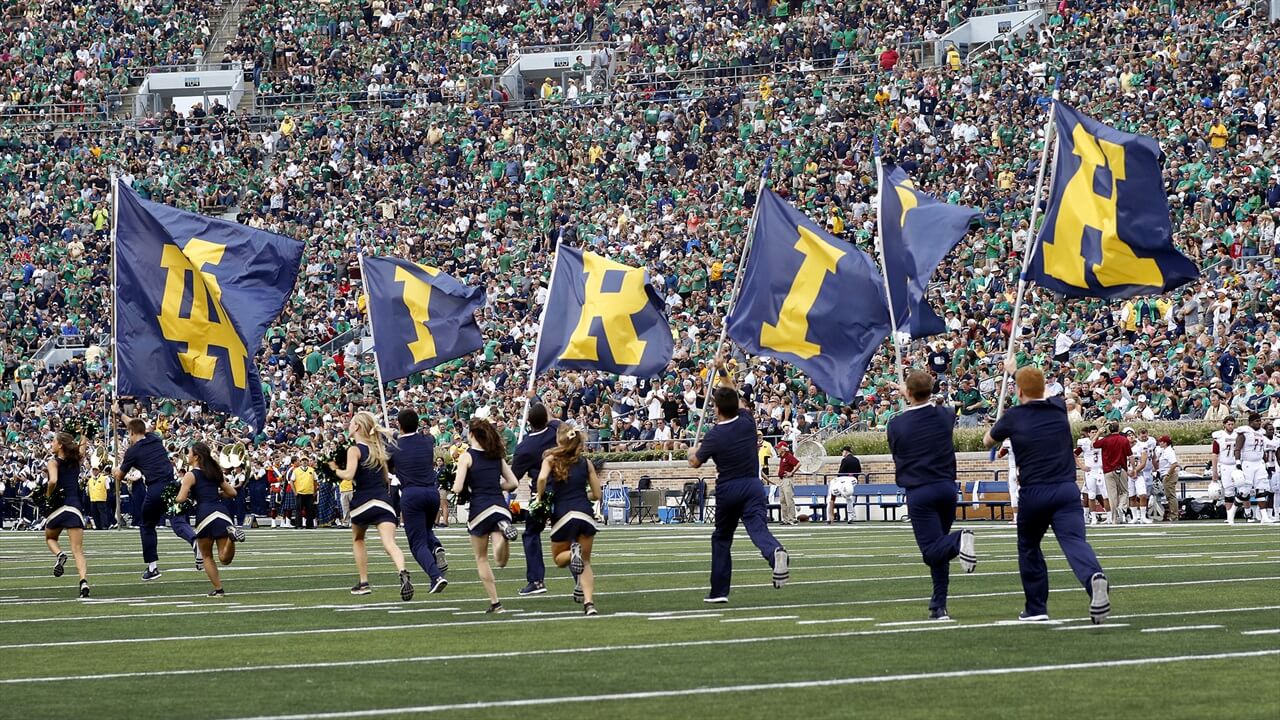 When you get a traditional SEC power like Georgia to cross the Mason-Dixon line for the first time since 1965 to come to one of the most hallowed sites in college football, you can bet that the coaching staff will leverage this game as best they can for a recruiting windfall. It is reported that Notre Dame had over 60 official and unofficial high school prospects comprised of current commits, 2018, and 2019 prospects to take in Saturday night under the lights.
For starters, the biggest disappointment on the weekend (aside for the loss itself), was the cancellation of the highest rated prospect on Notre Dame's board. Five-star Georgia offensive guard Jamaree Salyer (a consensus top 10 prospect ranked #7 247Sports' Composite Rankings) tweeted Friday night that he would have to cancel his official visit to Notre Dame due to "family issues." Notre Dame looked like it would be playing catchup with in-state Georgia, who they were hosting, and Clemson on this and needed Salyer to come visit for a big game to be firmly entrenched in this battle. At the moment, it is the relationship with offensive line coach Harry Heistand and his reputation for sending linemen to the NFL that is keeping ND in this race. In hindsight, it may have been better that Salyer stayed home for this one and reschedules for another marquee matchup, such as USC on October 21, considering Georgia won, how inept the offensive line looked, and how well the Georgia fanbase traveled and took over South Bend. Georgia won multiple way, both on and off the field, and it is probably better that Salyer didn't witness that firsthand.
Of Notre Dame's other prospects that they had hosted on campus, the one that is the highest rated and most likely to get is four-star safety, Julius Irvin of Anaheim, California. Irvin is ranked as the 20th safety in the class and #273 in the 247Composite and has the athleticism and positional flexibility to play cornerback should this class fall short in that department. Irvin was glowing throughout his visit to Notre Dame and loved his time on campus. Even prior to the game, Irvin expressed how Brian Polian and Mike Elko have been making him feel like a priority and how he feels as though he is a top of the board prospect.
Distance will unlikely be a factor in this recruitment as the two frontrunners at the moment are Notre Dame and Washington, plus Notre Dame's contract with NBC was a huge plus with his mother. Irvin was hosted by Tony Jones Jr. and co-hosted by Jordan Genmark Heath, but his relationship with Equanimeous St. Brown is probably most important as they are very close friends from back home. St. Brown's father also got in the mix encouraging Irvin to choose Notre Dame and that "it would be a great decision." Overall, Irvin had a great visit and thought the defense was lights out, so it is safe to say that Notre Dame firmly entrenched themselves in what should be a two horse race with Washington. As he left campus, he proclaimed that "Notre Dame is high on his list" and that he "doesn't have a leader anymore."
Four-star cornerback Houston Griffith (#10 CB and #59 overall) was also on campus for the weekend. It was believed that Notre Dame was out of the race for Griffith, which he dispelled as being untrue. Prior to the game, Griffith did remark how what he saw against Temple last week was eye-opening and was impressed that Elko was able to deliver what he promised on the field. With that said, Saturday night's defensive slobberknocker should have only won Notre Dame more points with Griffith as the defense showed a lot of toughness and grit that was otherwise questioned. With Hurricane Irma going through Florida and Griffith wanting to get home to Chicago to be with family, this proved to be a fortuitous chain of events.
To keep with the trend of highly rated defensive backs, four-star cornerback and former Irish commit Kalon Gervin (#22 CB and #214 overall) has circled back around to Notre Dame again. Gervin has made his intentions clear that he wanted to visit for both the Georgia and USC games which is a complete change of heart from a couple of months ago where he felt as though he wasn't being given enough attention and was visiting with Virginia Tech, Ohio State, and Alabama among others. Just like with Griffith, Gervin is impressed with the drastic turnaround that the defense has already made under coach Elko which is proving to be a major selling point. Gervin has also built a strong relationship with coach Todd Lyght, and was very impressed by the pregame speech given by Brian Polian on what it means to play for Notre Dame. Notre Dame is hitting a lot of the right notes with Gervin, and if the defense continues on their upward trajectory, they could be the perceived favorites when Gervin returns for the USC game.
Switching to the offensive skill players, Notre Dame hosted three-star wide receiver Geordon Porter (#88 WR and #484 overall) from Rancho Cucamonga, California. Porter is a high riser, having climbed from outside the top 1,200 within the past couple of months, Porter is being recognized a lot more now as a legitimate weapon by more scouts and major programs. He is 6' 2" with a legitimate 4.40 40-yard dash. Porter is the deep threat burner that Notre Dame have been looking to replace since losing Braden Lenzy to Oregon several months ago.
By many accounts, Porter has been blown away by his visit to Notre Dame. Even though he came off a thrilling visit to UCLA which ended with a game-winning touchdown for the home Bruins, it appears like his visit to Notre Dame may just have been on another level. He found everything on the campus to be "amazing," by his own account, from the campus, to the facilities, to the brand new locker room, and the stadium. Both he and his father were extremely impressed and claimed to not having seen anything like it in regards to the atmosphere of Notre Dame and how the crowd got behind the team. Despite having been to a big game the prior week, this game was clearly on another level for both of them. It was also an important visit for Porter in another respect as this was his first time meeting his recruiters, Brian Polian and DelVaughn Alexander. By all accounts, this was an extremely successful visit for Porter, and Notre Dame may have jumped into the lead with his recruitment, although he is not done with his recruitment.
Notre Dame also had several underclassmen on campus as they look to continue to build on their 2019 class. The biggest (quite literally) 2019 prospect is four-star defensive tackle Mazi Smith (#7 DT and #151 overall) from Grand Rapids Michigan. Notre Dame has been on fire with defensive tackle recruiting as of late with Darnell Ewell, Myron Tagovailoa-Amosa, and Kurt Hinish in the 2017 class (the latter of which have already impressed and gotten into the rotation as true freshmen, no easy feat), Jayson Ademilola and Ja'Mion Franklin in the 2018 class, and Jacob Lacey in the 2019 class. For all their faults with recruiting elite defensive linemen a few years ago (especially at defensive tackle which looks to have an issue with depth now), the Irish look to be on a tear now. Notre Dame is in a strong position with Smith as well as four-stars Jowon Briggs and Rodas Johnson, the Irish will likely lock in another one of these elite defensive tackles to lock down the position group for the 2019 class.
Another 2019 defensive lineman that Notre Dame made a great impression on was four-star defensive end Joseph Anderson (#8 SDE and #91 overall) from Murfreesboro, Tennessee. This was Anderson's first Notre Dame game and he was able to take in the atmosphere. He also noted that it gave him the chance to get closer with the coaching staff as well as Jacob Lacey and Mazi Smith. Fellow Tennessee native Cole Mabry was also in his ear with whom he has had a previous relationship with. Overall, it was a great trip as Anderson loved the atmosphere, was impressed by the radical improvement on defense, and sees himself attending school at Notre Dame. Even his parents came away impressed with the trip. Anderson will look to enroll early and will likely make his decision next summer.
Last note, Notre Dame also hosted four-star running back Cesare Mellusi who also hails from his position coach, Autry Denson's, home state of Florida. Mellusi is ranked as the 15th best back of 2019 and #204 overall, as Notre Dame will look to continue to stockpile elite running back talent in the backfield.
The image in this article is used with permission from IrishSportsDaily.com.