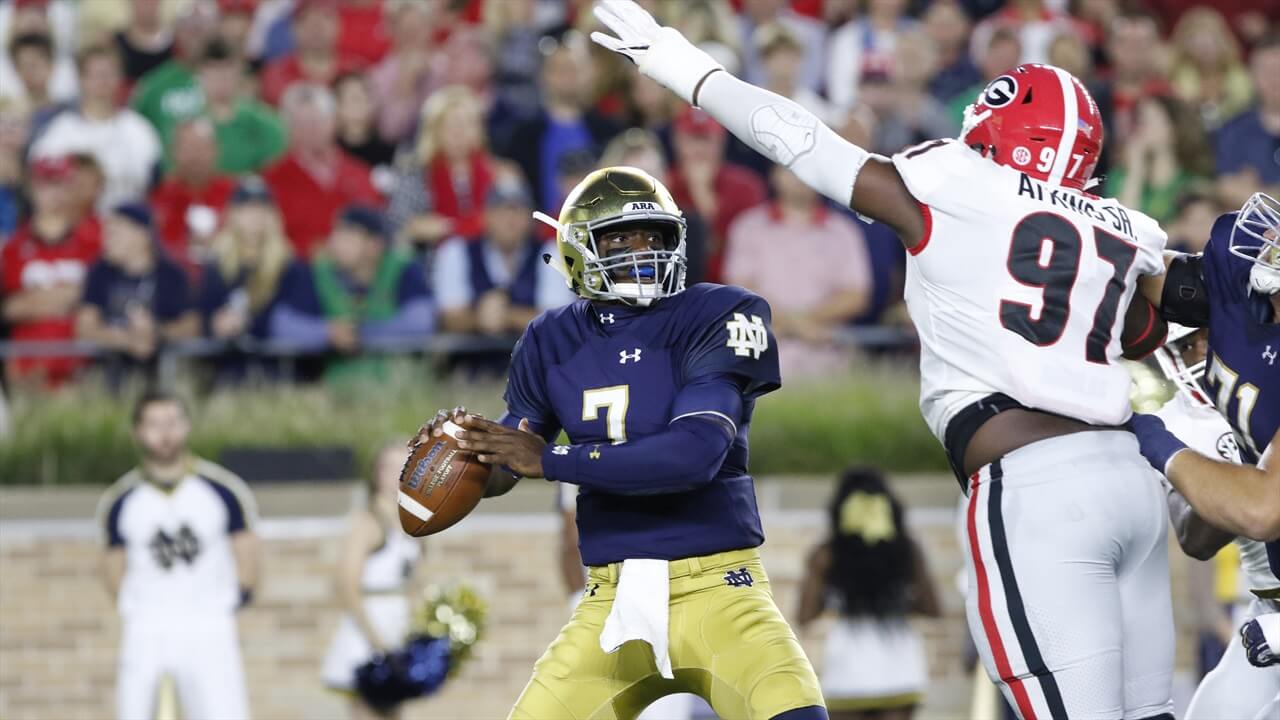 With the bye week having passed, the only thing we can do as Notre Dame fans is watch the rest of college football in action, pray for some upsets, and hope that our opponents keep winning to improve our strength of schedule and give us more credibility. This week, we will look into the performance of Notre Dame's opponents and asses their impact on Notre Dame's schedule, starting with who they have already played. Notre Dame schedule so far hasn't been overly impressive, but a 1-point loss to Georgia and a blowout win over Michigan State on the road are looking better for Notre Dame with every passing week.
Temple
Temple was favored against UConn this weekend, but turnovers and sloppy play cost them the win after outgaining UConn 473 yards to 244, including holding them to a paltry 105 in the air. At this point, we can no longer say that Temple is a credible opponent who had won 10 games in each of the prior two seasons but rather a decent Group of 5 opponents that lacks elite talent and whom we should've beaten handily. This win doesn't mean much to Notre Dame's strength of schedule. Verdict: Stock down
Georgia
Georgia ran all over Missouri at home registering 370 yards on the ground and another 326 by true freshman Jake Fromm for a total of 696. Georgia is continuing to roll through its schedule and it is looking more likely that they could finish the regular season undefeated and find itself against the Alabama in the SEC title game. Georgia has risen to the third spot in the polls that one point loss in the second game of the season is looking more impressive with each passing week. If that is Notre Dame's lone blemish of the season, then they could very well find themselves in the playoff come January. Verdict: Stock up
Boston College
Boston College upset Louisville and reigning Heisman trophy winner Lamar Jackson on the road in what turned out to be a 45-42 shootout. BC hung in with the Cardinals, trailing 21-14 by half, but a second half offensive explosion saw them take the lead and grind out the win in the final minutes. This was a program defining win for Steve Addazio who may have very well gotten himself off the hotseat should he be able to continue to build on this. AJ Dillon ran for 272 yards on 39 carries and 4 touchdowns and will need to keep up his production to gain bowl eligibility. Verdict: Stock up
Michigan State
Michigan State managed to withstand a late 21-point fourth quarter rally from Minnesota to hold on to the win and continue to roll through their opponents. After beating Michigan last week, they should only continue to climb up the polls as they are now number 18 in the country. Currently 5-1, the rest of their schedule includes Indiana, Northwestern, Penn State, Ohio State, Maryland, and Rutgers which could end up seeing them finish 9-3 or better. Michigan State is the lone signature win for Notre Dame to date, and will need to continue to take care of business in order to boost ND's credibility. Verdict: Stock up
Miami of Ohio
Notre Dame's most dominant win of the season which saw them jump out to a 45-10 lead at halftime, Miami of Ohio continues to disappoint to date. With a loss to Bowling Green last week and a close 17-14 loss to Kent State this week, they are currently 2-4 and bottom of their division. Chuck Martin's program is flailing at the moment and he will need another second half run in order to make it to a bowl game. Until then, this looks like another meaningless win that doesn't add anything to Notre Dame's bottom line. Verdict: Stock down
North Carolina
UNC lost yet another close one to a very good Virginia team at home 20-14. This has been an utterly snake-bitten season and the Tar Heels can't turn the page quick enough as they have three ranked opponents left in Virginia Tech, Miami, and NC State with their lone winnable games at Pitt and at home to FCS Western Carolina. This is another win that means little to Notre Dame's credibility. Verdict: Stock down
The image in this article is used with permission from IrishSportsDaily.com.