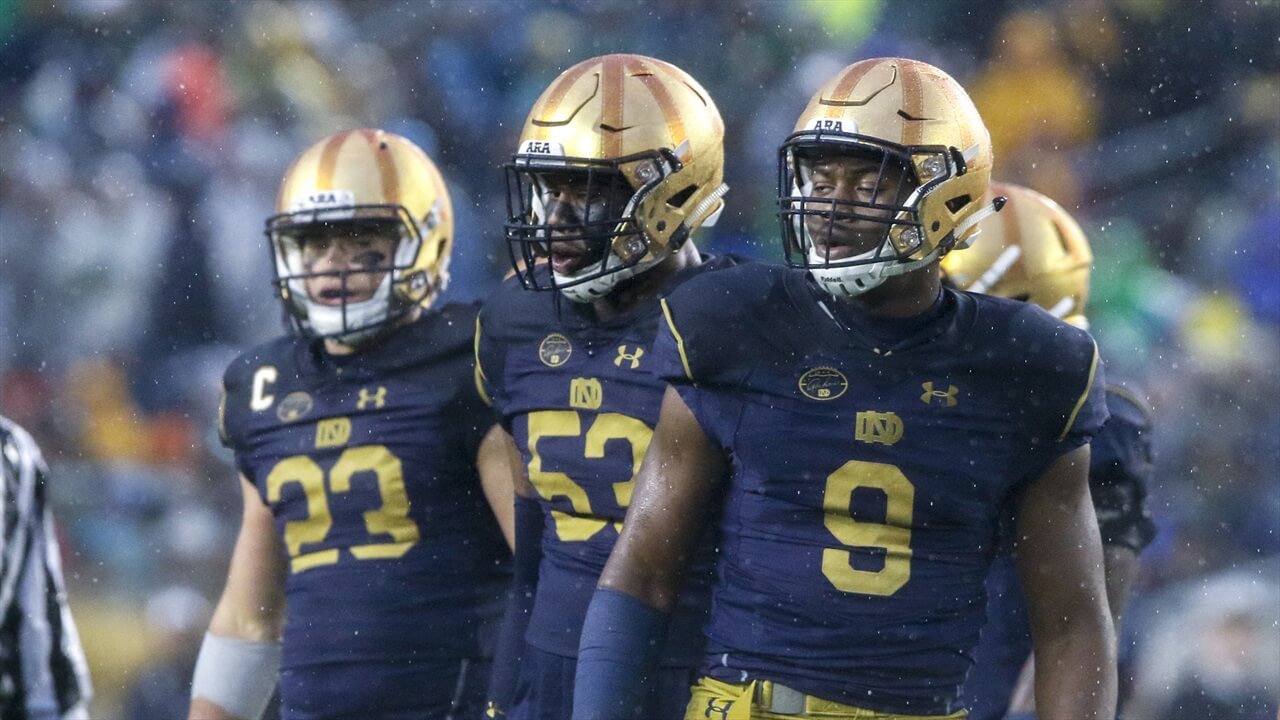 Wimbush Gets Back on Track
It was a shaky start for Brandon Wimbush and the Notre Dame offense to start the game against Navy. The first-year starting quarterback was still visibly shaken up from the offensive meltdown in Miami the week before and his form carried into the beginning of this week's game against Navy. Wimbush started poorly completing 1 of his first 5 passes and collecting three points in the first three drives. That would be a poor start against any team, let alone against a Navy team who limits possessions. The coaching staff nevertheless opened with three designed passing plays in order to get Wimbush out of his funk ahead of a critical season finale on the road against Stanford which will be the penultimate game that will decide Notre Dame's postseason fate.
Wimbush missed several open receivers due to poor throwing mechanics and were highlighted by vastly overthrown forward pitch to Alize Mack who was a little more than a yard away and another high throw to Equanimeous St. Brown which mirrored the interception he threw a week prior which bounced off St. Brown's hands but this time he came down with it before a Navy defender cut him off from the knees prior to landing and flipped him on his head for a hard landing. St. Brown would stay down for a while before leaving on his own volition and later being admitted into the concussion protocol.
Wimbush would then go on to get in a rhythm and complete 8 of his final 13 passes which included a pair of very catchable drops and would lead the team to three consecutive touchdown drives. On the day he finished 9 of 18 for 164 yards and two passing touchdowns and added another 41 yards on eight carries (which included a pair of kneel-downs to close the game) and another critical rushing touchdown as time was running out to tie the game heading into the half. In the end, Wimbush overcame a rocky start to the game to finish pretty productive considering that it came against a Navy team that limited them to seven meaningful drives and just over 17 minutes of possession. What's more, it also built a little bit of momentum for the young quarterback heading into a critical road game against a quality Stanford team.
Defense Played Well, But Not Great
It's always tricky to play defense against the triple option. It's unorthodox in today's age of spread systems and defenses don't see it very often. When a service academy utilizes it, it's exceptionally dangerous as they are able to execute it with very few mistakes. Despite that, the defense came out strong against Navy.
Just as the offense struggled to put points on the board, the defense did well to limit Navy on their first few possessions and keep the team in the game. While Navy's first drive went for 11 plays and started in good field position, at the Navy 37, the defense allowed only 34 yards and stopped them on fourth down to get the ball back on their own 30-yard line. The defense would then limit Navy to a field goal on the next possession and then did the remarkable by forcing a three-and-out on the following drive. That was a stand that could have given the Irish the momentum to take the game over, a fumbled punt return by Chris Finke gave Navy the ball back in great field position in Notre Dame territory which they would be able to convert for a touchdown.
The defense wouldn't do as well to open the second half, limiting the Navy yardage on most plays, but also giving up big plays in critical situations. This was especially true on a critical 3rd and 16 to start the second half which Navy's fullback Anthony Gargiulo converted on with a 19-yard gash up the middle. Navy would also go on to convert on 4th and 6 later in that same drive with a 21-yard pass to Gargiulo which put them in scoring position. While unrealistic to expect the defense to pitch a shutout, plays like those would have gotten them off the field faster instead of staying on and getting worn down. Despite that, the defense did get a critical interception and stopped Navy in the closing drive to preserve the win and Navy's 3.8 yards per carry is the second best total for a Brian Kelly defense only behind the legendary 2012 defense (3.7 ypc). As far as option defenses go, this performance wasn't anything to balk about.
Special Teams Not So Special
Despite bringing in a new special teams coordinator, the unit continues to remain below average this season. It was unrealistic to think that Brian Polian would have them playing "Beamer-ball" in year one, but it was expected that the unit would be much better than this. Special teams isn't yielding as many turnovers as they did last year, but the specter of momentum-shifting turnovers reared it's ugly head again when Chris Finke failed to secure the ball and gave possession back to Navy on the Notre Dame 37 who could have ended the half as they scored the touchdown.
The punt return unit has been lacking all season, and with the exception of a few good returns in a decided blowout against USC, hasn't been able to contribute in a momentum shifting play which would set up the offense in a time of need. Finke was the sure-handed, reliable returner who didn't have the explosiveness of Sanders, but with the unit getting so little back from Finke combined with Saturday's turnover, it may be time for Kelly to go in a new direction. The special teams last year was abysmal, finishing 101st in the nation with an efficiency rating of 38.1 according to ESPN's efficiency metric. This year, the unit is up only one spot at 100th with an efficiency of 42.7. The nation is led by Kansas State whose efficiency is 80.1 and is carrying an average offense and defense, but not too far behind is next week's opponent, Stanford who sits at 7th with an efficiency of 71.3. Regardless of whether Notre Dame wins the game, the coaches need to focus on massively improving the unit's production next year if it's going to challenge for their first national title in 30 years.
The image in this article is used with permission from IrishSportsDaily.com.