Listen to Latest Podcast Episode
Can you feel it? Can you smell it? Football is in the air. As the 2019 Notre Dame football team has left the Culver Academies, we are less than one month away from the start […]
With the holiday season upon us, it is customary to make a Christmas wishlist of all the gifts that you are hoping to receive. With 20 recruits already committed to Notre Dame's cause and ready to ink with the Irish this week, we can look forward to who's left on every Notre Dame fan's wishlist that could make what is...
Continue Reading
With the season over and Notre Dame's bowl fate secure, the focus of the staff has shifted from on the field to off of it. With something of a dead period between Notre Dame's season finale at Stanford and the start of bowl season practices, the staff have been hitting the recruiting trail hard to finish the 2018 recruiting class...
Continue Reading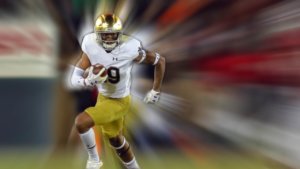 Saturday's loss on the road to #21 Stanford marks the third loss for the Fighting Irish and have eliminated them from any playoff talk and potentially from being included in a New Year's Six bowl game. What started as a very promising season with a 9-1 start and a #3 ranking in the playoff committee's rankings fizzled in the final...
Continue Reading