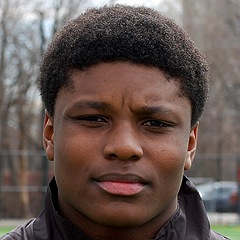 Jamir Jones took a visit to Notre Dame campus, hoping to get an offer, and after working out at the summer camp, his wish was granted and he decided to commit immediately. He had told his mother, before the visit, that he wasn't going to commit while on his visit, but Jamir discovered its a very hard promise to keep when its the University of Notre Dame you are visiting!
Jamir is a 6'3″ 220 lb outside linebacker. Many project him to play defensive end in college, but he was told by Brian VanGorder that he would start playing at SAM linebacker, with a potential move to defensive end down the road. He is currently ranked as a 3-star, but he continues to improve and put on weight. Only six months ago, during basketball season, he weighed 180 lbs, and he will need to get used to playing with the added weight this upcoming season.
In his sophomore season at Aquinas Institute he had 47 tackles, 15 of those for loss and he had an interception that he returned for a touchdown. His junior year he played quarterback, after starting quarterback Jake Zembiec broke his hand in the second game of the year, and passed for 715 yards and 6 touchdowns to go along with 17 tackles, 6 for loss and 3 sacks and a forced fumble, while playing defense.
Jamir is the younger brother of current Notre Dame player, Jarron Jones. Jarron would be eligible for a fifth year, after this upcoming season, so it will be interesting to see if he plays good enough to leave for the NFL or if he will come back to play with his younger brother for a year. Jamirs commitment received a good response from Jarron, who sent out a tweet that said, "Safe to say I will be transferring if I stay a 5th year… I'm jk! Congrats to my little bro!" Their mother, Lakiescha, was also very excited to have another son offered by Notre Dame. She said Notre Dame took Jarron, a very immature boy, and made him into a man, and Jamir sees that, and she is honored to have two sons offered by Notre Dame.
Jamir should be able to move back on defense in his final year of high school, barring injury to the starting quarterback again, and get the needed reps to keep improving his game. He is another great addition to the 2016 class that now has nine commits.