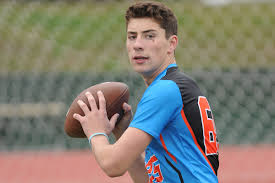 Notre Dame added commitment number fourteen to its 2016 recruiting class. This time Notre Dame was on the good side of a recruit flipping his commitment to another school. Quarterback Ian Book decommitted from Washington St. and committed to Notre Dame. When asked what helped him decide to pick Notre Dame, he replied "Definitely my relationship with coach Sanford that started back when he was at Boise St. and also the level of football but also the level of education!"
Ian was recruited by Mike Sanford, while Sanford was still offensive coordinator at Boise St. Sanford took the job at Notre Dame and on April 11, Ian committed to  Washington St. On August 1, Ian took a visit to Notre Dame and on the visit, Brian Kelly offered him a scholarship. He went home to think it over and on August 4, he decided to flip his commitment to Notre Dame.
Ian is from El Dorado Hills, California and is a three star recruit, according to 24/7 sports rankings, and measures in at 6'1″ and 200 lbs. he has played 24 games in his high school career and has passed for 4583  yards on 588 attempts with 48 touchdowns to 12 interceptions. He averaged 191 passing yards per game while completing 61% of his passes.
Ian also plays on a 7 on 7 team called TMP Elite. TMP coach, Terrence Leonard said, "I think he is a great young man, extremely gifted leader, has a rocket arm and great balance. Never throws an off balance pass. Much better athlete than he gets credit for. He will be running a lot more this off season at his high school, they are catering toward his entire skill set." The team has a few other big recruiting names in running back Elijah Holyfield and Lamar Jackson. Ian said he "most definitely will" be recruiting these guys for Notre Dame. His quarterback coach also works with five star quarterback, Hunter Johnson, in the off-season. Hunter is the top quarterback target for Notre Dame in the 2017 class.
Ian is a great pickup for Notre Dame Notre and Notre Dame now has its quarterback for this recruiting class, as the season is set to start in a few short weeks.