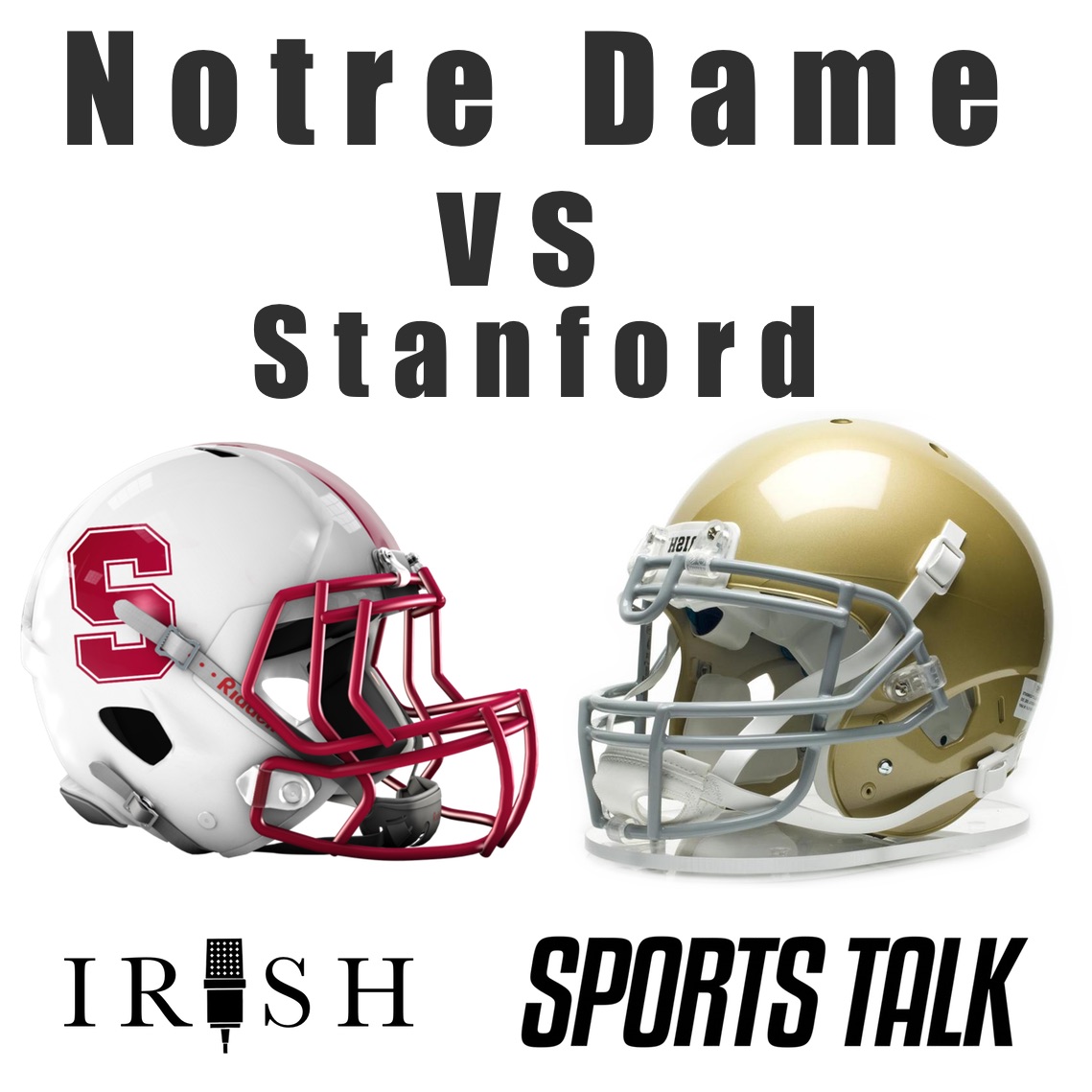 Podcast: Download (Duration: 1:04:39 — 39.6MB)
Subscribe: Apple Podcasts | RSS
Part 1. Our Thoughts on the Playoff Ranking
Part 2. Q & A w/ Hank Waddles
Hank Waddles was kind enough to answer a few questions about the upcoming matchup with the Irish. You can find more from Hank at Go Mighty Card.
Reuben: Stanford is going to the Pac12 championship game so what does a win over Notre Dame mean and are the players fired up to beat the Irish?
Hank: Well, there is the remote possibility of using a win over Notre Dame and another the following week in the Pac-12 Championship game to sneak into the playoffs, but I'd be surprised if the coaches are emphasizing that this week. Even before the Oregon loss David Shaw would sidestep questions about the playoffs by maintaining that their goal has always been winning the Pac-12 North and then the Pac-12 championship, because those are the only two things within their direct control. But Notre Dame will always be a big game on Stanford's schedule, along with Oregon, USC, and Cal. I'm not convinced that it's an actual rivalry (it feels kind of manufactured to me), but Notre Dame is certainly one of the top five programs in the history of college football, so players and fans will always be excited to play the Irish.
---
Reuben: Stanford's strength has moved from defense to offense, what is it about this offense that makes it so effective and what needs to be fixed on the defense to stop the Irish offense?
Hank: The strength of the offense lies in its versatility. Aside from Oregon's Vernon Adams, Kevin Hogan has been the best quarterback in the conference all season long, but like Andrew Luck before him, the numbers don't always tell the whole story. (I'm not comparing him to Luck, by the way; that would be ridiculous.) Hogan has carried the offense when necessary, throwing for 341 yards against Central Florida and rushing for 112 against Washington State, but there have also been games when he's allowed the running game to control things. In games when he throws fewer than twenty passes, Stanford is 4-0. His two highest volume passing games, 35 attempts against Northwestern and 37 against Oregon, came in Stanford's only two losses. So when Hogan isn't leading the way — or even when he is — the offense revolves around Christian McCaffrey. Not only does he lead the nation in all-purpose yardage, he's almost certain to break Barry Sanders's NCAA record. Notre Dame fans won't remember him because he had only one touch (an eighteen-yard reception) in last year's game, but this season he rarely comes off the field. He's a strong runner who's equally comfortable pounding the ball between the tackles or sprinting around the end on a sweep, and he's a dangerous weapon in the passing game as well. He benefits from running behind one of the best offensive lines in the country, led by left guard Josh Garnett, who's one of three finalists for the Outland Trophy.
As you mention, the defense will not be as dominant as the units you've seen the past three years, and the biggest reason for this is lack of depth. Only two full-time starters returned from last season, linebacker Blake Martinez and cornerback Ronnie Harris, and Harris is out for Saturday's game. The remaining cornerbacks are perhaps the most talented group in program history, but they're terribly young. Both starters are sophomores, and the nickelback is a freshman. But already this season they've seen Cody Kessler, Josh Rosen, Luke Falk, Vernon Adams, and Jared Goff, so it's not like they haven't been tested. The weak spot in the secondary is actually at safety, where the only two seniors, Dallas Lloyd and Kodi Whitfield, have been a bit shaky of late. But if the defensive front can get pressure on Kizer without having to blitz too often, I think they'll be okay. We'll see.
---
Reuben: Is the offense success sustainable through 2016 or is this a 1 year wonder?
Hank: There will be some key losses next year. Aside from Hogan, they'll also be losing their top two offensive linemen and at least one of their two starting wide receivers. But Keller Chryst should slide into the quarterback position and do well, and there's lots of depth at offensive line, as well as young talent at the skill positions. There might be a dip in overall productivity, but I don't think things will be as bleak as they were in the first half of 2014.
---
Reuben: Is winning the turnover battle the ultimate deciding factor in this game?
Hank: That's probably a pretty safe bet. Stanford lost to Oregon largely because of two fumbled snaps in the fourth quarter. Even though McCaffrey and backup tailback Bryce Love are threats to score whenever they touch the ball, Stanford still tends to put together long, slow, methodical drives. This is fine when they score, but it also limits the number of scoring opportunities they have. Turnovers, then, can be more problematic for the Cardinal than for other teams. When Stanford holds onto the ball, they're difficult to beat.
---
Reuben: If Notre Dame beats Stanford are they deserving of being in the playoff?
Hank: Right now, no. But if Clemson loses to North Carolina, which is possible, and if Oklahoma loses to Oklahoma State, which is possible, and if Iowa loses in the Big Ten championship game, which is likely, a two-loss Stanford team would have a strong case for inclusion. I think a two-loss Pac-12 champion with three wins over top 25 teams would be more deserving than any one-loss Big 12 champion. It would take a lot of chaos for Stanford to get there, though, and even then it wouldn't be a huge surprise if they were left out.
---
Reuben: Outcome/score prediction
Hank: I think Stanford wins this game, but I feel like it might be a shootout. (That would be good news for McCaffrey's Heisman campaign, by the way.) If Notre Dame were at full strength things might be different, but as things are I think Stanford wins, 37-31.
Part 3 Games to Watch
Friday Noon: Navy – Houston
Friday 3:30 PM: Iowa – Nebraska
Friday 7:30 PM: Baylor – TCU
Saturday Noon: tOSU – Michigan
Saturday Noon: Clemson – South Carolina
Saturday 3:30 PM: Penn State – Michigan St
Saturday 3:30 PM: Alabama – Auburn
Saturday 8:00 PM: Oklahoma – Oklahoma St