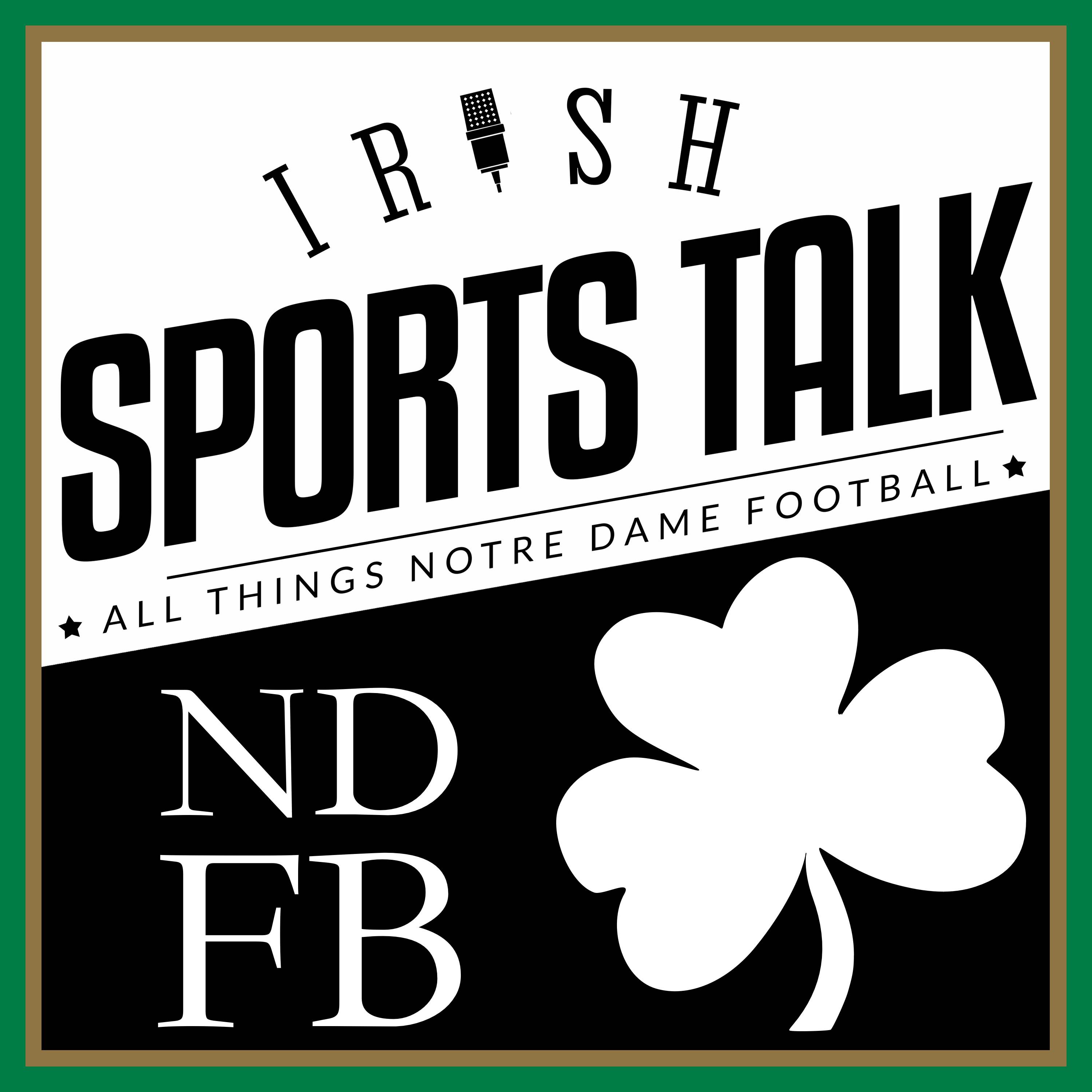 Notre Dame hosts Nevada for their first home game of the season. In this episode, we'll discuss the top players for Nevada as well as players to watch at each position for the Irish.
Podcast Transcript
Hello Notre Dame football fans. And Welcome to Irish sports talk. This is episode 327. Our preview for Nevada visiting Notre Dame. We're gonna be going through the different position groups including a player on Notre Dame's team each position group like we did last week. Part of that we're excited about looking for and what we're, specifically yeah, what we're looking for
And I was going to mention right away even though Reuben says Nevada and I say Nevada we're talking about the same team. I heard that's what locals call it. Nevada. I see. So you're calling yourself a local now? No but I like to call things the way they are meant to be called. Ok. Ah (inaudible) had a press conference where he talked a little bit about. The last weeks came against taxes. We might cover a few of those points as we are going through each of the different position groups, and then we are going to give our available task best audio nevada's solution is, what their key is, and then, same for Notre Dame as well. So, Randall, I guess before we jump right in, you're back, you were on the podcast last night, but you were on the phone, you weren't here. Tell us a little bit about your weekend. Yes, well I was recorded on the way home from Chicago last night, but the one thing I forgot to mention on the podcast was that I was flying. My second flight was from Dallas to Chicago and there was an old couple on the plane and they were like we're waiting to get off and they were talking to like. And well you look like somebody. And I was like, okay. And talking to us, he looks like Colt McCoy and the way he looked at me was like, are you wearing that hat for disguise? What hat were you wearing? That's kinda what threw her off because I had Irish Sports Talk hat on. So I should've played along, I guess I could've I told them I am on my way out to watch them play with the Redskins this weekend. But I refrain from doing that, I don't know if that's a good thing or not. As far as the looks be (inaudible) but I'm sure he's built like an NFL player. Hey I'll take Calton like that, but it was funny to me because Texas fans love their Colt McCoy there's still die hard Colten fans, even at the game this weekend , when ever he was mentioned, the fans got all excited. Maybe (inaudible) will kind of take his place in history. But. And also at the game they ah had a thing at half time for the two thousand six championship team so they had so Vince Young and a bunch of the teammates were actually there and ah. Coach Brown. Not Brown. Macbrown. Macbrown was there, I was kinda surprised he tried to get the crowd fired up. But even though the bitter ending he had there at Texas, he was still there. He's still loved. Seemed excited to be there and seemed like he was loved. So, anyways on to Nevada. (inaudible) few things are the way the players that were arrested for marijuana that played against Texas and Kelley said that they'll continue to be available until the university makes a decision, so, until something happens, until there's a decision, I guess just keep on assuming they'll play hopefully they will wait until the after the season, to have some off season discipline for them. I was going to say you think that discipline will show up right before USC or Stanford probably. Right after that are solidified as either starters or backups. Well let's not jinx it. I did think it was funny that the TV guys said that they were talking with. Kaiser or somehow it came up that Kaiser told the team. Hey. Something about be careful what you do. In regards to the players that were arrested. And he said just don't break any Indiana laws. Exactly. Anyway (inaudible) has also asked a question about tempo and he said that. That wasn't the problem. And I it definitely was a problem. Especially there was a few plays where it, the defense was not set up. And we did talk about this a little bit. I promise we won't talk a lot about Texas but on in regulation down towards the goal line they, I believe it was after a big play, and the Notre Dame players were pretty much standing and looking, waiting for the call. They weren't even set up.They weren't ready when Texas snapped the ball and ran it in for a touchdown. And then I believe it was before that, the long pass completed against, the guy that Crawford was covering where (inaudible) Tranquil was off to the sideline. He was supposed to have coverage behind Crawford and again on that play as well Texas stages, they ran up snagged the ball. It definitely looked like tempo was a big problem big factor. But anyway, yeah I agree I think it was just getting players on and off the field and they need to have something in play as far as their base defense that they can use in those situations. If nothing else line up like this run this base play. Yeah, So Nevada, Nevada they beat the Caligula Mustangs in overtime. Very useful of task option and Tyler Stewert who had 8 carries for 31 yards. And then as far as the receiving crew they really did spread the ball around a lot. They had, let me count here real quick. Five players who caught two or more passes, and a total of nine guys who caught passes in their opening game. And so they really do spread the ball around a lot, Jerico Richardson had four catches for 43 hours and one touchdown and then their receiver with the most (inaudible) is Andrews Salas with two catches for 47 yards, but they are primarily a running in their pass game they had 34 running plays and 24 passing plays although they are well balanced. On first downs they're pretty much fifty fifty with running and passing so even though they do heavily run, they still try to stay balanced on first down. That's one of the things that they're trying to work on is having more balanced attack than what they've had the past couple years last year they had two one-thousand yard rushers on the team and ran the ball a lot. But they're trying to get back to scoring 30 plus points a game which they had for years and they had quite the offense for quite a few years until I would say the last 3 years they've dropped off each year. And this year they have a new offensive coordinator, and he actually was assistance coach for Chip Kelly. Wasn't at Oregon. He did, help him coach, Tim Cramsy is he's name. They coached together New Hampshire and then so that's kinds, so he helped develop Chip Kelly's offence, he helped get in what we saw from Oregon is what Chip Kelly had been working on and in Oregon he finally had the players to do that but this is a guy that helped him so they're hoping that Tim Cramdick can kinda help the offense get back to scoring 30 plus points a game. And the bad thing about that when you talk about him is that a chipped Kelly offense is an up tempo offense which is a very scary idea for Notre Dame fans right now, but Nevada is not at that point. No, definitely not. They are coached by Brian Polian, their head coach and he gave some solace to Notre Dame fans in his press conference talking about Notre Dame. He said "the sky's probably falling or the sky is on fire for Notre Dame fans right now after losing. But he said Brian McGorter is a really good coach. And I did listen to some of his press conference and it seemed like he spent half of it trying to convince the media and everyone that was listening that they won this was a good thing, we still won. This was a bad game, we won the game. He kept saying over and over and over and he even mentioned that the media looks just as down as what the players did. He said, I'm trying to tell you we won the game. It wasn't how they wanted to do it, but it was against a triple action team. Al Palley is a trip lock. Gives the team a different look. We know how it is. As a Notre Dame fan to go against navy he even mentioned that in his press conference that this was like Notre Dame going against Navy. It's the same idea. It's hard to defend its something different and its not always. Looked ugly sometimes. But they did get they win. The good news is that a (inaudible) time when no (inaudible) down with the next week just trying to, just trying to transition back to a normal ah, offense and nevada still hasn't played a normal offense this season, that was the first game, so, that was definitely Notre Dame's favor they did start out hot the game did end in overtime for Nevada, but they scored touchdowns on three of their first, sorry on three of their first positions. Marched down and scored touchdowns, and they didn't score in the second half until overtime.
As far as defense Brian Kelly. Oh sorry. As far as offense Brian Kelly did say they do use a lot of different formations. I believe he said that up to 18 different formations. And they are very creative in the way they group or user personnel in different formations. So you know there's definitely potential for Notre Dame players to be confused to not know what they're seeing. So that's a slight concern. Well they I watched part of Nevada's game, then got kind of bored, but actually I didn't have time to watch the rest of it. But, even the short period of time I watched they had a bunch of different (inaudible) Sometimes they'll have two running backs out there. Sometimes they'll have no running backs, have multiple receivers. And a lot of times it's out of the pistol formation which Nevada is known for that. That's where the pistol formation it come from nevada. It might not actually come from there but nevada is the pistol formation. So definitely a lot of different looks. The multi-running backs out there sometimes they use two tight ends as well. So it'll be a good test for Notre Dame in, run defence, they have good running back, they have multiple running backs on the team, that that will play. So it's not like they were just one two punch, they got multiple guys that can run the ball. And they have experience. They have sixteen returning starters on the team. Which includes quarterback and the running back and the receivers. So right there you have a lot of experience and that's always a positive thing. Do you lets talk a little bit just overall do you expect norman to be playing more for down lineman All right, let's go, we're gonna go through each of Notre Dame's term position groups and a player we're watching for. We're talking about some depth chart changes. But before we do that let's just talk about keys for… The game, for Nevada, for Notre Dam, obviously Nevada is greatly over matched. The line in this game is 28 points. Which is way more than I think its way higher than it should be. Well let's hope they're right again this week. Last week it was at four and we expected it to be a lot more than that, so let's hope they got it right. At this week. [cross talk] Well and the match up prediction on ESPN does have Notre Dame ninety five percent chance winning and last week Texas was favored by a few percentage points so I do take a little bit of comfort and security in that number. It it'll be interesting see how notre Dame team responds, I mean, that's a huge thing coming off of a loss like that. Hopefully, which I expect it to be, I expect them to come out with a chip on their shoulder and prove something, and I am hoping it put lights of fire under the (inaudible) well like let's not have any of these close games. Let's try to run up the score. I don't care let's have the, you know, lets score as many points as possible. Let's not have the close Notre Dame, close games that Notre Dame is famous for, which usually turns out being like that but if it all possible round up the score and get some dominating wins under your belt make it look good. I think that Nevada will come out and have some success but one positive thing for us is that the guys who are starting now will be preparing as starters, there are just a few position changes. Those guys are are now the starters, they'll have a week, they have one fewer days, actually, Nevada has one extra day to prepare, one more, one day than normal, they play on Friday. But I do think that uhhh… Yeah there going to come out and probably move the ball down the field in the first half but I do think by the second half that merding should have it figured out and they will be settled in. And I do Nevada will do their best to be more balanced like we talked about. They did run heavy against Cal Poly but they need to be balanced to. To be able to score on Notre Dame. Offensively I think Notre Dame. We kind of know how their offense looks. A lot of three wide. A little bit of double tight end. And I expect Notre Dame to run it, but I also expect them just to take what defense gives them. So if they stack up against the run. I expect some passes and I do think Nordain will do, will be able to score pretty easily against this Nevada team. I do definitely hope to see and I expect to see more dominating running attack more push I was pretty happy overall, I know you more (inaudible) offense of line but I to expect to see more about push from our offensive line and Bryan Cully did say that he was generally pleased with the right side which is the (inaudible) side of the line, and he was a little disappointed in the left side. So, hopefully that puts some extra motivation in McGlinchy, and, ah, we'll see more results with that common I wonder if they were held to the same level standard. No. I agree with you, I don't think they were. But, just from what we know I don't think they were at all. Alright as we go through each of the position groups now, well talk about a player we're watching for and then just a little bit of scheme things we're. So on offence, lets start with that at the quarterback, Brian Kelly. I didn't understand him in his press conference, he was asked if they've chosen a starter and he said no, they haven't had a conversation with the quarterback, a decision hasn't been made, and then the follow up question was if they'll make a decision and they said "yeah, we'll make it later this week." But, at first it sounded like, again they weren't going to make a decision until, or at the least, it wouldn't be known until game day or game time. I just kinda thought it was funny, but I guess they will be making a decision sometime during the week. I mean, it's clearly it's clearly going to be Kaiser, but I still expect to see Zaire for a couple of drives. Even I expect to see desire even before the game is out of reach even before nordins up by 28 points I sure hope so, this, it's starting to look like. Well you do hope that we see Zair((inaudible)). No, that Kayser((inaudible)) comes out as a starter, and maybe. You know, bring Zire in for a couple plays. I don't wanna see a whole drive of Zire. At this point you gotta get in the flow of the game. I completely agree with you but that's still what I expect. I agree with you but I expect to see him out there. Right now this situation looks like. Brian Kelly's out sitting in his car trying to build up the nerve to walk up to the door to tell Zaire that he's not gonna be the starter. I mean, I think the handwriting is on the wall for. Okay, you had the argument that desire maybe didn't have that chance to again fully let's see what he can do, you know for an entire half. But how can you, Kaiser went out there and the numbers he put up without even playing all the offensive drives. He looked like one of the best quarterbacks in the country and look at his numbers I mean he had six touchdowns. There was a couple drives that he didn't even play. And so I don't know. He has more experience. He can do so much more. Its just you gotta make the decision and go with it, in my opinion, I think it cost Notre Dame, I think that's one of the big reasons it cost the game, for Notre Dame, started out with the quarterback decision see, okay, I, everything should be analyzed and every peron who deserves blame. Should take responsibility for even if it's just a little bit but if we have two windows, the one window is of the offense, the one window is of the defense though the window, the offensive window has a little bit of a smudge on it. It just takes a little bit of elbow grease to get that done. The defensive window is pretty much dripping in mud. It looks like someone's just been tossing mud balls at it. And so I while do agree that you gotta start by cleaning the one window so that you can start on the next one. Because the game was so close I agree with you that it definitely could have made a difference, it definitely could have. But there's still a lot more blame on the other side. I'm not trying to take away any of the blame from the defense. There is a lot of issues on the defense. But things do look different if you are not playing from behind. If your defense is not forced to try and stop an offenser thats playing with a three score lead. At quarterback. I'm sure we will see (inaudible) I'm curious. Are they gonna bring him and again run the same offense. Or are they going to have a few special plays for him that are very much catered to his specific skills. Well I don't think that's gonna happen, but that's what I'm watching for. What's getting harder and harder to have (inaudible) in the game is Kaiser can run the ball when he needs to. He can do a good job at it, and he's a passing threat. Is that much easier for him to run the bar because it the defense is (inaudible) do. (inaudible) you know he is going to run the bar and he is not a (inaudible). From Tyron Suite from Texas that will just run you over and get the task done, he's not that big, he's not that type of player, so it's kind of hard it's getting harder to put Zaier into those certain plays, I mean it's getting harder to find things that (inaudible) can do that Kaiser can't.
Alright, lets move over to the wide receiver group. As far as Troy Hunter he was Concuss and he's going through the typical protocol. (inaudible) so that would be a game time decision. I am leaning towards, I don't think we'll see him on Saturday, and there's really, there shouldn't be a reason that he needs to play. Yeah, I agree, I think it's (inaudible) game to get the younger receivers some playing time, some experience. (inaudible) in that that hit. I was a little disappointed, well obviously I am not a Texas fan so don't really care but the players were tweeting out some pictures that hit and one guy was kinda shrugging. It was the running back, Warren was like "Something about this look when you know you got away with targeting and arresting call." And the safety that actually hit hunter his profile picture on his Twitter account is a picture of him celebrating with Tory Hunter laying on the ground, in the background. Serious yes so, it, we don't swear on this podcast, but, you can swear as you're listening to this even when a Texas fan when that happened when anybody's injured they all raise their hand and do the long horn and they hold it like that and the player gets out more on the field obviously someone gets hurt, I doesn't matter what team you're on. I just think its very, unprofessional. … To be doing something like that. I agree. But anyways. I. I don't know. I, I. They don't need him on Saturday. But at the same time, if he's cleared. I don't know it's a concussion. I don't know why he would necessarily hold mine. It's not like he has a sprained ankle where he could possible make it worse. Here're you're just recovering. If he's cleared, he's cleared. It's not like it's gonna make it worse by playing. And EQ, if Troy Hunter doesn't play EQ will not move over to the axe position, he is going to be straying at the W and looks like Cory Holmes will get a shot stefferson and also Mckinley. Now serversten did play and did come in for troy hunter then and so even though we saw Cory holmes earlier in the game I don't know, I, expect to see (inaudible) there first and probably (inaudible) (inaudible) and lastly (inaudible) and (inaudible) shines this weak. Yeah, I will agree with you that, on that. So, players I'm watching for I'm assuming Toriander is not going to play so I'm going to be. E Q answered a lot of questions I love his confidence. That somersault that he did was incredible so I expect great things from him I know he is only a sophomore has hardly played football at the college level and so I'm defiantly very curious to watch where this goes, I'm really, I'm gonna be watching Stepherson, another young guy, really I think he has a lot of talent potential, but I'm just curious to see, is he able to to make a move. Make an impact. Assuming he might be the number one ex receiver out there. Well, I think with the. EQ now have some confidence he now has those first touchdown out of the way. He has the confidence he knows he can do it. I think he will do that again. The player I want to be watching is CJ Sanders actually at the slot because I think he can keep feeding the ball. I mean he is just a dynamic player and makes plays that looks like nothing. And, I want to see him do some more of that all right, and then… Anybody watching from the offensive line yeah i want to see if McGovern can do a better job than what he did this last game. I expect him to against Nevada. Nevada has a new defensive line i think the nose tackle might be the one guy that's coming back, the rest is are all first time starters or first year starters. So I expect them to do much better and I'll definitely watch McGovern see how he responds alright anyone from the old line. Then at running back, last week I was watching Folsten. You know is he is he the guy that we really didn't get to see last year, only saw him for a few plays. And honestly I thought he looked solid, consistent, but I did not think that he was as explosive as he was as a as a Sophmore. I'm going to go with Olsen too, because I want to see if Texaas if that's how he normally played or if he was actually slowed down with cramps or whatever. I want to see if, ya know, (inaudible) was slow. It seemed like he was playing slower than everybody expected so I want to see if that was, there was actually something to that or if that was the norm. I'm sure some of our listeners, will probably tell me well that's where that's what my hunch has been this entire off season I am not convinced yet then at tight end we saw, at tight end, there was two passes thrown at tight ends. At Derm Smyth, he caught the one and the other one was deflected. And so I'm gonna go with Worschter again, I didn't see a whole lot of him. I know he was out there a few times, but I didn't get to see a whole lot of him. I'm hoping that this game will give some opportunity to see him as a blocker and as a pass catcher. Yeah, I'm gonna be watching Smythe in this game what, did he have one catch last week? He had one catch, but he was thrown to twice. Yeah, the second time was kind of forced him, he was double coverage. I just want to see if he can put up better numbers
Alright, let's move over to the defensive side of the ball and here we have some other shake ups, and I didn't actually get an official word on Avery Sebastian but lets start with safety, he's also suffering concussions? is that right? Sebastian? Yeah. I'm not even sure on that. I didn't hear anything, but could be. Okay, because he did go out, I guess we're not sure what his status is then. No, he's playing. He's good to go. He is listed as the back up though to so there's one switch, Drew Tranquil still sets as a starter but on the other side we have Devin stadstil. And I guess I'm gonna be watching Drew Tranquil. He made a few mistakes and he was taken out in the second half. This isn't nearly as athletic of a team, so, if he does make a mistake it's probably not going to be as noticeable. But just watching, is he biting on play action? But then at the same time is he there to help and run support? So I'm going to be keeping an eye on him. Ya. I'm gonna but we try as well! his acting I think a little bit of his problem at the safety position, i'm not saying he should be playing maybe linebacker position, but at the safety position he's not quite athletic enough and so it's kinda like it was for Joe Schmidt. He can't make any mistakes because if he does it's hard for him to recover from. So, that's why it's so critical for him to have everything
Perfect. Ready to go. Because if he is lined up. If he's too far one direction or the other he won't be able to get there in time. So he's got to be lined up in the exact position he needs to be in. So he doesn't have that margin of error that maybe some of the other players would have. So I want to see how he responds to I guess you could say he got benched in the second half of last week's game. He already responded to that. All right and than at quarterback the Shawn Crawford. It's now the other corner back. So, at nickle, in the game, we saw Nick Coleman get taken out and then Crawford was moved over to corner and then Julian Luck came in as that nickle. So on the depth chart that I saw at least for this week. I didn't see they had the position for Nickel. And so I'm assuming that's what it's going to (inaudible) yeah I do know that crawford is going to be the corner back and someone else is going to cover Nichol. I'm just assuming that its Julian Love. I can her the audio there's not a whole lot you can do on a pass like that. He was tightly covered. And so I'm just going to I'm just going to be watching what does he continue to lock down the receiver that he's covering and he also had a great play in the back field as well again it's Texas. So, very productive and just want to see if he continues to to keep that up. I'm gonna go with (inaudible) crawford just because you can't help but watch on crawford. I think he's a star in the making, he's already done some incredible stuff and I think he's just gonna keep doing it and it's gonna be hard not to watch what he does,i mean he's a very dynamic player and.. In this week. At linebacker against Texas we saw the 3-3-5 and we saw james Onwualu rushing, right beside the outside end and often rushing the quarterback and the running back. I don't know if they are going to use him that way this week. Frankly I did say that both James Olawale and Miles Morgan did grade out positive, and he didn't mention (inaudible) there, and so, there isn't any change as far as depth chart that we've seen but I am going to be watching quer martini again I was watching him last week too but watching him I don't think he is the answer there athletically I don't think he is the answer there I didn't see the effort from him, when he was on blocks, that I really really wanna see. And I'm maybe cherry picking a few plays and thinking about and probably am not remembering all the plays where he was giving, lots of effort and doing a great job. So maybe this is a little unfair way of moment available I'm going to go with Tayvon Coney because i'm hoping he'll get quite a bit more playing time this week so i'll be watching to see when he gets on to the field. Alright and then from the defensive line. And these guys did great out, as a group, pretty well by pro-football focus. And guy I'm going to be watching is Isaac Rochelle. I just want to see what success Nevada has running to his side and he definitely yeah. He was a stud against Texas. So. I am just going to be watching for more of the same. And he was the guy that was playing hard every snap he was out there
Yeah, I guess I'm going more for the players that I want to see out on the field this week, but I'm going to be watching for Jay Hayes. I want to see him play my gut feeling is that he was hurt; his injury was a little bit worse than what orig; what we thought it was and that's maybe why; part of the reason he didn't play at texas and hopefully he is good to go and can get in some work again nevada before they get to Michigan state so I be watching J. Hayes and see if they can come up with an answer for the other defensive end position. Probably doesn't matter against Nevada. But against Michigan State I think he is maybe one of the most important players I don't know how to say it, but we need him against Michigan State, I think, in a major way. So, yeah, it would be great if he could come back against Nevada. He could get a couple of reps, and then be ready for Michigan State. Maybe we could get Dale and Hayes his reps just to prepare him for, I mean cause if we gotta have a rotation there, i'm fine with that,it's just something's gotta happen, they gotta play better than what, Trombetti((inaudible)) did. (inaudible) and he wasn't in there all the time. No. And remember we thought he looked great against ohio state rushing the pasor but if it's a running plague on his direction he is just swallowed up maybe we should just send him a box full of ball came up a little bit. But at least get a rotation at that position. Something, anything will help. So alright, on special teams, we didn't talk about this on the previous podcast, but it was disappointing, our punting team was pretty disappointing and Brian Kelly did say that when they went back and rewatched it that the timing. Not the timing, but just the speed. Of (inaudible) going through his kick, It was sped up, I believe he said .2 seconds, it was just a little bit faster than normal, he was rushing it and not taking his time, not, yeah he wasn't really lax in his, just doing a solid job. I do think being back in Notre Dame Stadium, he's got the ability I think he was probably just, the lights were bright and a little bit razzled. Well I think, it was the, he heard voices, footsteps. Because watching the game live, it looked like Nevada, I mean Texas actually blocked that punt, or tipped it when he shanked it. I mean, it was so close it looked like they got a hold of it and I'm sure he rushed that one and I think he heard foot steps after that. Probably. Right, any player from special teams that you're gonna be watching Randall? Ah, I'll go with Justin just because he did great last week. Hearing stuff about how he was missing field goals, I stayed close to my seat every time he kicks the ball. (inaudible) one is first one and is first one was black. Yeah, so have you (inaudible), yeah. I think you will be fine, it's just, you know, I quiet have the conference I did last year (inaudible). Alright, and we will continue to do our contest making the score prediction and I don't think we – I think we know who the winner is but we need to go through and verify there's, one fan out there who always picks Notre Dame to lose just in hopes that he can get free coffee. So, and basically he wanted (inaudible) well he predicted a loss, and so, maybe we should mention his name so you can direct your anger towards him. Yeah, you can start trolling him on Twitter. But either way our score predictions aligns is at 28 points my score prediction for this game I do not pick Nordaim to cover the spread in this game but I do think they'll score a lot of points. I do think it'll be thirty eight twenty five, wow
Alright, and then once it gets to game day, we'll send out a tweet and you can give them your score prediction and if you win, you will get a free pound of coffee from local coffee roaster "Main street Coffee Shop". They're located in napa indiana and they do have a website: Mainstreetroasters.com, you can this word very useful of many more importent check on their website meanstreetroasters.com all right. Anything else, Randall, before we. Oh, there was some other news we just wanted to discuss. Manti Te'o was named captain in San Diego. Was there anything else from just general Notre Dame news that we were gonna what can do available option how would this defense look with the 2012 defensive line? If Brad Vangorter had those players in this defense, how do you think it would look? Actually let's talk about this a little bit we were talking about this before the podcast was started. And were kind of just, you know, what is the issue with the defense. It's kind of been this way over a season now and I think one of the big differences there's two things. In Bramingoren's defense I think it it was much more sit back let the play develop in front of you. Don't let anyone get behind you. And you have time. You can see what's happening. You can react and prevent a big play from happening. Whereas, Brian McOrs is much more, make something happen, and sometimes the offense gets behind you however. I think either one can work. One thing that we did have in Brian Diabaco's 2012 team was a few disruptive players. Especially on the defensive line (inaudible). Capron Lewis Moore. You had guys there that were disruptive and I think Rochell is really close to that but he's still not to that level. He's the closest that we've got and maybe Dron Jones. Very thinging screen way of thought I think that is the difference between a defense that… Holds teams to under 20 points per game or teams that gives up over 30 points per game is just having a few players that can be disruptive. And ideally they have to be close to the line of scrimmage to really be disruptive. Yeah the one thing I would point out I think that.
This defenses relies (inaudible) its individual play. Basically if one guy. Up. Everything breaks down. There's so much pressure on one, on each individual. And the, I mean you see that like when Drue Tranquill's out of position. I mean, there is a huge game. Just because of one guy, there is no, there is almost no help there. So there's lot more one on one. And then I think the other thing is, the defensive line just not getting pressure. Because, like you mention, some of the 2012, you were getting pressure on the quarterback with the three linemen that you had. And it's notre dame doesn't have that. That's what they keep lacking. Each recruiting cycle cannot get that pass rusher that. And to be fair, maybe we have em in daylon hayes but, yeah, he is still a freshman and we just don't know yet. But he is one guy that he could be one, one of those guys,well and I think if you get pressure on the quarterback it would make it so much easier for the other for the defensive backs it's kinda how I look at the offense. If it's like I say if the offense if they can do their job and keep from getting behind, it makes it easier for the defense. Because everything changes and I think that's how it is. If they could get pressure on the quarterback everything else kind of changes, it makes it just a little bit easier and I think that little bit can make a huge difference in this event. There is very it doesn't take much for the defense play to break down. Yeah, there's very few coverage (inaudible) when it does happen, the announcers say, that was definitely coverage sack. It doesn't happen very often that its a coverage sack. I lost my train of thought, we're gonna go onto something else. Well now that we know that Mante Te'o is a (inaudible) nFL cabinet, Ian Woods is playing with the 49ers now, I mean these guys, if you look at some of the players yeah, it, there's always that what if you know you had these players and this player, but it would just be interesting to see if we had that defensive line. What I was about to say is. I do think, I don't think we're as far away from having a great season as I did after the texas loss. I mean it is true yeah, as far as the other teams gave up a lot of points to (inaudible) gave up 37 point for regulation, Oklahoma gave up 33 points, Florida state gave up thirty some and (inaudible) gave up forty some, I'm just saying it does seem like, things are flying part this season is, is lost because it's, it would be very difficult at this point to get to the playoff which is what our goal is every year. But I still think that there is a chance. If Notre Dame can get more consistent play, if they can tackle better. There – They have as much talent as Michigan State and Stanford and UFC they obviously have some issues they, yeah they have some problems too. And, one thing I thought of today trying to find the postivies, it doesn't matter how many points they gave up go out and look at how many they gave up in regulation. If you want to compare it with everyone else. Notre Dame gave up thirty seven points in regulation. Its not fifty. The numbers are there because it was double overtime, two touchdowns. So, it brings it… It doesn't look quite as bad when you look at it like that. It's still a lot of points, I'm not gonna argue that. It's still too many points, but… I don't think the wheels are falling off the wagon just yet and this has been rusty. Because, you know, over and under prediction podcasts we talked about a hundred points or events we'd give up over the course of the season. I think the line was at 20 one or two or some are there. And so I went under. I think I went (inaudible) over. Anyway. Hey, I still think they can make the changes, it's just if they are going to or not. Alight it will be interesting to see. We do have our. Opponents podcast coming up where we look at each of Notre Dame's opponents. This past week results and this upcoming week who they're going to be playing. That'll be out Thursday evening. And I think that pretty much wraps it up. If you do have questions or want to join in the conversation, head on over to the forums. Forums.irishsportstalk.net we do have a a handful of faithful guys over there and its fun to to discuss ideas and and just have a (inaudible) business discussion. And definitely follow us on Twitter @Irishsportstalk. Next time go Irish.