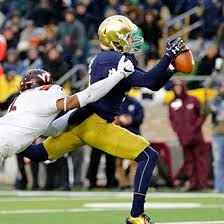 Notre Dame has lost yet again. Heading into the game, that statement wouldn't be a surprise. But watching the game, fans are left perplexed by how Notre Dame can yet again "grasp defeat from the jaws of victory." After jumping to a 24-7 lead, which saw Virginia Tech melting down and their head coach Justin Fuente throwing a tantrum that made Brian Kelly look mild-mannered, it seemed all but a certainty that Notre Dame would be walking away from Virginia Tech's first visit to Notre Dame stadium with a win. Instead, Brian Kelly now holds the dubious record of having the most losses of 8 points or fewer by any head coach in Notre Dame history with seven. A record which may never be broken.
Notre Dame got off to a hot start with Deshone Kizer leading the way. Kizer led the Irish quickly and decisively down the field to the goal line where Josh Adams punched it in for the opening touchdown. On the ensuing drive, Notre Dame applied pressure on Tech's quarterback with James Onwualu forcing the fumble which was recovered by Jamir Jones. Just another instance where Notre Dame applied pressure with their linebackers which paid off in dividends. Kizer drove the team to the Virginia Tech 2-yard line, before a pair of runs from Kizer and Adams went nowhere and Kizer fumbled the ball for a 7-yard loss. Notre Dame settled for a field goal.
Notre Dame then forced a 3-and-out and Kizer drove the ball down the field and found Chris Finke for a 31-yard touchdown catch, the first of his career, to bring their lead to 17-0. At this point with Kizer's combination of running and passing it looked like Notre Dame would be unstoppable. Virginia Tech then responded with a 61-yard drive which was capped off with a 23-yard Jerod Evans touchdown run. It didn't seem to matter though as Kizer responded a few drives later with an 18-yard pass to Miles Boykin for a touchdown, bringing their lead to 24-7. ESPN's probability tool at this point gave Notre Dame at this point a 91.3% chance to win the game.
Virginia Tech managed to pull one back before half on a drive that was extended by a dicey roughing-the-passer penalty called on Jerry Tillery. Tech also got the ball back first after the half and used a 62-yard catch and run by C.J. Carroll where he evaded the multiple Notre Dame defenders cutting across the field and taking it to the ND 6-yard line. Runningback Steven Peoples punched it in a couple of plays later and Notre Dame's 17 point lead evaporated to 3.
Even though Notre Dame didn't lose the lead, momentum began to shift few drives later. On a play where Kizer held on to the ball and scrambled for a 10-yard gain before sliding, Virginia Tech safety Terrell Edmunds came in leading with his helmet and popped Kizer in the head which resulted in a resounding thud and a yell from Kizer himself who was slow to get up. The referees missed a blatant and visible targeting call which should have seen Notre Dame gain an additional 15 yards and Edmunds ejected for the rest of the game. The play itself should have been reviewed by the booth, especially with Kizer hit in a defenseless position. Notre Dame has been victim to a missed targeting penalty for the second time this year, after Tori Hunter Jr. nearly had his head taken off against Texas in the opener.
It was questionable whether Kizer should have even been kept in the game following that hit and not be evaluated by the medical team for a concussion. On the following play, he fumbled a high snap which was fortunately called back by a Notre Dame false start penalty, the first on the year which was gladly received by Brian Kelly. Kizer looked like a different player for the rest of the game looking less sharp and less accurate on his passes.
It wasn't until the fourth quarter that the officials blew another call when Cole Luke was called for a pass interference call where he had better positioning on Isaiah Ford and had his head turned to keep an eye on the ball in the air. This was a crucial mistake as a no-call would have led to a third and 7 on the Notre Dame 22-yard line. On a day when the wind was gusting in the stadium, field position was critical as no field goal was a guarantee.
Notre Dame unraveled offensively following Kizer's hit, and with the exception of a 67-yard touchdown run by Josh Adams, were not able to generate any consistent offense. Adams' stat-line for the night looked great on paper with 13 carries for 100 yards and two touchdowns, but when you take away his long run for the night, he averaged a poor 2.75 yards on the ground and too many of his runs were for no gain or a loss. 21 of Folston's 23 yards on the night came from a single carry. As has been for much of this season, if it weren't for Kizer's contribution to the running game, Notre Dame was very ineffective and inconsistent on the ground, making their 200 yards rushing on 36 carries very misleading.
Like much of this season, Notre Dame's offense has come and gone with the performance of their starting quarterback. Despite projections by many scouts who have him pegged as a first round draft prospect, Kizer has yet to put up a complete game against a top team. His best performances have come against defenses that athletically have not been able to match up with him and his receivers such as Nevada, Syracuse, Army, and Navy. His best performance of all came against in the opener against Texas in limited action, but even that would be questionable as Texas' defense has been much-maligned all season, had its defensive coordinator fired, and currently ranks well outside the top 100. The rest of Kizer's performances against Michigan State, Duke, Stanford, and Miami were marked by inconsistency where he disappeared for parts of the game.
Against Virginia Tech, Kizer came out with what appeared to be a statement game to solidify his status as one of the top quarterbacks in the country. But like much of this year, he disappeared in the second half. He was taken out with 13 seconds left in the game after taking a second hit to the head, which increases suspicion that he may have sustained a concussion after the first hit to the head when targeting wasn't called. Instead, Zaire came in on the last play to see out the loss.
This game ended up being a microcosm of the season that Notre Dame has had. What began with so much optimism and hope ended in despair and agony. Notre Dame has lacked the killer instinct to put teams away and win the games that they should. Instead, they continue to find new ways to lose games. Heading into their rivalry with USC, a bowl appearance is almost completely out of reach and a losing season is ensured. With nothing left to look forward to, Notre Dame fans are already looking ahead to next season, and are hoping that a more veteran and experienced team will have better luck winning the close games that they have lost this year.
Thanks to Irish Sports Daily for use of image.