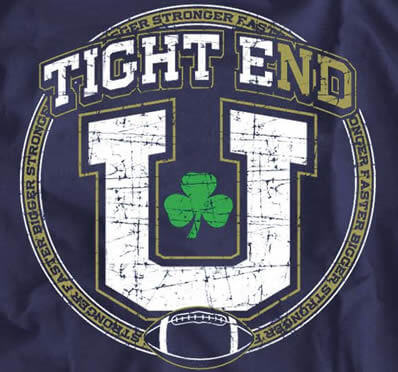 Make Notre Dame Tight End U Again
As part of Brian Kelly's offseason coaching overhaul, out are co-offensive coordinators Mike Sanford and Mike Denbrock who moved on to other jobs and in comes former Memphis offensive coordinator and Arizona State tight ends coach Chip Long. It would be difficult to speculate on whether the departures of Sanford and Denbrock were premeditated by Kelly who may have wanted to change the offensive philosophy entirely, but what is known is that Long has more in common with Kelly's offensive philosophy than Sanford or Denbrock ever did.
One of the similarities between Kelly and Long's offensive philosophy is that both prefer to use multiple back and multiple tight end sets. This was clearly evident in the first few years when Kelly called plays at Notre Dame and used a second tight end to provide an extra blocker in support of the running game. When Denbrock took over playcalling, and after Sanford joined, Notre Dame went away from using multiple tight end and runningback sets and often lined up in a very vanilla three wide receiver set which became somewhat predictable and difficult to establish a power running game with. With Long heading the offensive staff, Kelly has brought in another offensive wunderkind similar to Sanford, who was known to be innovative and an excellent recruiter, but instead espouses an offensive philosophy that Brian Kelly identifies with.
Despite having produced the three highest scoring offenses of the Kelly era, all over 30 points per game, two of the biggest failures of the offense under Denbrock and Sanford have been the contribution of the tight ends and the ability to establish a power running game. This issue was especially evident in last year's meltdown when Deshone Kizer was left with very few alternatives outside of his wide receivers, which contributed to the offense being inconsistent in games. The worst performing group last season were the tight ends who combined for 12 catches for 159 yards and 4 touchdowns (3 of those touchdowns came during a streaky run against the physically mismatched military academies). In order to achieve any level of consistency, the tight ends will need to contribute more, especially for a program that is known for being "Tight End U."
When looking at the lack of production from the tight ends over the past few years, it is far too easy to say that it is due to a lack of talent. This would be an oversimplification and not entirely true. For one, Stanford has gotten more consistent tight end production over the past few years with significantly more inferior athletes. Second and most important, the current crop of tight ends on the roster are no slouches either. As previously mentioned in this forum, Notre Dame already had a very talented, versatile, and experienced group of tight ends even with the academic suspension of Alize Jones.
Notre Dame is led by 5th year senior Durham Smythe who was a 247Sports Composite 4-star prospect out of high school ranked in the top 250 with an additional 4-star rating by ESPN. Smythe is the veteran leader of the group who is also the most well rounded of the tight ends. The next tight end in the rotation is Nic Weishar. Weishar was also a 247Sports Composite 4-star prospect as well as receiving a 4-star grade from Rivals and ESPN. Aside from Jones, Weishar is regarded as Notre Dame's top receiving threat at the tight end position. Weishar is regarded as the best route runner of the group with good reason. He lined up as a wide receiver in high school and set the Illinois state receiving record with 237 receptions, making him the most prolific receiver in a football heavy state. It would be a shame if Weishar isn't used more as a weapon in 2017. Weishar's 2014 classmate, Tyler Luatua was also a 247Sports Composite 4-star prospect and received a higher rating from ESPN with his ability to block as well. These three tight ends formed one of the most talented and deepest groups in the country, although their productivity did not reflect that.
They will be joined in 2017 by Alize Jones who was regarded by many as the top tight end of the 2015 class as well as fellow 4-star commitments Cole Kmet and Brock Wright who will likely be redshirted. With a total of six 4-star tight ends on the roster, Long has a plethora of talent at his disposal and a lack of excuses. Never before has he had this much talent to work with and where much is given, much is expected.
In order to get the most out of this position group, Long needs to install an offense that is similar to the one that the New England Patriots run. The Patriots run a modified version of the "Erhardt-Perkins" offense which Charlie Weis installed under Bill Belichick (and later brought to Notre Dame) while adapting it to include more spread tendencies and play at a higher tempo. The current version of the Erhardt-Perkins offense is more of a spread offense that runs out of multiple formations and uses a lot of motions.
With this as his inspiration, it would be beneficial for Notre Dame to use multiple tight end sets more often, if not install it as their base formation altogether. By lining up with two tight ends, Long with the tight ends currently available at his disposal will be able to create mismatches using their athleticism and size.
First, having an extra blocker will benefit the running game as we have seen previously under Kelly from 2010-2012. With the average tight end coming in at 6' 5" and over 250 lbs., they are a big improvement over a slender slot receiver who they clear by half a foot and roughly 80 lbs. They are much bigger in size and can hold their own against a linebacker and would easily clear a defensive back off of his block. The tight ends are also more mobile after the snap and can also pull off the line and assist with a block elsewhere on the line where an occupied lineman needs help. By getting extra push from a double-block, it would allow for a bigger hole to be created at the line of scrimmage for the runningback to see and hit at full speed. If a hole is already created, then the tight end could hit the hole himself and become a lead blocker at the second level. Any way that they are used, having two tight ends can be instrumental for setting up the run.
Because of the threat posed in the running game, defenses would have to play honest when it comes to their personnel packages. If they use a 3-4 front, then they would need 3 very large linemen (which come at a premium at the college level) and three larger-than-average yet athletic linebackers to cover them. That type of personnel would be hard to come by for most college defenses outside of the top 5-10 programs. In general a 3-4 front would be too small to block five offensive linemen and two tight ends. A 4-3 front would do a better job at countering this blocking scheme, but would still have a lineman matched up against a linebacker creating a mismatch in size, not to mention a mismatch in the passing game which will be discussed later. It virtually makes it impossible to use many nickel or dime packages which utilize and extra defensive back or two and it makes the defense too small and easier to block.
Notre Dame's tight ends are also very athletic and versatile. Most of them have been established receivers during their high school careers, led by Weishar and Jones. Having Weishar and Jones line up as the second tight end next to a more traditional tight end like Smythe or Luatua allows Long to become more innovative in the passing game. It allows Notre Dame to use more play action passes as the running game becomes a serious threat. It also allows them to split their receiving specialist (Weishar or Jones) out from the line to the slot (or outside). This would then create a mismatch as you would have Weishar or Jones lining up against a linebacker or a defensive back. Most linebackers would not be able to keep up from a coverage standpoint against these two receivers and most defensive backs would be too small to effectively cover them, especially in jump ball situations.
In the college game where there isn't as much athletic parity as in the NFL, it would be all too easy to create these types of mismatches against opposing defenses. With the talent already recruited to Notre Dame at the tight end position, Long should be able to get more production out of his tight ends in both the running game and receiving game. What's more, should Notre Dame go up-tempo with two tight ends in the game, they would be able to prevent the defense from substituting their personnel packages and thus maintaining whatever athletic mismatch that has been created. This is something that would give defensive coordinators fits. In the end, putting a greater emphasis on the tight ends and making Notre Dame "Tight End U" again will help make this offense much more dangerous as well as consistent.