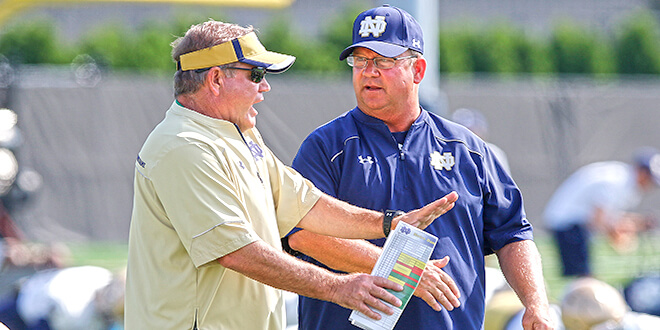 Player Conditioning
We've heard all the talk coming out of spring camp of how Matt Balis and Dave Ballou have revolutionized the Notre Dame strength and conditioning program. Players have been sharing their before and after pictures chronicling their results after just two months. While the results look impressive, it will be more important to see how their effort translates to the gridiron. Having cut down on their body fat, will this team be faster swarming to the ball? Having added a significant amount of weight in lean muscle mass, will they be stronger and more physical at the point of attack? A team that plays faster with an additional 10-15 pounds of muscle per player should in theory dominate most teams on the schedule. This will be our first chance to see the difference in conditioning, which should only be more pronounced come this fall.
Focus on Fundamentals
When selecting the new assistant coaches, coach Kelly put an emphasis on hiring guys who stress and can teach the fundamentals of the game. In Elko, Lea, Polian, Long, and Alexander, Kelly brought in a group of veteran coaches who have been known to have mastered their position groups and will hammer the importance of fundamentals over scheme. It will be important to see defensive players making solid tackles with proper technique. Receivers will be forced to emphasize better route running and become more versatile in the routes they run. Coach Elston will be sure to get on the defensive linemen and make sure that they're playing with maximum effort on every down. Even though they have only had 15 practices this spring, an emphasis has been put on teaching fundamental techniques and we should be able to see it in the spring game.
Scheme
Offense
When you hire a new offensive, defensive, and special teams coordinator, you can bet there will be changes in scheme on all sides of the ball. While we are not expecting wholesale changes on offense that would be expected if transitioning to a pro-style or option offense, Chip Long's offense will look very different from that which was run in the past two years by Denbrock and Sanford. There will be a greater emphasis placed on playing with tempo and Long will play more with multiple backs and tight end sets. By giving defenses different looks, Long expects to be more effective running the ball as well in setting up the play-action pass.
Defense
On defense, Mike Elko is bringing in his version of a 4-2-5 defense which differs from a traditional 5-back system. In Elko's scheme, the fifth back, or the Rover, is more of a hybrid safety/linebacker (who is coached by Clark Lea, the linebackers coach) and is a utility player who will be expected to do everything from blitzing to dropping into coverage. Coach Kelly also mentioned that the Rover position will also change depending on the type of offense that they are playing against. Elko's defense will also be expected to be much more aggressive in the front seven as to generate a greater pass rush.
Special Teams
With Brian Polian, I'm not expecting to see anything new or fancy. Polian isn't the type of special teams coach who will scheme up trick plays in order to confuse opposing teams. Instead, expect Polian to make sure that his unit is fundamentally sound and not make mistakes. His unit will be judged the same way that a longsnapper is, avoid making headlines and don't lose games. If his unit plays soundly and lets guys like CJ Sanders and Chris Finke showcase their talent in the open field, then the unit will be considered a success.
Recruiting
Coach Kelly and company have done a great job over the past few years with recruiting. You could say that this is a department in which the staff have continually improved throughout Kelly's tenure at Notre Dame as they pick up the quirks and nuances of recruiting at Notre Dame. The 2016 class was a deep group that brought in some quality talent at receiver, the defensive backfield and on the offensive line. The 2017 class had some elite talent committed prior to the season and closed strong despite some defections after going 4-8. The 2018 class had some elite players committed from a year ago headlined by a potential 5-star quarterback in Phil Jurkovec and has filled in nicely with what is currently regarded as a top 3 class.
With 12 commits so far and what is expected to be a smaller class of about 20 players, the staff is looking to slow down with recruiting in order to close on some elite prospects. Some of the prospects that Notre Dame have high on their priority list are Amon-Ra St. Brown, PJ Mustipher, Nicholas Petit-Frere, Dallas Gant, Houston Griffith, Thomas Booker, Kevin Austin, Ja'Mion Franklin, and George Takacs. The staff will be looking to close on at least half of those guys. They are expected to host Mustipher, Austin, and 4-star Oregon wide receiver Chase Cota with Mustipher and Austin potentially commit soon after. They will also be transitioning their focus on the 2019 class while the elite 2018 prospects take their time making their commitments. Having been so successful with getting their guys early, this has allowed Notre Dame to get a head start on their next class earlier in the process.