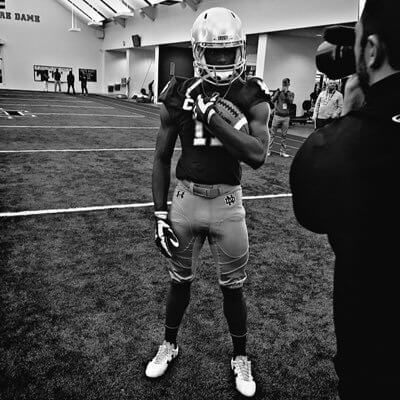 There always seems to be a complex at Notre Dame with not having the elite pass rusher on the roster and always looking for that crown jewel player who can get after the quarterback and record 10-15 sacks per season. Whenever scouts and fans talk about Notre Dame recruiting, the conversation focuses on which recruit can Notre Dame land who will be the next Justin Tuck.
Right now, the focus is on Jayson Oweh, a four-star pass rushing defensive end from Blairstown, New Jersey, and rightly so. Oweh was a little known commodity who has quickly shot up to the number 212 player overall according the 247's composite rankings and number 10 defensive end. After his recent visit to Irish Invasion, Oweh showed of not only his 6' 5'' and 240 lbs. frame, but also his freakish athleticism which saw him record an 11 foot broad jump. Oweh is a top target for the Irish staff and would be considered a homerun hit should they land him.
With Notre Dame currently perceived to be trailing for Oweh's commitment, behind favorites Penn State as well as Ohio State, and no other major pass rush prospect on their radar, maybe Notre Dame's top pass rush threat in this class is someone who is already committed to the Irish. This may come in the form of current three-star Michigan linebacker, Ovie Oghoufo.
Oghoufo is a player who committed to the Irish nearly a year ago, before his junior season even began. With that being the case, he was a player that has been under-recruited and under-scouted by many schools and services as his pledge to Notre Dame has been a lock since. At the time, Oghoufo was an unranked, two-star prospect, with many of the recruiting sites not even having a profile available for him. Now, Oghoufo has risen to the top 400 players in the country and a high three-star prospect who will be fighting for that fourth star during his senior season.
Aside from his rankings, there are many things that would make Oghoufo an interesting prospect as a weakside defensive end. For one, there seems to be a glaring need at that position while the coaching staff seems to be situated very well with multiple linebacker prospects that Notre Dame has a good chance at landing. Leading that group is four-star Shayne Simon who is an outstanding Rover prospect for whom Notre Dame is a heavy favorite. Another very athletic linebacker that Notre Dame is favored to land is fellow four-star linebacker and Indiana prospect Cameron McGrone. McGrone is being recruited for the Buck position and just like Simon, has the athleticism to contribute everywhere from blitzing, run support, and dropping into coverage. Those two players flanking Bo Bauer could make the linebacker room a very crowded place. Not to mention that Notre Dame isn't giving up on four-star California products Jack Lamb and Bo Calvert, both of whom are giving Notre Dame a solid look and have the Irish in their top group.
Besides the way the numbers and needs in this recruiting class work out, the other major reason that Oghoufo could translate onto the defensive line is his combination of size and athleticism. When watching Oghoufo on tape, it is evident that he is a big and long player when you see him chasing down the ball carrier. His long arms and large frame are excellent for catching a runner from behind even when he has given up a step to them. Oghoufo is often used in blitzing situations and uses his body well to get around blocks and take down the quarterback. Some sites have him listed at 6' 2'', but watching him tower over his competition, it wouldn't be a surprise if he was actually 6' 3'' or 6' 4'' which 247 and ESPN have him listed as respectively. That would give Ogoufo the perfect size and frame to be dangerous on the defensive line. And at 220 lbs, he wouldn't have to gain much weight and jeopardize his speed or athleticism.
Which brings us to the next point, Oghoufo has the athleticism that make him better suited for the weakside defensive end position over the buck linebacker. A two-way player in high school, Oghoufo has shown off his talents as a tight end and outside linebacker. What makes Oghoufo such a dominating player at his level is his combination of size, strength, and straight-line speed. An area where he does show weakness is in his hips and his ability to quickly turn and run into coverage. Due to his size, Oghoufo could be a little stiff when turning and running into coverage, which may leave him exposed with the coverage responsibilities of the buck. This would be eliminated if he were to play on the defensive line and be used more as a drop-end when the situation arises.
Oghoufo playing on the defensive line is an interesting proposition, and one I am certain the Notre Dame coaches are considering as they are building their recruiting class. As Oghoufo continues to grow into his frame, this becomes more of a realistic possibility, and with the work that new strength and conditioning coordinator Matt Balis has already done in his short stay at Notre Dame, Oghoufo filling into a pass rushing prospect become an even more tantalizing prospect. Plus, with the current depth and projects at the weakside end position which include Daelin Hayes, Julian Okwara, Ade Ogundeji, Jonathan Bonner, and Kofi Wardlow, Oghoufo has plenty of time to develop into the position and contribute later on in his Notre Dame career. This could be like having Romeo Okwara in his third and fourth year, plus a bonus fifth year had he been eligible. If Notre Dame fails to land another pass rushing threat, they could be fine with their backup plan.