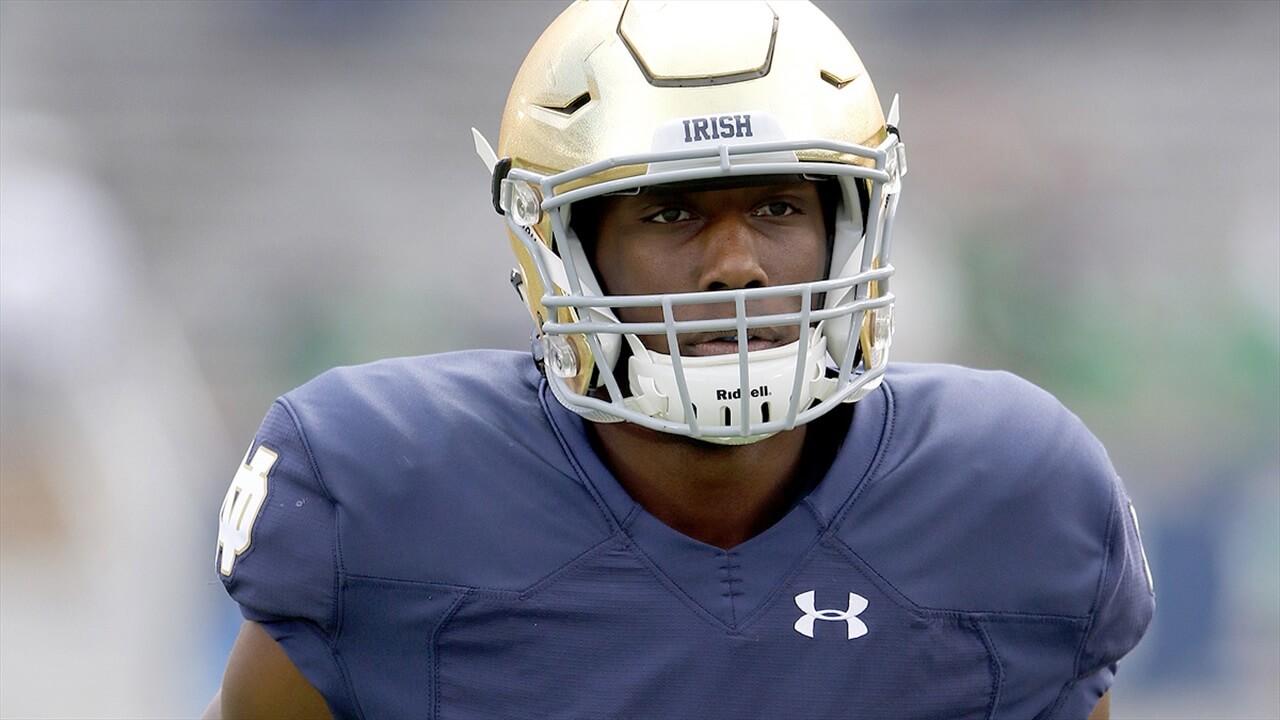 NBC Delivers
First thing's first, NBC did a great job producing the season opener. The pregame show production "The House That Rockne Built" that was hosted and narrated by Jerome Bettis was phenomenal. As a lifelong Domer, it gave me goosebumps watching the brief walkthrough of Notre Dame's history and campus. It perfectly encapsulated the passion, love, and tradition that is Notre Dame football and gave the casual fan some insight of the mystique that is Notre Dame. The cast of commentators did great as well from Mike Tirico's play-by-play to Chris Simms' sideline analysis. Where NBC's production may have been somewhat lackluster in years past (here's looking at Tom Hammond and Pat Haden), this year looks to be a much more enjoyable show like their production of Sunday Night Football, and Notre Dame will just need to deliver on the field.
The Offense Has Stars
From the first series, you can tell that the weapons around Wimbush were going to be too much to handle. Equanemious St. Brown was open multiple times in a deep position against what is widely considered to be one of the best secondaries in the country. Josh Adams also had his way against Temple's front seven and racked up around 150 rushing yards and a touchdown by halftime in what looked like an early Heisman-worthy performance. Even Dexter Williams was able to burn this Temple defense on multiple runs. As this offense becomes more experienced playing together, they're going to become a handful for opposing defenses.
The Tight Ends Will Be a Difference Maker This Year
Whether it was Nic Weishar's touchdown reception or Alize Mack's 9-yard hitch which nearly got the first down, it was clear that Chip Long is going to involve the tight ends in this offense. Tight end production dropped in each of the past three season, but with an offensive coordinator and play caller who earned his coaching reputation as a tight ends coach, expect a rebound this year. Long will look to make plays with his tight ends and he has an embarrassment of riches with five blue-chip tight ends who were all ranked 4-stars coming out of high school.
This Could Be a Record Setting Run Game
The run game has been hot and cold during Brian Kelly's tenor at Notre Dame. Early on, his teams were known for having a gritty, power run game which would wear opponents down, which they rode all the way to the 2012 BCS National Title Game. Later on though, the running game was inconsistent, and even though it averaged over 200 yards per game in 2015, much of that was Deshone Kizer tucking the ball and running when all other options were unavailable. With over 400 yards and 5 touchdowns in the season opener, Adams, Williams, and Jones formed a dangerous three-headed monster and Brandon Wimbush was especially dangerous reading the run-pass option and taking off when presented with an opening. With the running game being this versatile and dangerous, new records can be set on offense as it will open up the passing game.
Wimbush is Dangerous, But Has Plenty Room to Grow
As previously mentioned, Wimbush was very dangerous reading the RPO and running with the ball when he saw an opportunity. He alone accounted for 106 rushing yards (a figure which includes sack yardage) and a score. Where Wimbush still has a long way to improve is his presence in the pocket and his ability to read the passing game. He only completed 17 of 30 passes for a completion percentage of 57% and an interception. Wimbush will be surrounded by a stellar cast of receivers and tight ends and will need to operate the passing game at a higher level if they are going to make a run at 10 wins or more.
The image in this article is used with permission from IrishSportsDaily.com.