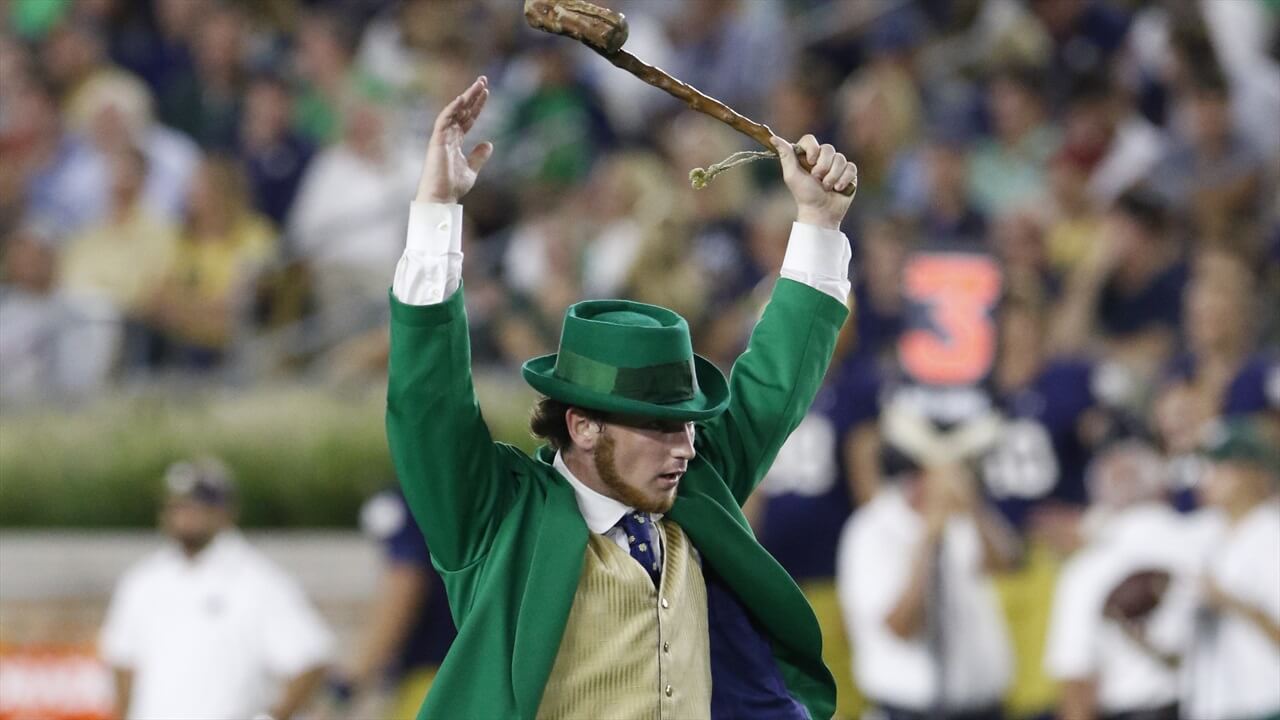 With Notre Dame passing its biggest test of the season, making a grand statement by demolishing #11 USC in South Bend and getting a signature win, the Irish jump into the top 10 in both polls and are currently ranked ninth in the nation. This team went from being written off prior to the season to joining the nation's elite and being among the select few who are considered as possibilities for the College Football Playoff.
Prior to beating USC, it would have been way too soon to lump in the Irish among those who were legitimately making a run at the playoff. The Irish capitulated in their first major test of the season when the offense was largely ineffective against a stingy Georgia defense and was beat by a true freshman quarterback in his first career start on the road. Since then, they have blown away mostly middling programs, the most impressive of which was a Michigan State program in East Lansing who was on a reclamation project of their own after finishing 3-9 themselves.
Now, there is nowhere for this Notre Dame program to hide. They have shifted from the hunter to hunted. Even prior to beating Southern Cal, Notre Dame's large margins of victory had already rated highly in the eyes of the computers. The USC win has only cemented their place among the playoff contenders. According to the Jeff Sagarin's College Football Ratings, Notre Dame is actually regarded as the fourth best team in the country, one spot ahead of the aforementioned Georgia team who beat them at home by a single point. Notre Dame's 25th toughest strength of schedule only trails Clemson (#9) as the second toughest among the top 10 ranked teams. What's more, ESPN's Football Power Index also ranks Notre Dame as fifth best team in the country, once again ahead of #8 Georgia and behind a pair of 1-loss teams in Ohio State (#2) and defending national champions Clemson (#4). If you thought that you might have been getting ahead of yourself with how good this Notre Dame football team has been this season, you haven't. The FPI and Sagarin Ratings have always had the Fighting Irish significantly higher than any of the polls, which means that the Irish may have actually been underrated this entire season and flying under the radar. That's a first.
So, how has Notre Dame been getting it done all season? Simple, by fielding one of the most efficient college football teams on both sides of the ball. Notre Dame's 88.6 overall efficiency rating is currently good for fifth best in the country. The four ahead of them include Alabama (95.8), Georgia (92.5), Ohio State (91.8), and Penn State (90.1). Notre Dame is ranked ninth on offense with a rating of 82.7 (which includes a performance where Ian Book deputized for Brandon Wimbush, threw a pair of interceptions, and failed to convert a couple of red zone attempts for touchdowns) and seventh on defense with a rating of 84.4. No surprise, Alabama and Ohio State are the only other teams to have both offensive and defensive units in the top 10 of efficiency putting the Irish in rarefied air.
What's more impressive for the Irish's efficiency ratings is that one of their performances came against what is regarded as the second most efficient defense in the country in Georgia (93.5). Had they played a slightly poorer team, then we may as well be talking about an undefeated Irish side. As efficient as the Irish have been on offense and defense, they have been pretty average on special teams. Notre Dame is currently ranked 56th in the nation with special teams efficiency with a 52.2 rating, only one spot behind Alabama (52.4) and two spots behind Ohio State (52.5). While special teams rarely dictate the outcome of the game, one may wonder what could have been had Notre Dame's special teams had an extra play or two as Georgia's special teams are only slightly above average themselves (57.4).
What's more, this team so far this season is better than the 2012 Notre Dame team that played for the national title in 2012. The 2012 Notre Dame team finished 25th in offensive efficiency (67.9), 10th in defensive efficiency (81.2), and an abysmal 103rd in special teams efficiency (38.0) for an overall efficiency of 77.8 which was good for 10th in the nation. Not only is this year's team better in each statistical category, it is much more balanced which allows them to compete with any team in the country.
With all that said, it's ok to believe that Notre Dame belongs among college football's elite. They belong there. The combination of their strength of schedule and their efficiency on both sides of the ball has made them deserving of all the praise that is coming their way. If they continue their trend of improving on all sides of the ball which has been the case with a trio of first year coordinators, then it may be time to start believing that this team can achieve something special.
The image in this article is used with permission from IrishSportsDaily.com.