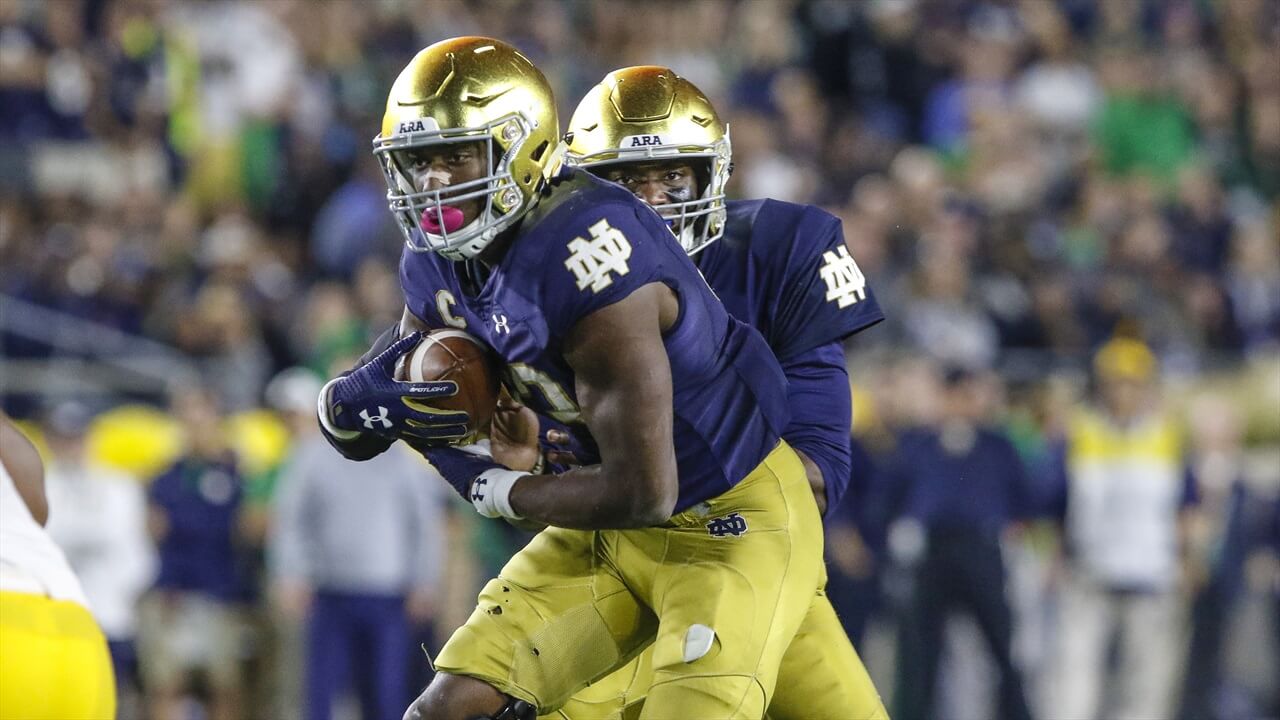 Last week, a win against #11 USC put a Notre Dame team seeking redemption in the forefront of the college football playoff conversation. This week, a win against #14 NC State served as confirmation. Following such a convincing 49-14 win against Southern Cal, there were still those doubters who didn't believe that Notre Dame had the credentials to be included in the playoff. With another win against a team in the top 15 in consecutive weeks, something that Notre Dame hasn't accomplished since 1989, the Irish have put their doubters to bed.
The talk coming into the game was how Notre Dame's unstoppable running game would fare against North Carolina State's immovable defensive line. How Notre Dame's NFL caliber offensive line and Heisman hopeful running back Josh Adams would move the ball against a veteran front seven of all seniors led by a potential top-5 draft pick in Bradley Chubb.
Early on, NC State held their own against the Irish. The NC State defensive line gave the Notre Dame offense fits as it looked unable to contain Chubb. The Wolfpack were also very opportunistic on special teams, blocking a punt in the shadow of the Irish end zone and returning it for a touchdown for the second year in a row. Riley Ferguson also led the offense through the air without the help of star running back Nyheim Hines who left early with an ankle injury to lead early 14-7.
But then Notre Dame's talent and conditioning took over. The offensive line which had just kicked off the "33 Trucking" slogan for Josh Adams' Heisman campaign made the adjustments required to control the opposing defensive line. The defensive backs played like glue and took away the short passing game from Riley Ferguson and tallying nine pass deflections in the process. Cornerback Julian Love also intercepted Ferguson for the first time in a year for a pick-six which put the nail in the coffin before Adams' 77 yard run up the middle drained all hope for a comeback entirely.
The Notre Dame performance was dominant on both sides of the ball. A defense that was extremely flawed a year ago allowed their fewest point total of the season with 7 after you take away the blocked punt for a touchdown. It also limited what was the 11th most efficient offense heading into the game to 263 total yards and only 50 on the ground. That same efficient offense was also limited to 5 of 16 on third down for a 31% conversion rate and were held both times on fourth down, including once in field goal position after it looked as though NC State were beginning to regain momentum.
The offense on the other hand worked in typical fashion for the year, making continuous adjustments throughout the game and wearing down a senior-laden and physical front. By midway through the third quarter, there was no longer any fight from the Wolfpack defense when Adams added another 77-yard run in a big-time matchup to bolster his Heisman resume. The beating continued into the fourth quarter where Deon McIntosh once again pounded it for 63 yards on 11 carries to milk away the clock and put the game to rest. The vaunted NC State rush defense had no answer for this powerful Irish front.
With the manner of the win and against the quality of competition which definitely looked to pose a challenge early on, this serves as confirmation of how good this Notre Dame is. Many waited for a win against USC for validation, which it was, but this win is confirmation that they really belong and that they are not a one week wonder. For those doubters like Colin Cowherd and many others who still didn't believe that the Irish belonged in the playoff conversation should they win out have a lot of questions to answer, such as how they could justify leaving out one of the hottest teams in the country especially with the strength of schedule they endured.
This also serves as much needed confirmation in the area of recruiting. Despite getting off to a strong start to the beginning of the season, recruits were taking notice but not entirely on board with the Notre Dame renaissance. The defense looked much improved early on, but it was difficult to tell how good they really were given the level of competition they faced. In the first half of the season they held the opposing quarterbacks, but that wasn't saying much considering that a Georgia offense led by a true freshman quarterback in his first start was the most prolific offense they faced. After facing the two best quarterbacks they'll see for the season in Riley Ferguson and a future NFL starter in Sam Darnold, the Irish have answered all the questions they needed to on that side of the ball. They have made great quarterbacks look average, generated a strong and consistent pass rush, and even contained one of the most elite running games in the country. What the Notre Dame defense has done and the overall quality of the team with where they stand has recruits buzzing.
The domination against USC and the massive recruiting weekend last week put Notre Dame in the forefront of the recruiting conversation for many elite recruits. Prospects who weren't even on the radar a month ago such as top 100 linebacker Solomon Tuliaupupu (#59 overall) now are giving Notre Dame a good, hard look as they jump into the top three teams in consideration. Players that were once a foregone conclusion of going elsewhere such as 5-star Amon-Ra St. Brown (#11 overall) once again has Notre Dame as his favorite and would be tough to take away given how thoroughly impressed he was with the Irish both on and off the field. Current highly rated committed players at need positions such as cornerbacks Alontae Taylor (#149 overall) and Noah Boykin (#449 overall) visited over the weekend as they reconsider their current commitments to Tennessee and Maryland which are struggling. Another top 100 linebacker in Payton Wilson (#68 overall) who had long been committed to UNC whom Notre Dame beat a few weeks ago is now ready to schedule a visit against Navy and is also on potential flip-watch. Notre Dame may even become an option for another 5-star prospect who is currently committed to Tennessee in offensive tackle Cade Mayes (#15 overall) who will likely start to look around as it becomes increasingly likely that Butch Jones will lose his job.
While winning against USC put the Irish back into the conversation for many elite recruits, the win against NC State has kept them there. As they continue to take care of business with the remainder of their schedule, Notre Dame is gaining momentum in recruiting. It saw them gain their first commitment since August with in-state safety Paul Moala (#995 overall) whom the staff are very high on. With a game against Wake Forest, which they should be able to take care of business, it allows the momentum from the field carry over to recruiting for another couple of weeks in which they could continue to deliver their message and make headway with recruits. This sets up a critical weekend on the road against a potentially undefeated #9 Miami on November 11 for both recruiting and playoff implications. Should Notre Dame come out victorious then, it would be difficult for them not to deliver on both their playoff hopes and in recruiting.
The image in this article is used with permission from IrishSportsDaily.com.