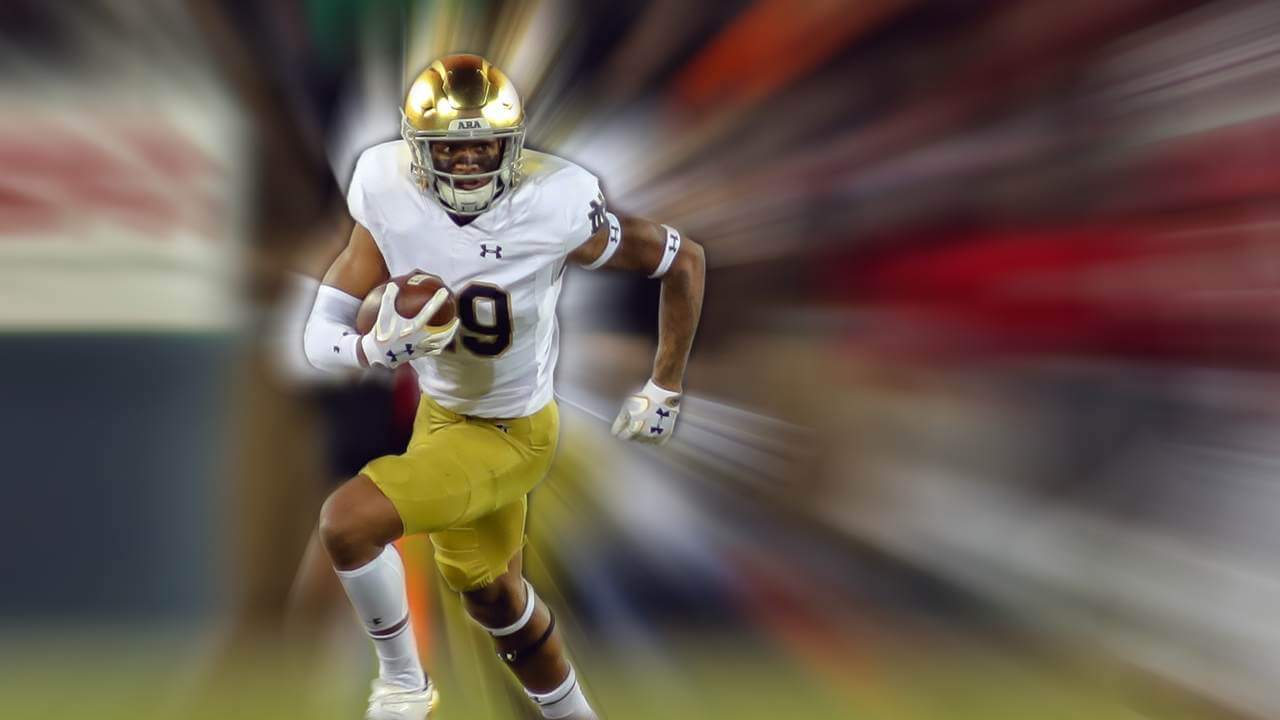 Saturday's loss on the road to #21 Stanford marks the third loss for the Fighting Irish and have eliminated them from any playoff talk and potentially from being included in a New Year's Six bowl game. What started as a very promising season with a 9-1 start and a #3 ranking in the playoff committee's rankings fizzled in the final month with a 1-2 finish and breaking the hearts of Notre Dame fans and players alike.
Last Saturday's game against Stanford was a microcosm of the entire season. Notre Dame struck first with an 83-yard touchdown pass to Kevin Stepherson on a slant route. It didn't take long for Stanford to respond as redshirt freshman quarterback K.J. Costello would lead the Cardinal offense to consecutive touchdown drives after the Irish defense did so well to bottle up a Heisman candidate in running back Bryce Love for most of the first half.
The Irish came back in the third quarter and looked to be getting into a rhythm and possibly put the game away. On the first play of the second half, Wimbush found Equanimeous St. Brown who ran across the middle of the field with one of his better passes on the season and was able to take it up 75 yards for the lead. It was a couple of drives later when Chris Finke returned a punt 41 yards to the Stanford 19 that gave Irish fans hope that they would be able to seal away the win. In typical fashion, Notre Dame would go on to melt down from that point.
A pair of pre-snap penalties backed the Irish by 10 yards and would barely be able to make the penalty yardage back and would settle for a field goal. What was a hallmark of this Notre Dame team of scoring touchdowns when getting into the redzone is now long gone. Instead, they settled for a field goal and Stanford took the game over from there.
Stanford responded right away with a seven play, 70-yard drive led by both Costello and Love for a touchdown. When it came to responding, Wimbush stared down his receiver and threw an interception in double coverage which felt to have ended the game. Stanford went on to score another pair of touchdowns to put the cherry on a 21-point fourth quarter and get the win.
Now Irish fans must be asking, "where do we go from here?" Four weeks ago, Notre Dame fans felt confident that this Irish team would roll over the remainder of their schedule, go 4-0 in the month of November and lock in a spot in the college football playoff. If you asked most fans then, they would have told you that a 1-2 finish was unthinkable and a catastrophe.
This 9-3 season is neither a catastrophe or a massive success. It is what it is: a good bounce-back season. No one prior to the season had Notre Dame in the college football playoff picture. The team overachieved just by being in the conversation for so long. This is still very much the same team that went 4-8 a year ago and weren't able to find a way to win game.
Take this season for what it is, a massive step in the right direction. Not only did Notre Dame more than double their win total from a year ago, it has come a long way to start building a new identity under a vastly different coaching staff.
The offense has been prolific at times under first-year coordinator Chip Long. It has developed an identity as a run-first team and has begun to install the run-pass option as it has never been used to the same degree before. A first-year quarterback in Brandon Wimbush has had his struggles at the helm, but has also shown to be very dangerous both as a passer and a runner. Wimbush looked intimidated on the biggest stage and his mechanics would break down in inopportune times, but both are areas that will be improved upon with maturity. A more mature Wimbush and developed passing game will add a very much needed dimension to the offense which will prevent defenses from stacking the box. An offense that finished 45th in total efficiency last year with a score of 58.9 finished 12th this year with a score of 78. Major steps have definitely been taken.
The defense has been led by another first-year coordinator in Mike Elko and has also made strides this year. Earlier in the season, this was a defense that was turning the ball over for fun and getting pressure on opposing teams. The defense improved from 14 sacks, eight interceptions, and six fumble recoveries in 2016 to 22 sacks, 10 interceptions, and 10 fumble recoveries in 2017. And while not making a dramatic improvement in total yardage allowed, going from 379 yards per game to 367, the defense became much more stout against the run improving from 182.4 RYPG to 153.2. The additional yardage allowed in the air was a byproduct of being stiffer against the run as well maintaining large leads in many of their games. The overall defensive efficiency improved from 46th last year with a score of 57.5 to 12th this year at 80.6. The defense also made major strides and will look to continue as they become comfortable with this scheme and will return the bulk of their 2-deep roster.
The special teams still has a lot to improve going into next year. While not making as many horrific game-changing mistakes as last year, there is still much room for improvement. The return units have not been as dangerous as in 2015. The punting game has been shaky at best with Tyler Newsome looking either phenomenal or abysmal. Justin Yoon has not been tested much from distance and kickoffs have looked weak with some penalties surrendered. Overall, Brian Polian needs to do a better job this offseason and has a lot of room to improve heading into a pivotal 2018 season for Brian Kelly which could dictate the future of his job.
The one area that has the chance of making the biggest impact in 2018 is the continuing progress of the revamped strength and conditioning program under Matt Balis. We saw the team make strides last offseason with "built by Balis" trending before we even got to the Spring Game. Balis has really elevated the sports science behind the S&C program and was an instrumental part in this team playing at such a dominant level along both sides of the line of scrimmage in the first eight games. Likewise, conditioning was also the downfall of this team as it had lost all steam and collapsed heading into the last month of the season. It will be critical for Balis to build on the results of his first season as a stronger and better conditioned team will be needed to complete a 12-game regular season without having any drop off toward the end. Just as Balis was able to prepare and elevate players such as Jonathan Bonner, Khalid Kareem, Myron Tagovailoa-Amosa, Kurt Hinnish, Robert Hainsey, and many others to significant roles this year, he will also need to do the same next year as this team will be looking to break in a pair of new offensive linemen and linebackers, positions that are the most impacted by his program. If Balis can duplicate his impact in 2018 while continuing to develop the players already in his program to higher levels, then this team will have the talent and athleticism to compete against other elite teams in big-time games in 2018.
Not all was lost with the Stanford game and there's no point in throwing out the baby with the bath water. Instead, Notre Dame went a long way in proving that the ship was righted following last year's debacle and are in great position to build on it next year. Recruiting has also picked up in a very big way. Even though Notre Dame hasn't been able to land any elite players during the season, they have made critical inroads with the 2019 class and are setting themselves for a great summer on the recruiting trail. The 2017 season has marked progress, and the coaching staff needs to continue to build on it if they are to become elite.
The image in this article is used with permission from IrishSportsDaily.com.