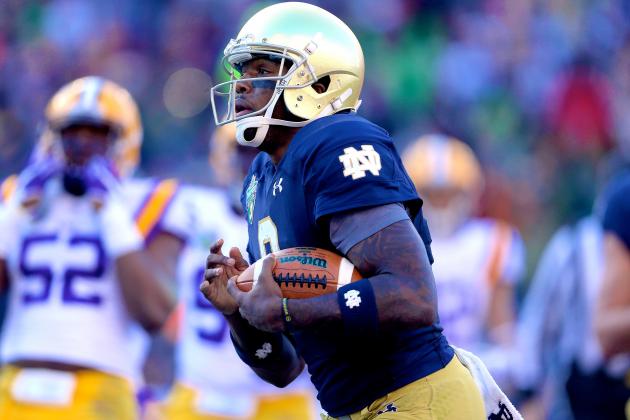 Podcast: Download (Duration: 49:13 — 33.8MB)
Subscribe: Apple Podcasts | RSS
Notre Dame's Adoption of the Wing T Offense
Ryan Thiel (@RSThiel) joined the podcast to explain Notre Dame's adoption of the Wing T Offense referencing Notre Dame's bowl win over LSU. What's great about the Wing T Offense is that it  simpler than Brian Kelly's pass happy offense and incoming Freshman TE, Alize Jones could quickly find his way into the rotation. But will Brian Kelly change his offense for the season to the extent it was in the Music City Bowl with a first time starter?
Bo Wallace and Everett Golson Update
Bo Wallace is on his way to Arizona State and Everett Golson has decided to take some more time before making his decision about where he'll be playing football. Were you wondering what Zaire's Bane mask is all about, Randall has the info. It turns out it's more than just a hanky.
Always getting that good work in back home @Train2Domin8 with my Bane training mask #trainingmask #T2D pic.twitter.com/HuK2h0LfQk

— Malik Zaire (@Lucky9Lefty) May 16, 2015
Sponsors