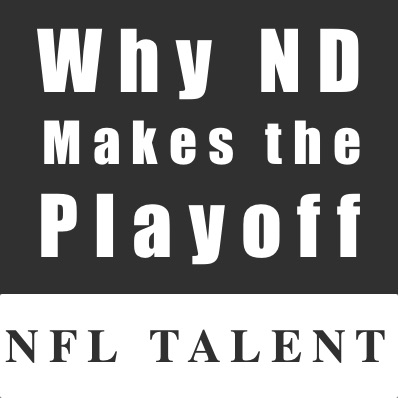 There's one reason the 2015 Irish squad will be standing as one of the final four college football teams at the end of the 2015 season and it has everything to do with NFL talent.
If you listened to my prediction (9-3) on the previous podcast with Randall and Tony you must be asking how I could come up with any reason Notre Dame could be one of the final four teams. First let's address my reasons for a 9-3 record: (1) Quarterback passing ability, (2) pass/run play calling and (3) defense ability to stop drives.
NFL Players Make a Difference
In my mind there're are 3 components to the success of a football program which I often refer to as SAM.  (1) Scheme, (2) Ability and (3) Motivation. For todays post I'll only be focusing on number 2. The Ability of a football player is partial development and partial God given.
NOTE: Only juniors and seniors will be considered in this article because it's difficult to project whether underclassmen are certain NFL quality players and their impact will generally less impactful.
2012 NFL Players
The 2012 Notre Dame team had 14 juniors and seniors that would be drafted into the NFL. Of those 14 future NFL picks only 2 (Slaughter and Niklas) did not have a sizeable impact on the 2012 team. Slaughter had a season ending injury in game 3 and Niklas played behind Eifert and finished the season with 5 catches for 75 yards and 1 touchdown. I'm unsure how much Niklas was used as a blocker in 2012 so there could be a case made for not having him listed with an asterisk.
2015 (Probable) NFL Players
The upcoming 2015 team had 13 probable future NFL draft picks until Jarron Jones suffered a season ending knee injury in fall camp. That leaves 12 almost certain future NFL picks on Notre Dame's roster and each of those will be playing in a starting role besides CJ Prosise who sits behind Folston at the RB position. However Coach Kelly has made a point in the off-season about the importance of getting Prosise touches because of his explosive potential.
| 2012 - 12 (*14) | 2015 - 12 |
| --- | --- |
| T. Eifert | S. Day |
| B. Jackson | S. Elmer |
| TJ Jones | T. Folston |
| K. Lewis-Moore | W. Fuller |
| Z. Martin | C. Luke |
| Z. Motta | N. Martin |
| *T. Niklas | CJ Prosise |
| L. Nix | M. Redfield |
| T. Riddick | I. Rochelle |
| P. Shembo | K. Russell |
| *J. Slaughter | J. Smith |
| M. Te'o | R. Stanley |
| S. Tuitt | |
| C. Watt | |
| | |