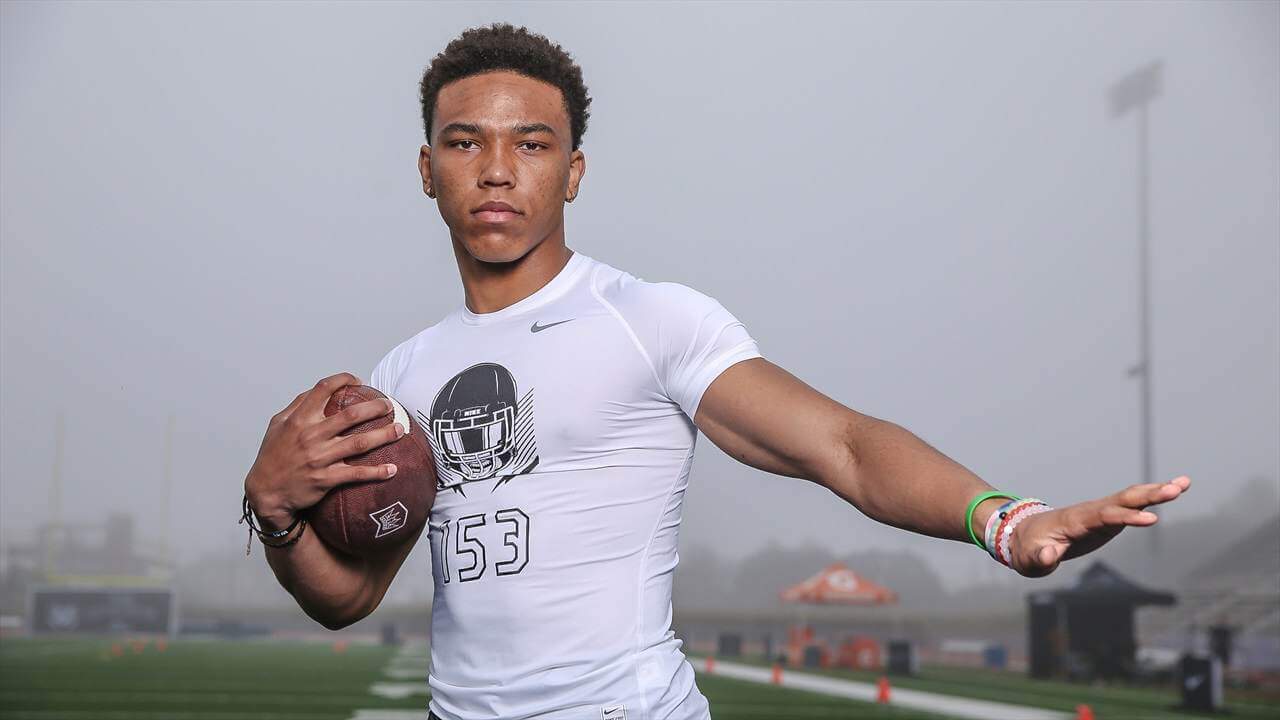 Notre Dame is trending hard right now for quite a few players in the 2018 recruiting class. Here is a breakdown of some recruits that Notre Dame is favored for and have a great chance on closing in.
George Takacs
He's just been bumped up to a 4-star tight end as he's gotten involved with more camps. The staff was high on him for a while, when he was a 3-star guy and Florida was the only team big on him. He's 6′ 7" with a reported 4.7 speed when he tested at one of the Nike camps. Watching his tape is fun. He's got catcher's mitts for hands and very soft. He brings the ball in naturally. The only issue in his game is that he's not very explosive of the line of scrimmage and not the most fluid of route runners, although he is able to get behind defenders on the deep routes. His mother is a Notre Dame grad and 247's Crystal Ball has him at 89% to ND. He's currently the 14th rated tight end on the board and just outside the top 300 at 316 overall.
Thomas Booker
A solid 4-star strongside defensive end that is 10th in his position and 244 overall. He's a smart kid who ND has been trending with for some time. 247's Crystal ball flipped to 100% Notre Dame after Stanford and Michigan had strong consideration. He's a guy though who will take his time to commit.
Donald Johnson
4-star cornerback from Indiana. He's 30th at his position and 318 overall. A player who is climbing up the rankings as he gets more exposure. Watching his game tape, he reads the quarterback well and is a tough tackler. He's not afraid to hit someone and throws his body into tackles. 247CB has him at 100% to Notre Dame and probably someone that ND will recruit harder following the decommitment of Kalon Gervin.
Houston Griffith
Somebody that most people know as he's been a top recruit for a while now. A high 4-star recruit, nearly 5 stars. He is the #8 cornerback in the class and #53 player overall. Son of former NFL player Howard Griffith. Originally from the Chicago area currently playing at the now-famed IMG academy. People close to his recruitment always knew that ND was one of the top teams, but Ohio State was going to be tough to beat. He's been on campus 3 or 4 times already and is close to the staff. Reports have him coming back again. This gives reason that ND is now trending for his commitment and the Irish have been bumped up to 62% on the Crystal Ball (previously at 0). ND has closed ground on Ohio State at a need position. We may see him commit at some point early this summer.
Kevin Austin
4-star wide receiver which some services have him ranked a lot higher than others. #28 at his position and #153 overall. He's 6′ 3" and has between 4.6-4.7 speed. He's a got a great blend of size and speed. He's one to watch as the Crystal Ball has at 100% chance of committing to ND and many thought he would have pulled the trigger following the Blue-Gold game.
Ja'Mion Franklin
3- star defensive tackle who has been under-recruited and will rise up the boards as scouts see more of him. He is currently the 39th ranked DT and 565th player overall. One of the issues with Franklin previously was height as he was recorded at 6′ 1", but now at 6′ 3" he has a bigger body and a bigger frame to fill up. Currently weighing in at 315 pounds, Franklin plays like a powerful nose-tackle blowing up plays in the middle of the offensive line and creating havoc up the middle. He's a big physical presence in the middle of the line and plays very explosive with a high motor, he can often be seen sacking the quarterback or taking down the runningback behind the line of scrimmage. He's a player who will likely continue to rise up the boards as he participates in more camps and becomes better known. With a 3.47 GPA, he's someone who also excels in the classroom and from his interviews comes off as an intelligent and articulate young man who knows what he wants in life. This young man is a perfect fit at Notre Dame, which is why 247's Crystal Ball has him going at a 100% lock at Notre Dame. Franklin has announced that he will make his decision on July 1st.
Nicholas Petit-Frere
A 4-star offensive tackle who is ranked #5 at his position and #55 overall. He is a high priority on Notre Dame's board as Notre Dame fell behind on Ryan Hayes' recruitment. Petit-Frere is a big and athletic offensive tackle and projects very well at the next level. 247's Crystal Ball has him at 50/50 between Notre Dame and in-state Florida.
Amon-Ra St. Brown
The first of two crown jewel legacy players, Amon-Ra St. Brown is a 5-star wide receiver and younger brother of current Notre Dame star receiver Equanimeous St. Brown. The high school star is the #3 wide receiver in the country and #19 overall player. He is a game breaker who currently dominates his level of competition and will likely be an instant impact player at the next level. He is a very fluid athlete and a smooth route runner who wastes very little motion when he runs. Despite not having elite speed and burst, his fine-tuned skill allows him to get behind defensive backs without them noticing. St. Brown has been quiet about his recruitment and 247 has him currently at 83% to the Irish, but teams like USC are right there after him and will like to steal this guy away. This will be a tough recruitment for Notre Dame as they lost out on Osiris St. Brown last year to Stanford and there is no guarantee that they will nab this legacy, especially with Ohio State, Michigan, and Stanford also in the mix. One thing that has been working in Notre Dame's favor recently is that St. Brown and his father have been impressed with the changes that have been made with the coaching, and especially with the strength and conditioning department.
P.J. Mustipher
The other Notre Dame legacy is Mustipher who is a highly rated 4-star defensive tackle, #9 at his position and 101 overall. Mustipher has also been quiet about his recruitment, but also has been heavily involved with his wrestling team, which meant that he had to put off visits and his recruitment. Mustipher did visit for the spring game in April, but has not yet given a timetable for his recruitment. 247's Crystal Ball has projected at 88% for Notre Dame.
Jahmir Smith
Jahmir Smith is a very interesting prospect. Only ranked as a 3-star prospect right now, he is the #32 runningback and 569 overall recruit. Smith is lightning fast on tape and has smooth running ability. Much like like St. Brown, Smith is an exceptional athlete who's fluid running ability and lack of wasted motion makes him significantly faster on the gridiron and makes it difficult for defenders to keep up. His stats as a junior are eye-popping as he recorded 1,927 yards rushing, 136 yards receiving, and 36 total touchdowns. If Smith duplicates or improves on last year's performance, he is likely to shoot up the boards significantly throughout the year and make the perfect complement for Markese Stepp. With a 4.43 GPA, he's no slouch in the classroom either. 247's Crystal Ball has him as a current lock for the Irish at 100%.
Cameron McGrone
Another interesting prospect who Notre Dame is recruiting slow. McGrone is 4-star in-state outside linebacker from Indiana who is the #22 player at his position and 295 overall. He's a playmaker on tape with exceptional speed and athleticism that allows to drop into coverage. Where he excels more than most linebackers is as a pass rusher where his explosive ability allows him to routinely blow up plays behind the line of scrimmage. McGrone had 4.5 sacks and 15.5 tackles for loss as a junior in 6 games before his season was cut short to a torn ACL. Prior to blowing out his knee, McGrone had sub 4.7 speed as a linebacker and has the frame to add a little bulk as well. McGrone's has yet to receive an offer from Notre Dame, despite the increased recruitment as of late. Much will hinge on the how he recovers from his torn knee and if he regains his exceptional speed and explosiveness. The rest will depend on where the rest of the pieces fall as Notre Dame already has two linebacker recruits committed (three if you count Justin Ademilola who some believe may convert to defensive end) and are hot after Dallas Gant at Buck and Shayne Simon at Rover. If Notre Dame misses out on Gant or Simon and McGrone looks good coming back after injury (which he's already training full speed six months after surgery), then Notre Dame could be seen putting on the press for McGrone who could add an extra element to the Irish pass rush. 247's Crystal Ball currently has McGrone as a 100% lock to Notre Dame should he be offered.