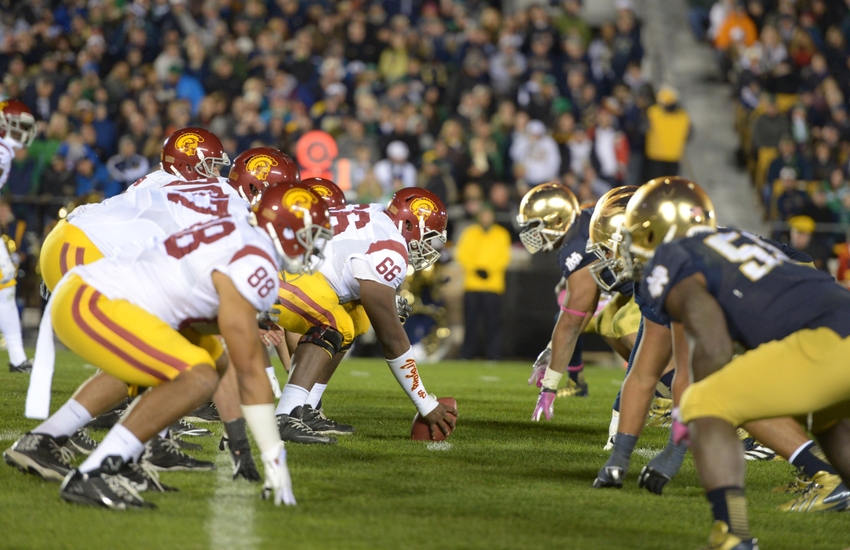 Having already reviewed Notre Dame's opponents that they've played, it hasn't been the most stellar of schedules. Coming off of a 4-8 season, Notre Dame needs wins against some quality opponents if they are to secure a playoff spot. The good thing with Notre Dame currently sitting at 13th in the AP poll and 16th in the Coaches' Poll is that they'll have plenty of opportunities to build their resume. With 4 of their last 6 opponents ranked in both polls, Notre Dame has one of the toughest back-end schedules in the country, but one which should see them locking up a top 4 spot in the playoff committee's eyes should they be able to run the table.
Southern Cal
USC came back in the second half to show resilience in beating a strong Utah team at home 28-27. The first opponent in what looks like a grueling second half schedule for Notre Dame which could see them play up to five or six ranked teams as Navy has just dropped out and Wake Forest could play themselves into the polls with every passing win, USC is the first step to Notre Dame rebuilding its credibility.
Unlike Michigan State and more similar to Georgia, USC will be coming in to South Bend with a loaded roster that has high expectations and a future NFL quarterback in Sam Darnold. USC has failed to live up to those expectations with a loss to Washington State on the road, close wins against Western Michigan, Texas, Cal, and Utah, and failing to blow out any of their opponents. With every team in the Pac-12 already sporting a loss halfway through the season, there is just as much riding on this game for USC as there is for Notre Dame in respect to their playoff hopes. Notre Dame is currently favored to win this game by 78% according to ESPN's Football Power Index. A win against a top 10 opponent with their own playoff hopes and the national spotlight that USC and this rivalry bring could be a launching point for Notre Dame that could see them move up a handful of spots in the polls and make them legitimate playoff contenders on the national stage. Verdict: Stock up (not as good as they were projected before the season, but still a massive credibility builder nonetheless)
NC State
With another win, this week against Pitt 35-17, NC State must be asking themselves, "what if?". What if they didn't lose their opener to South Carolina at a neutral site? This could very well have been another top 10 team as they get ready to visit South Bend in two weeks after their bye week. Currently ranked 16th in the AP Poll and 17th in the Coaches' Poll, Notre Dame is heavily favored to win this one as well by 71.5% according to ESPN's FPI. Despite that, this game will likely be much tougher.
With a whopping 18 starters returning from last year's team, including 11 seniors, NC State was always primed to have a great season this year, or it would've been Dave Doeren's job on the line. Aside from Georgia, NC State has the best defensive line that Notre Dame will face this year and gave Florida State fits in Tallahassee. The most underrated aspect of NC State is their offensive efficiency which is currently 23rd in total offense with 467 yards per game and 31st in scoring with 35.4 points per game. The team is led by senior quarterback Ryan Finley and junior running back Nyheim Hines who are both having breakout years, Finley not having thrown an interception to date. Coming off the USC game which is always an emotional thriller and NC State having a bye week, this has all the elements of a trap game for ND. Verdict: Stock up
Wake Forest
Wake Forest is coming off of a bye week following a pair of tough close losses to Florida State (26-19) and Clemson (28-14). At 4-2, Dave Clawson continues to have this program trending up, now in the fourth year of his rebuilding project. Wake Forest is no longer the pushover it was before Clawson's arrival and no longer the young team that Notre Dame took advantage of two years ago. It will be interesting to see how Mike Elko's defense fares against his former team and if he could give any insight to the offense in picking apart his former team. New Wake Forest defensive coordinator Jay Sawvel looks just as good of a hire as Elko has been for both programs and is continuing the tradition of stellar defense where Elko left off. This is going to be a tough fought game, but one where there shouldn't be any question of the victor as Notre Dame is expected to win handily by 86%. Verdict: Stock up
Miami
The first of Notre Dame's two killer road games which they are expected to lose, Miami is still undefeated. Miami had a back and forth affair with a solid Georgia Tech team that looked very dangerous on the day and were ever so close to pulling off the upset. It took a miracle catch on fourth down from a tipped pass and a clutch field goal to preserve their perfect record and finish 25-24. Miami hasn't had the toughest schedule to date, with Florida State on the road being their biggest win, and with giant-killers Syracuse, UNC, and #14 Virginia Tech at home before hosting Notre Dame on November 11, Miami could very well still be undefeated and possibly top 5 in the polls. Currently #8 in the AP and #7 in the Coaches' Poll, ESPN's FPI gives Miami a slight 51.5% edge with this game being as evenly matched as expected. If Notre Dame runs the table and wins this game, it could solidly entrench them in the top four coming out of Miami. Verdict: Stock up
Navy
Navy lost a heart breaker to Memphis 27-30 in what was a sloppy affair. Memphis is a tough opponent, currently 5-1 and sitting tied with Navy at the top of their division in the American Athletic Conference. Ultimately, it was 5 turnovers, 2 in the air and 3 on the ground, that cost Navy the game. Currently, Navy has been knocked out of both polls, but at 5-1 and with votes from both, Navy could easily play themselves back in with against #20 UCF at home, on the road to Temple, and at home to SMU. The FPI has Notre Dame as heavy 94% favorites, despite never being easy against Navy, but a ranked Navy team would give ND a boost in credibility when they need it down the stretch. Verdict: Stock up for now despite the loss depending on how they play next week.
Stanford
Despite two early losses to USC and San Diego State, both on the road, Stanford is currently the form team of college football. Coming off of a 49-7 blowout win against Oregon in which they dominated nearly every aspect of the game and allowing only 33 yards passing (who would've ever thought that Oregon can be held under 200 yards passing, let alone 33?), Stanford is a team that has the potential to rise throughout the rest of the year and serving as a dark horse for the PAC 12 title.
Led by Heisman trophy front-runner Bryce Love at running back, who has seamlessly taken over for Christian McCaffrey and is racking up yards and touchdowns like he's playing a video game, and two very efficient quarterbacks in Keller Chryst and K.J. Costello, the Stanford offense has looked spectacular for much of the year as the defense has been coming along. Stanford is ranked 22nd in both polls, but the FPI has this as the toughest game remaining on Notre Dame's schedule giving the Irish only a 39.5% chance to win. If Notre Dame runs the table up to this point, beating a ranked Stanford team who could be in contention for the PAC 12 should lock them into one of the playoff spots, which is a really big "if". Verdict: Stock up