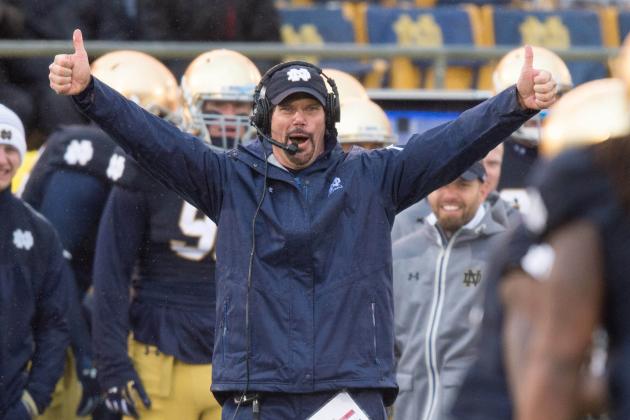 Here are some things to look out for during the Spring Game.
Spring practice is only days away and everyone is excited! The new coaches are ready to start making an impact. Some of the biggest questions going into spring practice are on the defensive side of the ball. It is also the side of the ball that has the most room for improvement. The 2014 season started off great on defense, in Brian VanGorder's first year as the Notre Dame defensive coordinator, but the defense seemed to spiral out of control after the midway point of the season. There were many things that factored into it, but the biggest was all the injuries.
The team has had time to heal and and get back in shape and VanGorder has had time to figure out what needs to be changed or improved and new defensive line coach Keith Gilmore and defensive backs coach Todd Lyght are here to help the defense get better.
Defensive Line – All four 2014 starting defensive linemen are returning, after Sheldon Day decided to forgo the NFL Draft and come back and join Andrew Trumbetti, Jarron Jones, and Isaac Rochell in the starting lineup. Jarron Jones is still recovering from a foot injury and will not be practicing this spring, which will give some of the younger guys like Jerry Tillery, Daniel Cage, Jonathan Bonner, Jay Hayes, Jacob Matuska and Peter Mokwuah a chance to compete at the tackle position and prove that they should be getting playing time. At the defensive end position you will see Romeo Okwara and Grant Blankenship competing for second string spots and we will see where Jhonny Williams is in his development and is he ready to compete with these guys. Michael Deeb and Doug Randolph are both switching positions from linebacker to defensive end, it will be interesting to see how smooth that transition will be for them. Micah Dew-Treadway and Jerry Tillery are both early enrollees this year, and spring practice will give them a head start on the other freshman coming to Notre Dame this summer, but Dew-Treadway, unlike Tillery will probably red shirt this year. Kolin Hill is listed as a linebacker, but he was used as a pass rusher and the staff will want to keep developing him as a pass rusher. There are plenty of defensive lineman and Notre Dame will have more situational players instead of every down players. The key will be learning to substitute players on the field during games against up-tempo offenses.
Linebackers – Many credit the downward spiral of the defense last year, to the leg injury of Joe Schmidt. His knowledge and leadership skills on the field were irreplaceable. Nyles Morgan stepped in to take his place and was much more athletic, but nowhere near the level Schmidt was, mentally. Notre Dame is returning all its starting linebackers from last year in Morgan, Jaylon Smith and James Onwualu. Schmidt is expected to be invited back for his fifth year, but he is still recovering from his injury. This spring is Morgan's chance to prove that he should keep the starting spot. Greer Martini started one game due to Morgan's suspension for a targeting hit and should be a quality backup. John Turner has not seen much playing time and needs to take advantage of spring practice and we will need to wait and see if Jarrett Grace and Ben Council are invited back for a fifth year. Early enrollee Tevon Coney should get some quality reps due to the lack of depth this spring.
Cornerbacks – Notre Dame lost one of its starters in Cody Riggs, but is returning its other starter, Cole Luke. Riggs was struggling with injuries the second half of last season and Devin Butler had stepped up and done a good job as a replacement. The big news has been KeiVarae Russell returning this summer. Nick Watkins will have his chance this spring to showcase his talents as a quality backup this fall. Matthias Farley did an excellent job playing the nickel position last fall and will be here for the spring but is still waiting on his status as a fifth year senior. Cornerback looks to be one of Notre Dames more consistent positions on defense and it will be good to watch spring practice and see the quality depth Notre Dame will have this fall.
Safeties – The safety position was almost nonexistent by the end of last year because of all the injuries. Notre Dame is bringing in some freshman and a fifth year transfer this summer but depth will be thin this spring. Last years two starters Max Redfield and Elijah Shumate are both returning and will continue to get better this spring. Drue Tranquill is recovering from a knee injury and we will be able to see where he is in his recovery. He will provide depth at safety this spring but should be moved to nickel or linebacker when more help arrives in the summer. Nicky Baratti will add some depth if he can stay injury free, a good step in the right direction will be making it through spring practice healthy.
Most of the starters are returning this season and the thing to watch for this spring will be how consistent the players have become. The staff has been reshuffled and the biggest upgrade is at defensive line with the hire of Keith Gilmore. Can the line generate a pass rush that was missing last year and still stop the run? The picture will be much clearer after spring practice!