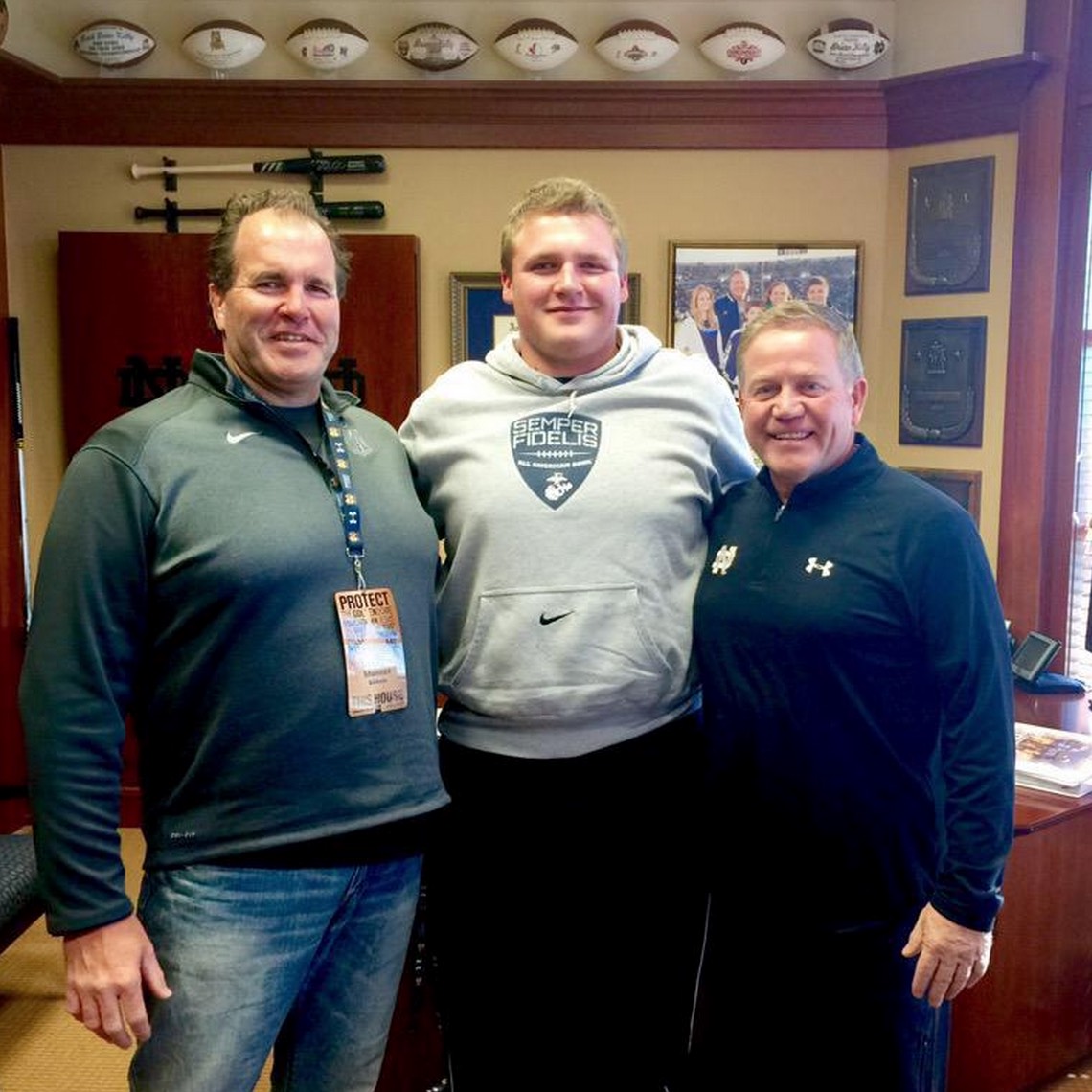 Notre Dame receives commit from the Sunshine State!
Notre Dame is putting in lots of time and effort on the recruiting trail and its paying off! Offensive lineman Dillan Gibbons from St. Petersburg, Florida, contacted Brian Kelly and told him he wants to commit. Gibbons is the first commitment of the 2017 class and said he wants to be the leader of the class and help recruit other players. This marks the second consecutive recruiting class that Notre Dames first commitment was a top offensive lineman that wants to be a leader in the class.
Gibbons visited Notre Dame earlier in the week on Wednesday, April 1, and Notre Dame gave him an offer, and no, it was not an April Fools joke! He already held some big offers from schools like Ohio St., South Carolina, Michigan St., Mississippi St., and others. After the visit he waited a few days to let the excitement of the visit wear off a little to see if it was still the right decision for him, it was and on Saturday he contacted Kelly and finalized his decision. He had wanted to come to Notre Dame for a long time and says he remembers watching a Notre Dame game in 2005, he was 5 at the time, and when watching Notre Dame vs Syracuse in 2008 he knew he wanted to go to Notre Dame, despite the Irish losing that day.
Dillan Gibbons older brother, Reilly, also played football and signed with Stanford in 2014 and later transferred to South Florida to be closer to home. While Dillan was in middle school he went with his brother Reilly to every workout and participated in all the team conditioning with the high schoolers, and by the time he was a freshman at St Peters Catholic, he was ready to start and beat out a senior for a starting spot on the offensive line, with his brother. Teams would often put their best defensive lineman on Dillan's side to get away from Reilly, which gave Dillan opportunity to play against the best competition. That year three of St. Peters running backs had 1000 yard seasons, one of which was Notre Dame 2016 recruit Tony Jones Jr, who had 1118 yards on 135 attempts and 12 touchdowns. Dillan tweeted Jones after his commitment and said "Looks like I'll be blocking for you again bro!" Jones had transferred to IMG Academy after his one season at St. Peter's Catholic.
Following his freshman season at St Peter's Catholic, Gibbons transferred to Northside Christian School, where he played his Sophomore season and became a first-team all state selection and Northside made it back to the playoffs for the first time since 2006.
Gibbons still has two years of high school left and is currently 6'5″ and 305 lbs. He has been starting at tackle all of his high school career up to this point, but he could also play guard at Notre Dame. Last year he was named a Sophomore All-American by recruiting analyst Tom Lemming and he is projected to be one of the top offensive lineman in the 2017 class. Gibbons also played basketball in middle school and his freshman season and the coaches loved his ability to play center and box out opposing players. He will continue to become a better football player due to his dedication in the weight room and on the field.
Notre Dame is quickly looking to become O-Line U with its latest recruiting classes and offensive line coach Harry Hiestand has been doing a great job recruiting the top recruits, who love him as a coach and want to come play for him. We all know that building a good football team starts in the trenches, protecting the quarterback and providing lanes for the running backs and once again Notre Dame is off to a great start in the recruiting class with the commitment of Dillan Gibbons!